At the beginning of October 2017 best mates, James Whittle & Tom Caulfield set out on an ultimate adventure that would see them battle through extreme and unpredictable conditions on one of rawest and remote locations on the planet – Patagonia. A land of fire and ice that spreads itself across Argentina and Chile became the setting for their world-first ultra-sup triathlon.
The pair encountered hidden marshes, creaking glaciers, forceful side-winds, rain and snow and that was just getting off the plane! Joking aside, each leg on this triathlon would have been a standalone adventure, but tackling all three disciplines, back-to-back, pushed the 'Tempest Two' to their limits, in what turned out to be their toughest challenge to date.
"For adventure, Patagonia has become a mecca due to its remote and testing environments. It seemed fitting then, that it be the location for our world-first ultra-triathlon. A 1600km cycle, a record attempt 65km mountain ultra-run, and a 120km stand-up paddle board between the two great lakes Viedma and Argentino. With each leg came a different, unforeseen challenge that tested our mental and physical strength to the absolute limit.

First up – The 1600km cycle
The cycle proved to be a battle against the elements. Sideways snow and rain hammered us for days, and the sandy, gravelled roads wrought havoc on our bikes.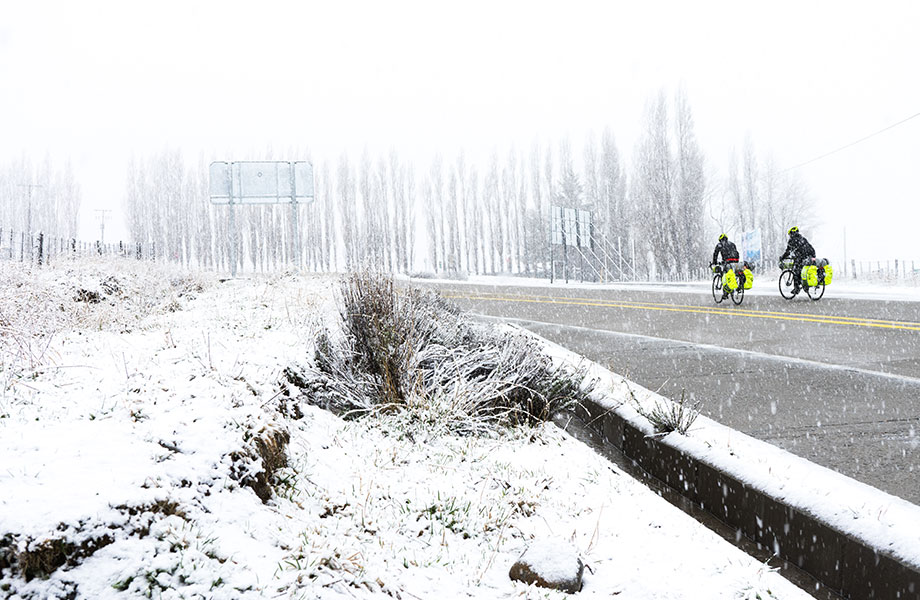 We pushed South nevertheless on the famous Carretera Austral, that snakes through lush green forests and over snow-capped peaks, before heading East and onto the contrasting Route 40, a barren dessert exposed to the ferocious Patagonian winds.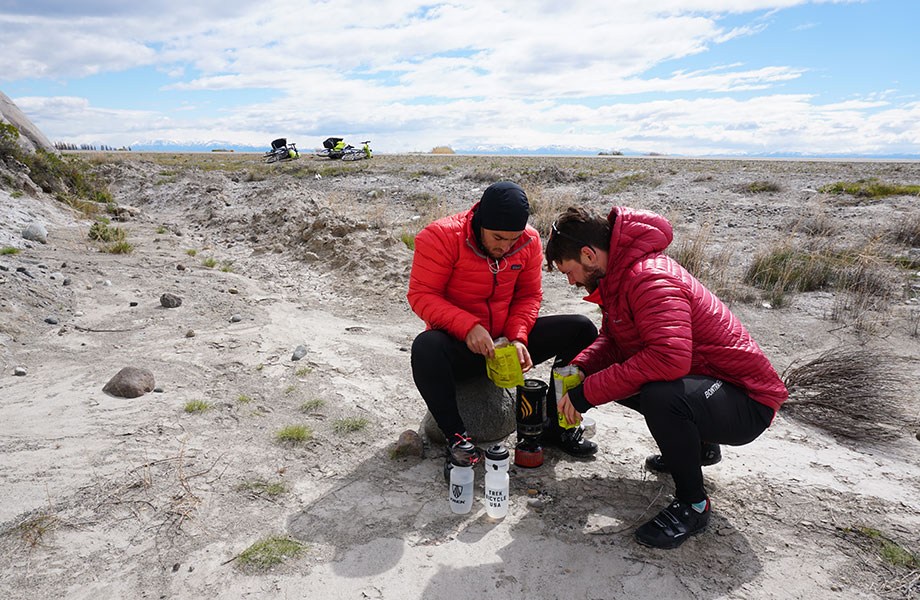 For nine days we pushed on, through the pain and the headwinds, punctures and falls, until we arrived into El Chalten, a small mountain town and the scene for our next chapter.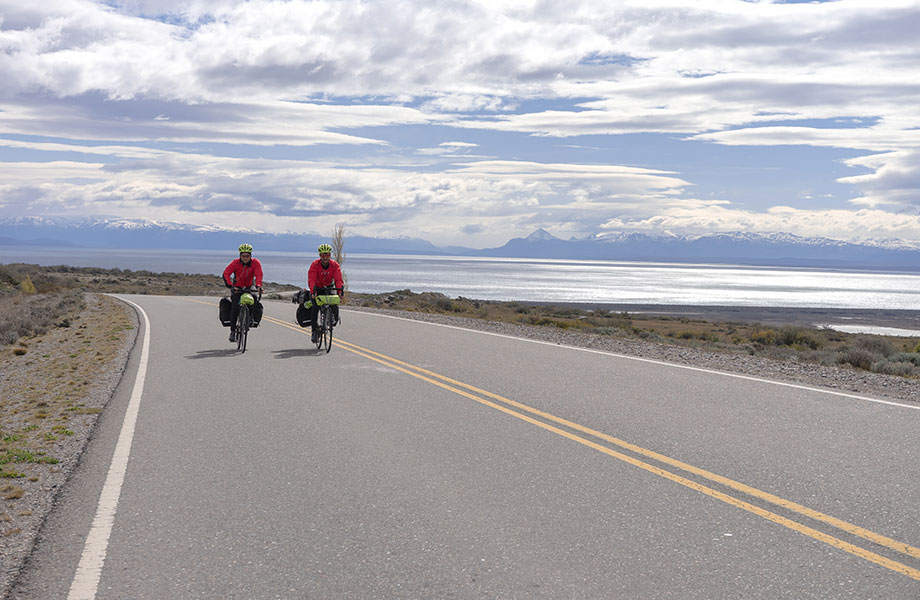 Only 10 hours after arriving into the town on two-wheels, we were stood in total darkness at 3am at the start of the Huemul Circuit, a 4 day trekking route that is regarded as the toughest in Patagonia. Our goal, to become the first people to complete the trail in under 24 hours. What lay ahead was the toughest day of our lives.

Leg two – The 65km mountain ultra-run
Our strategy was fairly simple, we would run wherever possible to make up time, and take it steady during treacherous sections. The last thing we wanted was an injury, as that can escalate into something serious.
The mountains in Patagonia are not like the French alps, and there is no army of mountain rescue with helicopters and dogs, you are pretty much on your own until a handful of rangers may come looking for you. We would avoid any lengthy breaks, and would fuel ourselves as we travelled, with one 10 minute break for lunch at the midway point.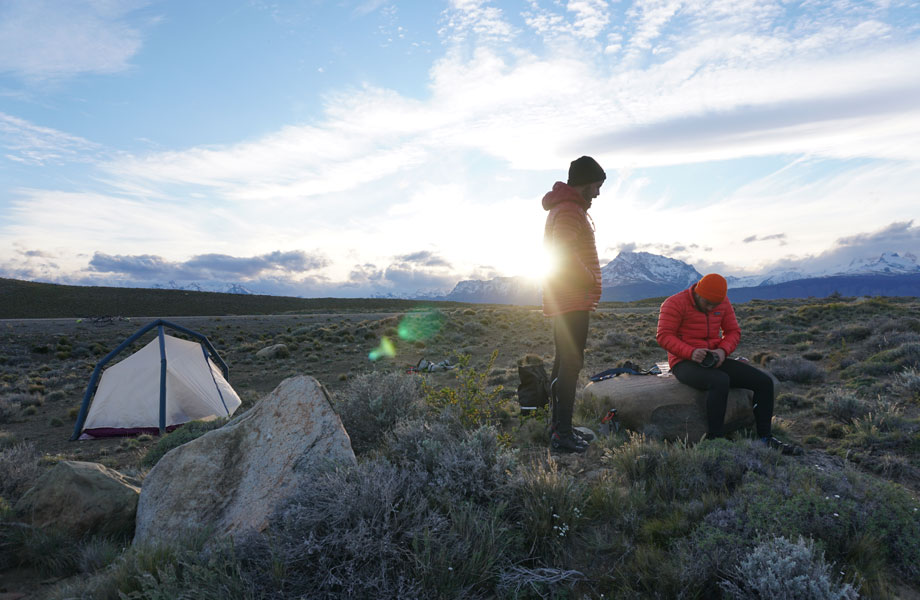 We ran through ankle deep marshes, over creaking glaciers and battled through 100kph winds. The mountain was our own, and we were the only two people challenging it. The isolation empowered us, and we ticked off the miles with a hunger to succeed.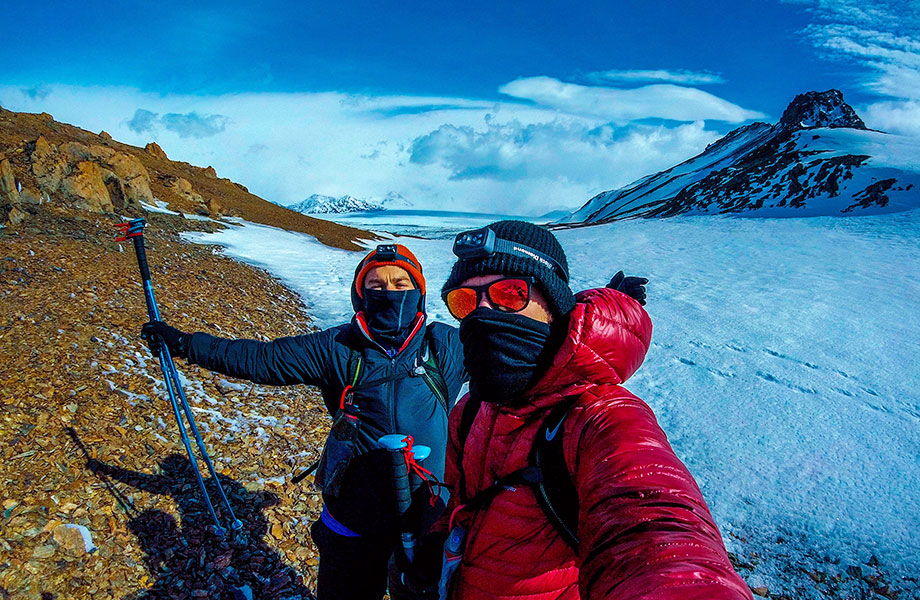 At the 40km mark we began the descent off the mountain and had hit our physical limit. Our muscles screamed for a rest, and our feet were blistered almost in their entirety. We eventually limped over the finish-line after 17h 22mins of non-stop exertion, broken, but record holders. Our plan had been to finish the run and get a taxi back into El Chalten from the boat terminal on the lake.
Due to us getting lost on a number of occasions during the run, we had arrived in darkness, and there were no taxis to be found. This meant, with our electronics out of battery, we had an unplanned 17km walk back to El Chalten through howling winds, a realisation that mentally broke us.
We limped into El Chalten at 4am, 25 hours after leaving the night before. We could barely speak, and arrived at our hostel which was locked due to the time, so we accepted defeat and slept on the porch.
The days that followed were agony, our legs were constantly cramped and our feet were torn to shreds. Normally, we would have rested for weeks and let our bodies recover, but we had one more task to fulfil, a 120km world-first paddle-board down the La Leona river.
The final stretch – 120km Paddle board Patagonia
72 hours after finishing the run, we unpacked our boards from their travel bags (incredibly our Red Paddle Co boards pack down into a suitcase size bag, so we flew them over from the UK), inflated, and loaded them with our tent and supplies. Ahead of us lay the La Leona river and behind us the huge expanse of Lake Viedma. Our route would take us 120km through the Jurassic hills and into the wilderness.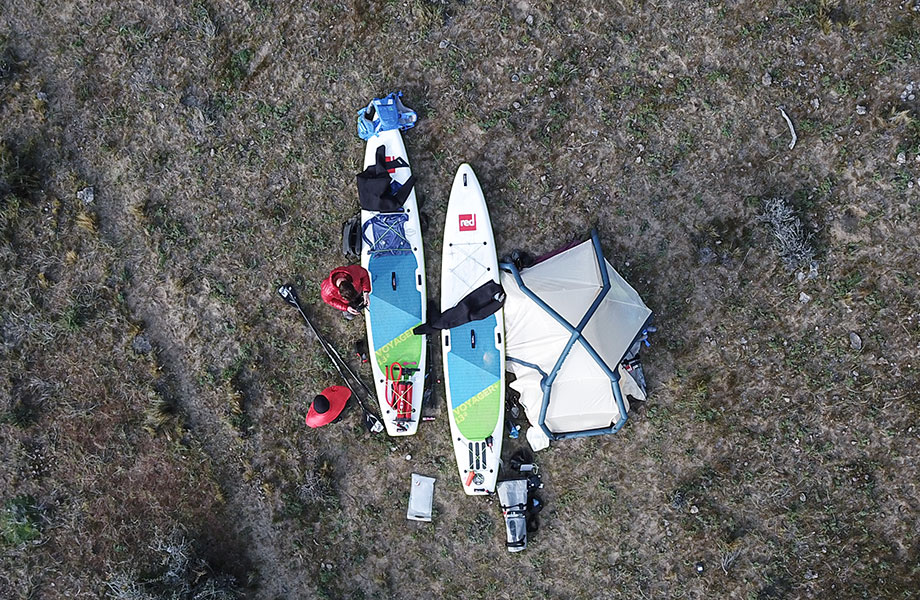 It is worth mentioning at this point, that neither of us had ever paddle-boarded before the ideation of this trip, and we had in fact only stood on boards twice before leaving the UK. So we were going into this as total novices, and would do our best to learn as we went. We decided upon the 13'2 Voyager board from Red Paddle Co, due to its durability and toughness. Being beginners, we were certainly going to encounter some bumps, so we needed to have the confidence in our boards.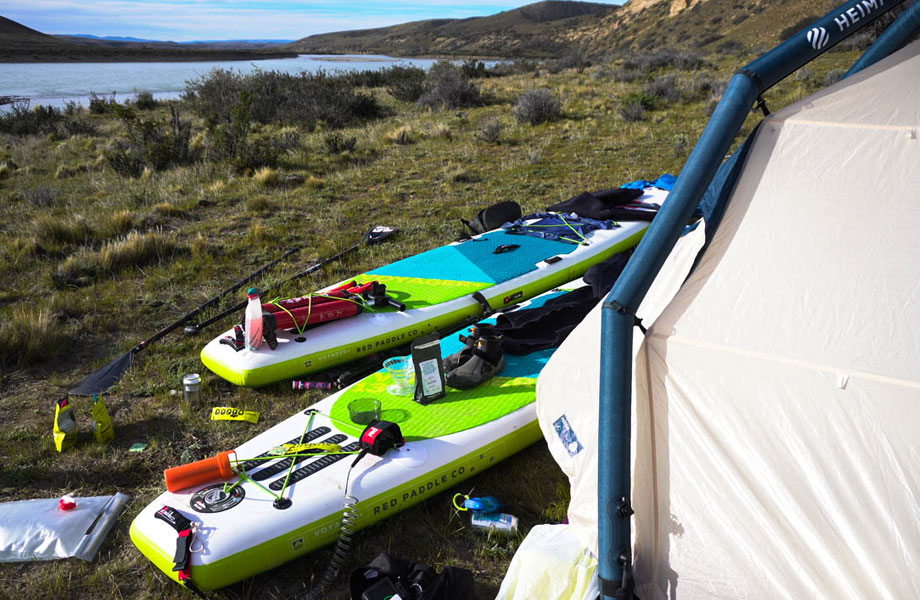 We set off onto the river, which we had expertly scouted out using Google Maps, and immediately realised that the static satellite image did not give a true representation of the speed of the flow. It was quick! Soon enough we sped towards our first real challenge, a narrowing stretch of river full of exposed rocks and rapids.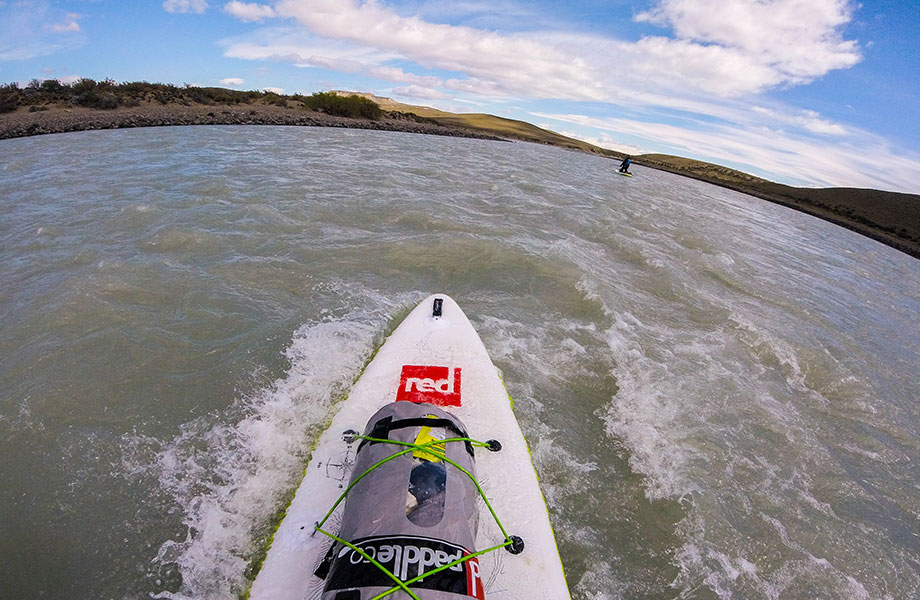 The water surrounding us was glacial, and although we were wearing wetsuits and boots, we knew that if we fell in, we wouldn't have long to get ourselves out and warm again before hypothermia set in. With the boards bouncing around, we soon learnt that standing whilst tackling rapids was fairly impossible, so we ended up planted on our knees.
After a few hours, we were becoming more at home on the boards, and were adapting to paddling on a moving river. However, Patagonia was not going to let us simply drift to the finish-line without a struggle.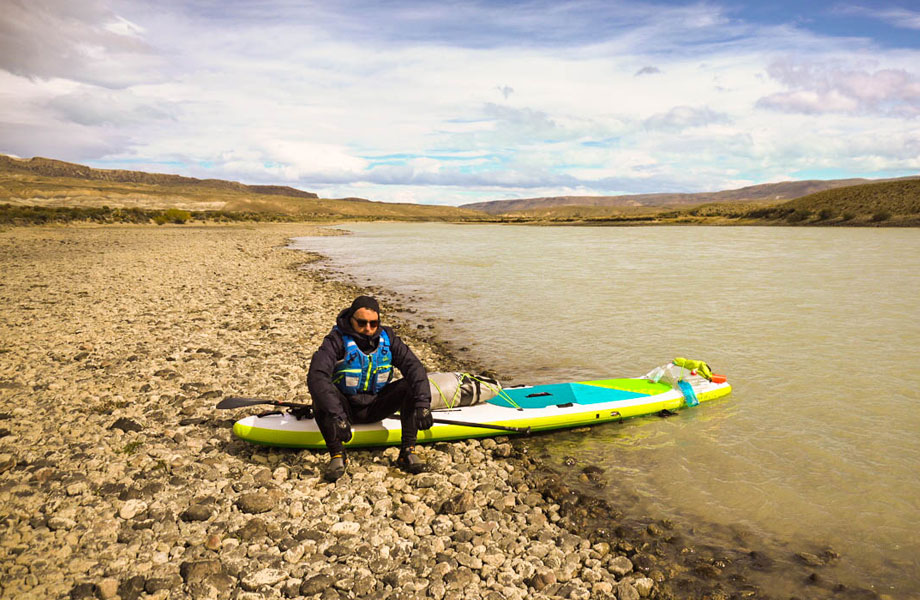 Throughout the trip, the infamous Patagonian winds (second in strength only to Antarctica) were blowing consistently from East to West, and sometimes from the North. The day we started on the river however, everything changed, and we were faced with a biting headwind coming directly from the South.
This created conditions that made that first day on the boards one of the worst of the entire adventure. We were constantly being spun 180 degrees, and would often be drifting backwards through rapids and being pushed against the banks of the Leona. We would regularly lose our heads, and the rant of expletives would echo through the canyons and valleys around us.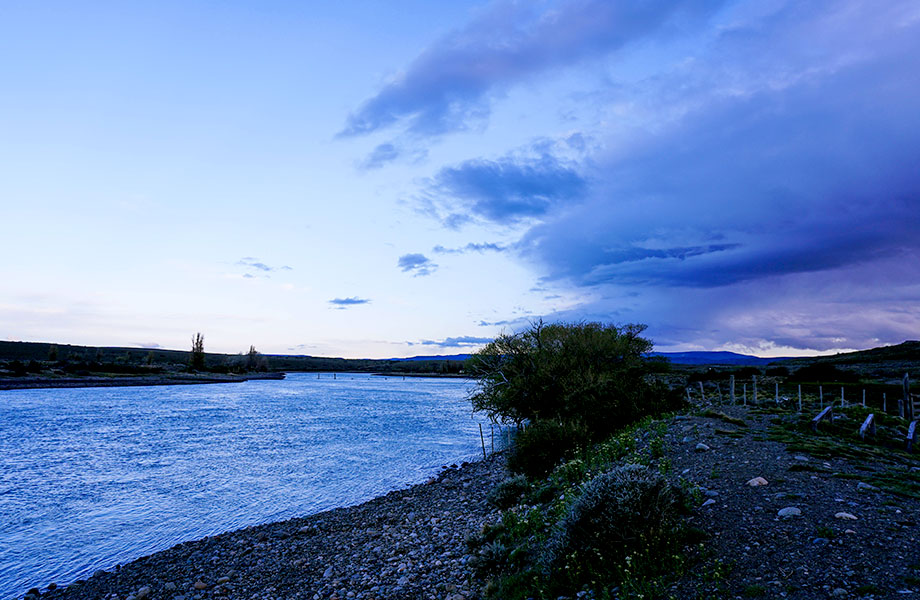 After 10 hours battling downstream, we pulled in and pitched our tent for the night, praying for better conditions the following day. Despite the frustration, we had ticked off over 60km, and we knew with some luck that day two would be our last of the entire month-long journey. We slept very little as the wind hammered our tent, and we shivered in our sleeping bags praying for sunrise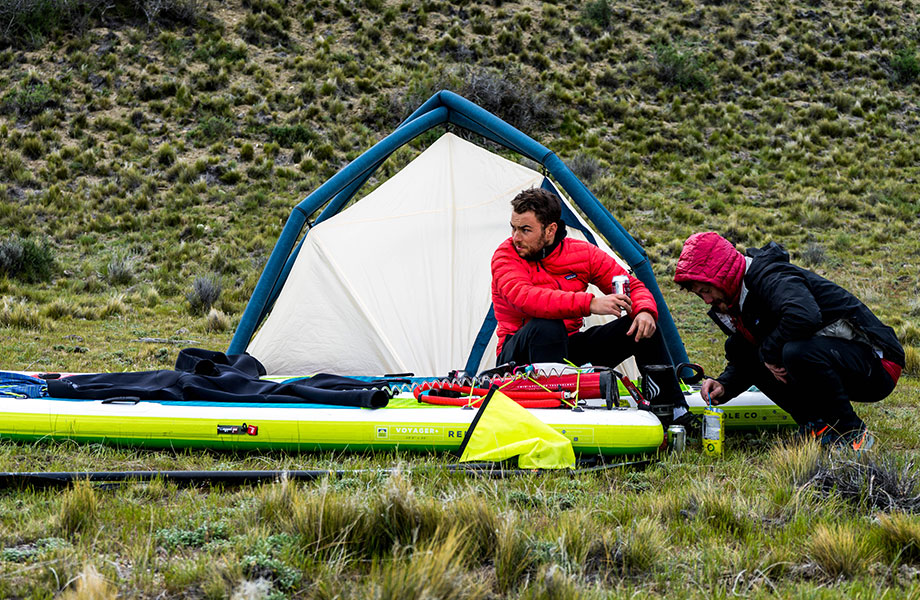 The next day we rose early, and set-off at dawn with the hope of avoiding the midday winds. Our plan had worked, and all of the negativity from the previous day evaporated. We were now gliding down the river at an electric pace, with no wind to block our way or turn our boards. James did however notice he had lost his fin during a particularly rough exit from a set of rapids, so he did spend much of the day spinning in circles! Despite this, we powered on and enjoyed what was to be the final day of our Patagonian adventure.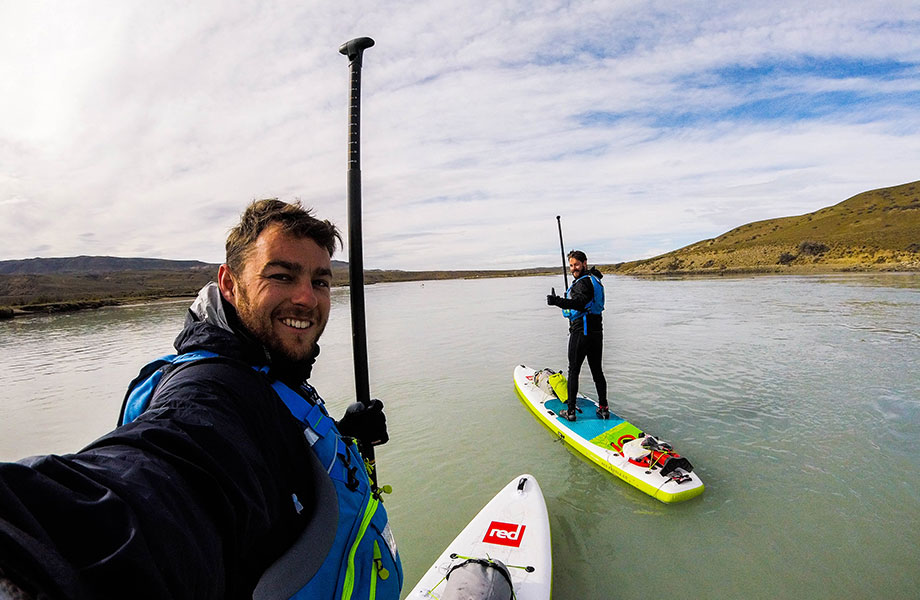 There were moments during that final day which will stay with us forever. Our surroundings were simply breathtaking. Towering canyons surrounded us, and engulfed our view. Rolling hills as smooth as marble, with cake-like layers from the prehistoric lakes that date back millions of years. Once again, we were totally alone, and had not seen any sign of life since leaving on the boards.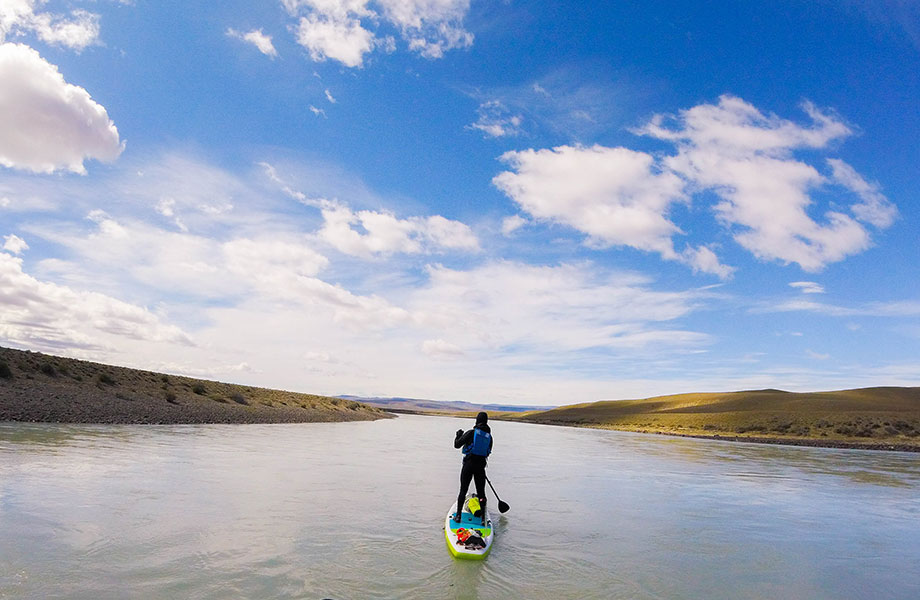 The silence was profound, no cars or traffic, just the occasional splash of a paddle would pierce the intense quiet. We would often look around and simply smile, appreciating how lucky we were to witness this, and how special it was to be the first people to ever SUP this stretch of water.
We pulled into the bank at the edge of Lake Argentino in late afternoon and embraced. We had just done what many had told us was impossible. Along the way we had been challenged in every possible way, but came out on top.
If there was ever a case to prove that nothing is impossible, this is it. We are not hardcore athletes, cyclists, runners or SUP champions. We are two normal mates from the UK, who refused to quit and backed ourselves to the end.
We now hold two world-firsts, and have a library of memories. We hope from reading this, you don't recognise what we have done, but instead what you can do, and use it as motivation to achieve your own dreams. Anything is possible with a bit of self-belief, so get out there and do it."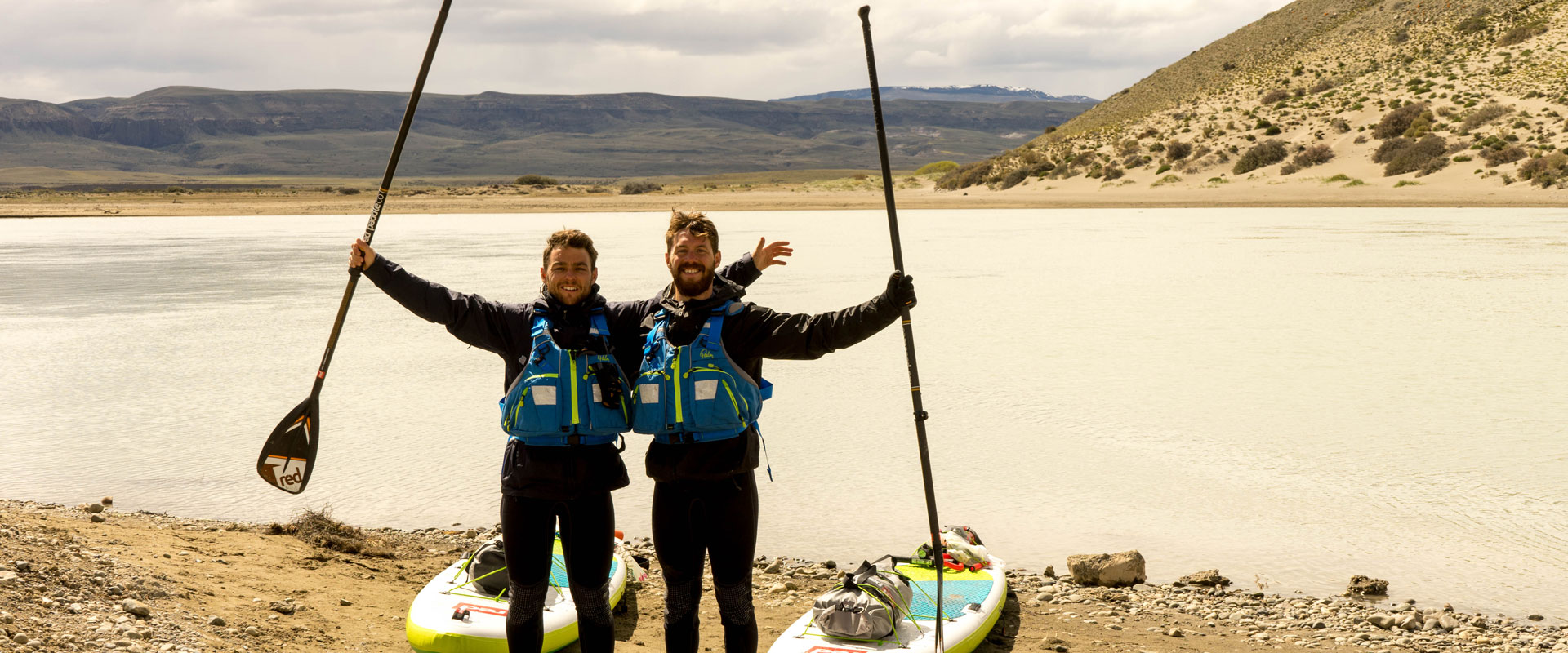 Keep up to date with James and Tom's escapades by following them over on instagram @thetempesttwo – you just might be inspired to head out on your own adventure and if you do, we'd love to hear about it!