Words by Sarah Hackford
If somebody had told me 18 months ago that I'd be living in Australia with my family, I'd have thought they were a sausage short of a barbie! But hey, down under here we are, setting up the distribution network for Red Paddle Co Australia.
The move has been an adventure, shaking us all out of our sleepy UK Devon ways into a new lifestyle on the Northern Beaches of Sydney. What an opportunity, but of course it has not been without its stresses and strains on the family.
Fast forward ten months and with middle daughter starting Uni in the UK and our eldest daughter finishing her summer internship, it seemed a good moment to have a trip away with our youngest daughter, Celia, who at 17 has really had to bear the brunt of all the upheaval.
I had met the amazing Charlotte Piho a few months before when we delivered some extra Red Paddle Co boards to her in Bondi to take out to the Cook Islands where she runs her SUP yoga retreats.   "You should come out" said Charlotte. It now sounded perfect for some mother-daughter quality time and on discovering it was only a 6 hour flight from Sydney, I emailed her – "We're coming!".
A tropical idyll for paddle boarding and SUP yoga beginners
The Cook Islands are in the middle of the Pacific Ocean with Rarotonga, where we were headed, being the biggest island with a circumference of only 32kms. It is surrounded by reef which makes the waters around the island a sheltered turquoise lagoon, a tropical idyll perfect for SUP and SUP yoga beginners. There's also easily accessible open ocean paddling to challenge the more experienced paddler.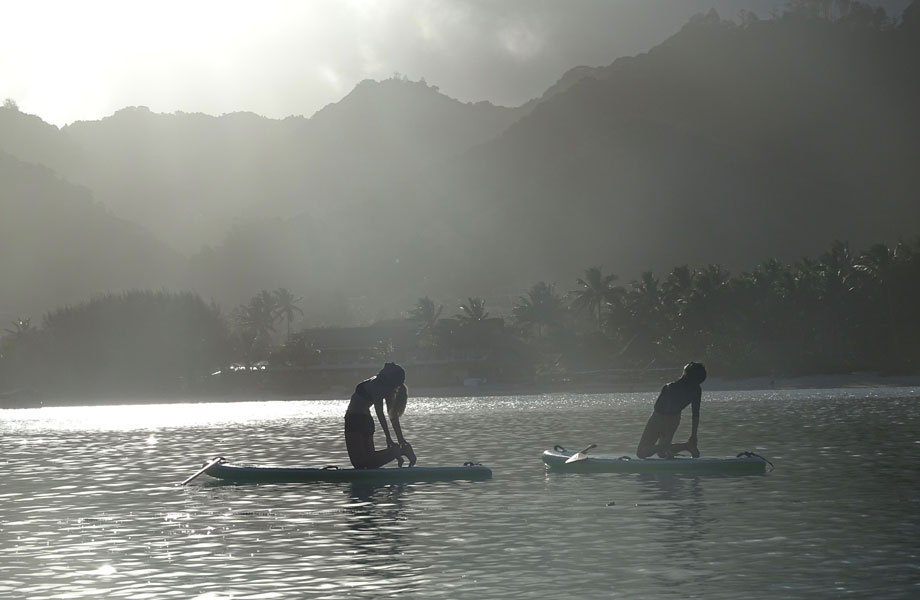 Married to ex Olympic windsurfer and Red Paddle co-founder David Hackford it would be fair to assume that I would also be a competent water sports person. The truth however is that I am probably the wobbliest paddleboarder to ever try and stand up! I had warned Charlotte of this beforehand so my challenge for the week was to become a more confident paddler. Celia had done some yoga before but she wanted to become more proficient and master a headstand on the board. The other retreat guests (6 of us in total) had similar goals for the week and also reinforced the 'mother -daughter' vibe with 2 New Zealand girls whose mothers had been before and one mother whose daughter had recommended it to her.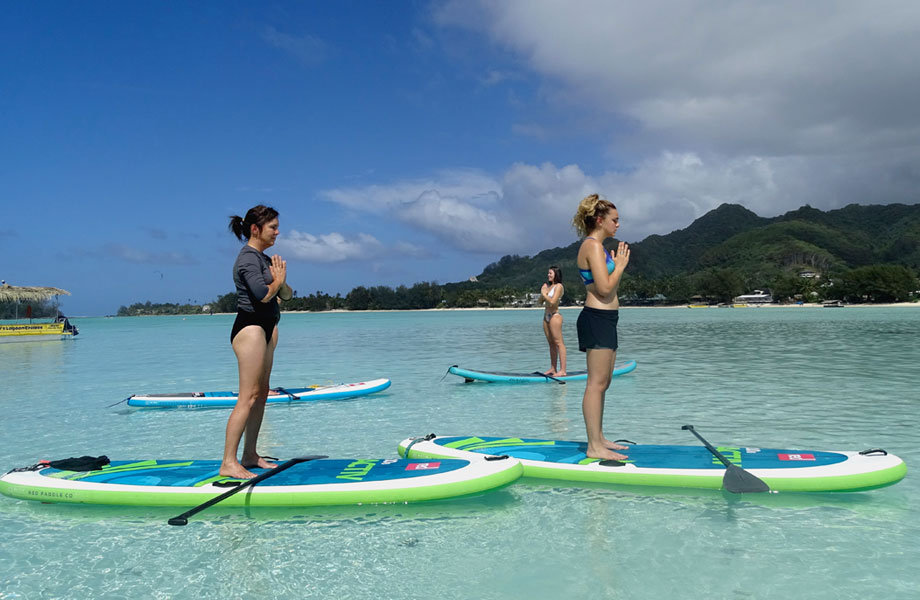 Our days generally started with a sunrise SUP yoga sessions followed by downtime then an afternoon or early evening paddle across to one of the other islands with more restorative SUP yoga. Charlotte has a fleet of Red Paddle Co boards and regularly uses our amazing Activ 10'8, a perfect paddle board for performing stretches. This board has additional thickness, which gives it greater rigidity and with added width (34″) it gives you a really stable platform, making the board perfect for yoga poses.
For our first venture out there was quite a lot of wind so we knelt to paddle beyond the waves and reached the lee of a tiny island lagoon opposite. I managed to fall in after about 2 minutes when Tuhe, Charlotte's father and retreat co-host, moved my board ever so slightly to attach the anchor. A pre-requisite for any good mother daughter bonding is that mum falls in first! After a few more dips in the ocean we all seemed to get the hang of it and classic yoga poses such as upward/downward dogs, cats, cows and pigeons were being confidently held by everybody. Savasana, or corpse pose, was everybody's favourite and lying on your back on the board trailing your hands in the warm sea was a very special way to end a yoga session.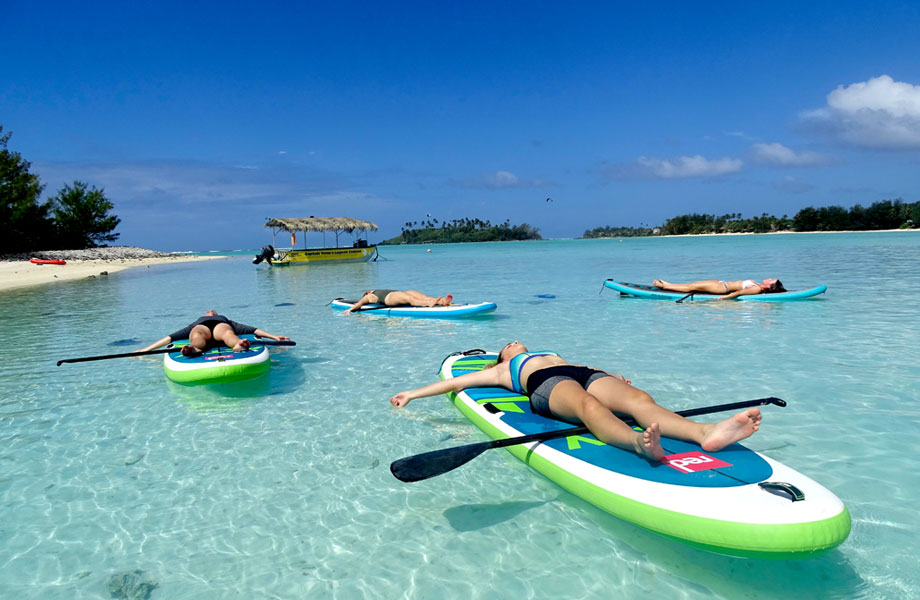 Charlotte also made us do some quite challenging paddles against the wind and into some fairly choppy conditions. I think the yoga really helped get your stability on the board as if you can balance on one leg you can paddle through a few small waves, no worries! As Charlotte kept saying; "feeling wobbly is all in your head… just stand up! There's no reason that you can't stand upright apart from your own confidence to do that." The tough love paid off and I definitely felt much less wobbly by the end of the week and completed quite a long downwind paddle without kneeling down once!
We stayed at the Aremango Guest House which is basic, rustic, comfortable and very friendly island accommodation. The swinging hammocks in the garden were a perfect vantage point to watch the mother hen clucking over her chick (how appropriate) and the other free-range chickens, cats and dogs before taking the short track to the beach to our meeting point. In our downtime, Celia and I hired bikes to cycle part way round the island, went snorkelling, read, chatted and visited the local coffee shop. With no wifi to hijack hours of the day answering emails or social media, it was a real opportunity for some completely chilled time together and a genuine introduction to life on the island. Charlotte and Tuhe cooked for us at the retreat house simple vegetarian meals plus local fish such as Moonfish or Waaho. And to drink; it was pick your own coconuts from the trees outside for fresh coconut water which apparently leads to younger looking and revitalised skin!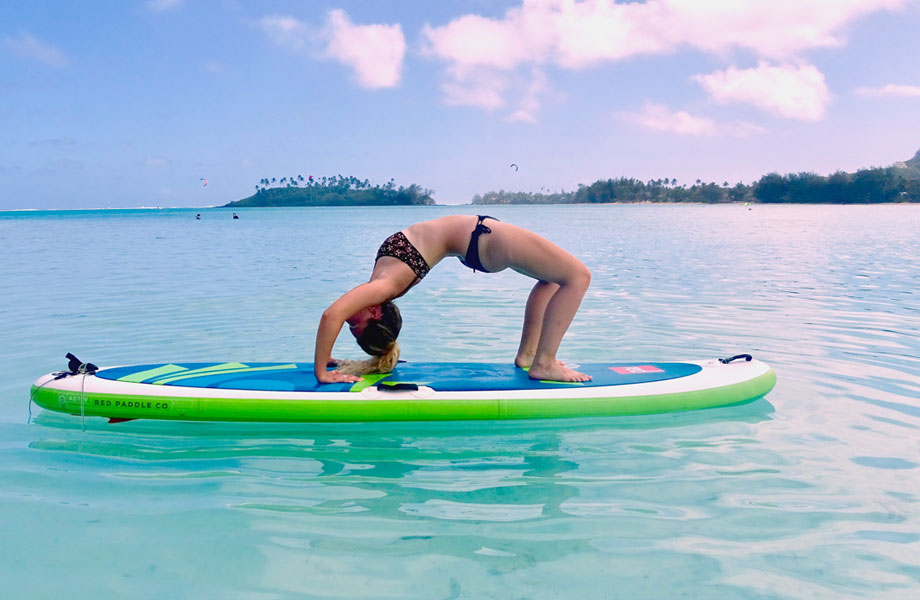 One session was spent doing some acro-yoga balancing with 2 people on a board which was great fun and all good for improving the balance. The Red Paddle Co boards are very stable and Charlotte is convinced that it is easier to do some poses on a board than in the studio. The headstand being one of them, as you have the rails to hold onto for extra balance. We had a go… some of us getting wetter than others and Celia managing to get all the way up.
Charlotte is a deeply spiritual person and she gently shared some of her philosophies and beliefs with us over the course of the week. One thing she believes in passionately is the power of manifesting mantras and at the end of each session she would ask us for a word to shout out in order to tell the world what we want and deserve. At about this time of the day the locals running the Raratonga Island Cruzes (sic) would arrive to sort out the boats for another day of tourists. "Don't worry about them they're used to us shouting stuff out. They usually join in" advises Charlotte.
Every session closed with Charlotte's blessing. It seemed more achievable the more often we repeated it:
May I always be grateful
May I always persevere
May I always be kind
May I always breathe deeply
May I always be positive
May I always spread positive energy wherever I go
May I always be free from suffering
Namaste.
Mine for Today: May we always be grateful for having spent this very special week in the Cook Islands
Words by Sarah Hackford
Photos: Charlotte Piho, Celia Hackford
For more details of Charlotte Piho's retreats see www.workoutonwater.com #charlottepiho