Words by Bronte Hackford, Red Paddle Co Australia
When my dad invited me to go on a paddle with our new Red Paddle Co boards to Sydney Harbour Bridge it was an offer I couldn't refuse.
I have only just moved to Australia from Devon, UK, so when he said "I've planned it all don't worry! We're paddling from Manly to Sydney" I didn't quite realise what I had signed up for. My dad and I often go paddling together but this was something quite different and after signing up I started to get a bit apprehensive – this would be my first time paddle boarding in Sydney.
Firstly, I am a flat-water girl. I admire people who can shred the waves, I really do. I've tried, but it's definitely fair to say it isn't my forte. I love going stand up paddle boarding in the sea but I used to live in Devon where it's easy to find little coves, beaches and quays that you knew would be flat. So, this paddle was a little more extreme than usual.
Secondly, being a country bumpkin I didn't think of the busyness of Sydney Harbour. If you've never been to Sydney there are kayakers, ferries, sailing yachts, cruise ships, fisherman, motorboats, police boats (which I found out on the paddle), and pretty much anything that goes on the water going around the bay in all directions.
Thirdly, little ol'Devon doesn't have waters infested in things that are very dangerous.
Nevertheless, we set they alarm to head off in the early morning.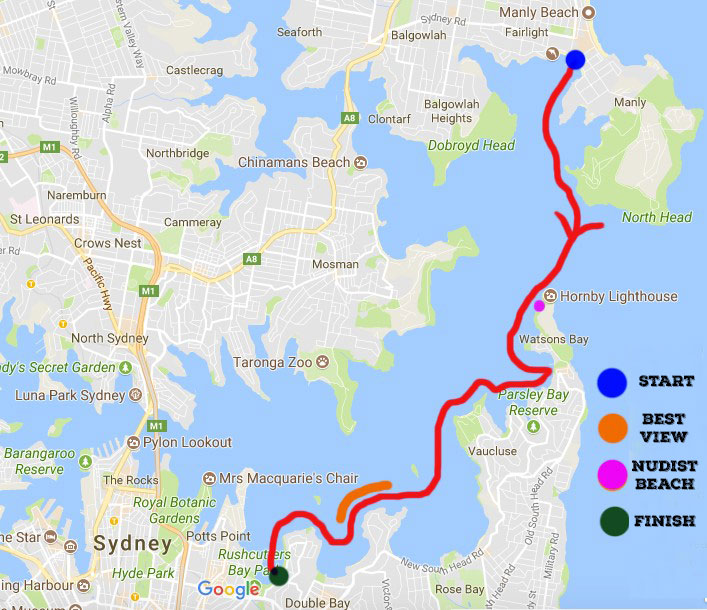 After pumping up our inflatable paddle boards we launched from Manly. We took out our Red Paddle Co 11"0 Sport, 11'3" Sport and 12'6" Voyager. The third board being for a friend of my dads who is a fisheries officer." Ah, he will be a good contribution as I'm sure he will know what to do in a dangerous fish situation" I reassured myself. I now know that really fisheries officers deal with legalities rather than life threatening sea creatures – so he would have been no help at all.

Our paddle boards carried us smoothly out of Manly Bay with the help of the wind on our backs we began to SUP into the city.
With this perfectly blowing wind, the Australian sun shining and the epic Sydney skyline in the distance, I began to relax. I stopped debating whether the crystal blue waters were a good thing if it meant I would be able to see a giant Great White coming towards me.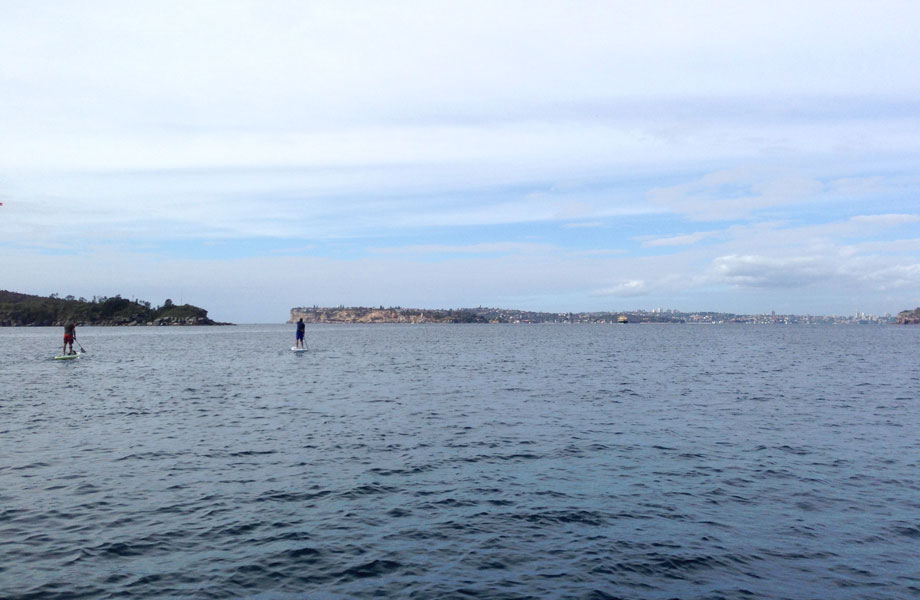 We had also passed a friendly kayaker who was heading straight out to sea, and thought if he's not worried then I definitely shouldn't be. And with that I began to wonder if we would see any dolphins or whales instead.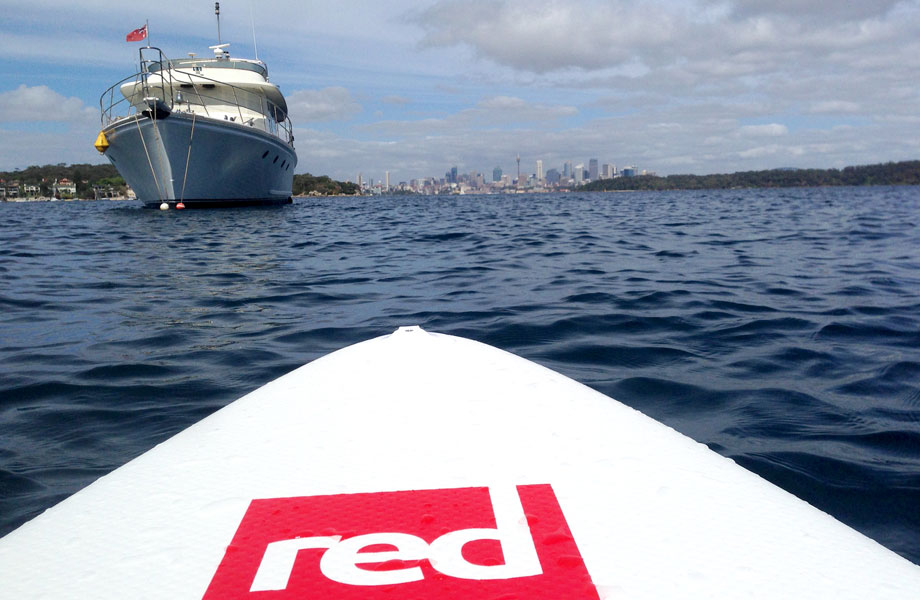 Ferries were constantly blasting all over the place, nothing my 11'0" Sport couldn't handle but it definitely challenged my balancing act. As we got to the end of North Head we began to head South to Watsons Bay across the main channel. I had to stop whale hunting and really concentrate on not falling off as we reached the roughest point of the paddle.
Even with the wind behind us this section was pretty tiring. But, after a little while and a few scary cloud reflections creating shark shaped illusions in the water, we reached the Hornby lighthouse.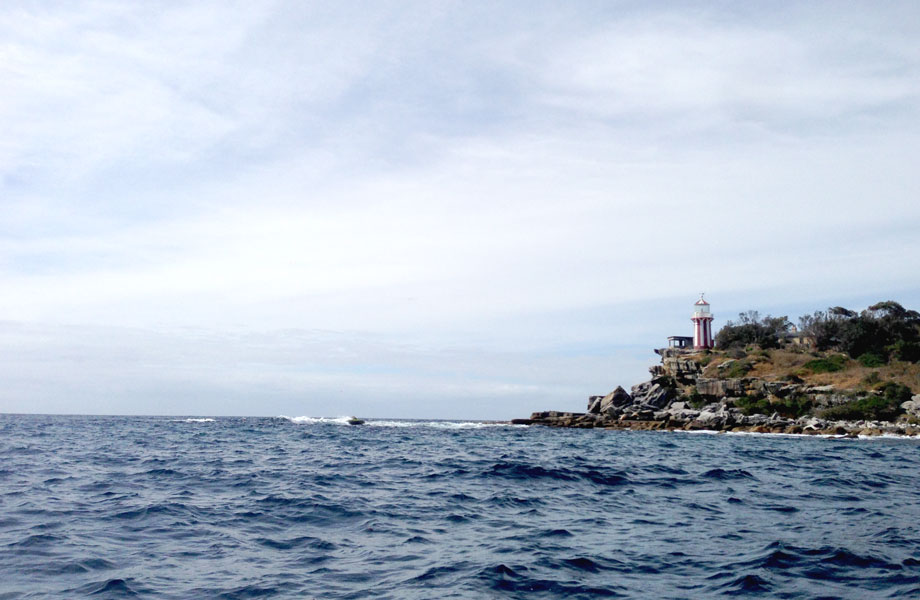 After letting our muscles have a little recuperation and deciding which multimillion dollar yacht we would choose if we won the lottery, we hopped back on our stand up paddle boards and set out to what turned out to be the most epic view I've ever encountered on a SUP.
As the water returned to a mirror of the blue sky, we waved to friendly fisherman and nudists at Lady Bay beach (which looked beautiful by the way, the beach not necessarily the nudists!). We got much needed caffeine and sugar boosts at Watsons Bay whilst admiring the surroundings.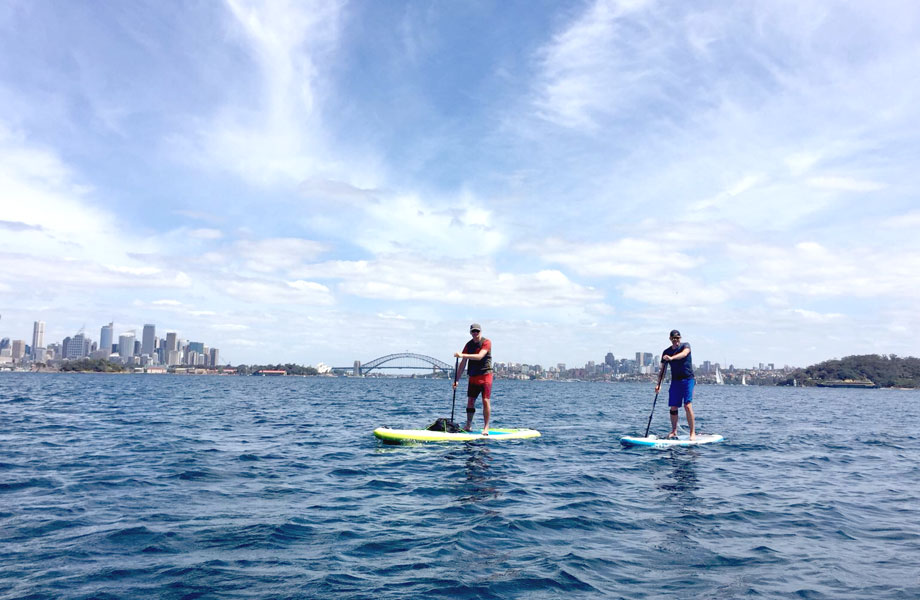 Unfortunately, we couldn't get much closer as the sea traffic gets much more frequent around the bridge creating unwanted ripples and I certainly didn't fancy a dip anywhere near Shark Island! Also, at the time there was a war ship docked that supposedly yelled at anyone in the surrounding vicinity! So, to avoid any plunges or unwanted interaction with the navy we headed into Rushcutters Bay for some well earnt lunch.
As we deflated the boards at Rushcutters Bay Park dad said, "well, good thing we didn't meet that 2.5 metre Great White shark that was spotted in the harbour yesterday"…to which I started to debate if it is a good thing that your dad takes you on adventures knowing there are Great Whites on route!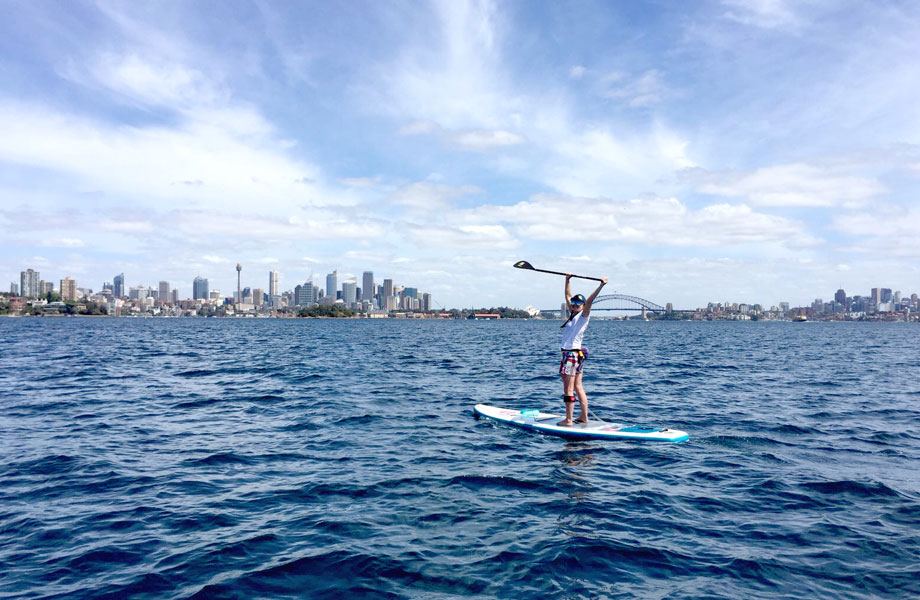 Despite the after warning of a shark, my initial apprehensions slipped away due to the calmness that paddle boarding can bring whilst also giving me a work out that made me ache for the next few days. Our Red Paddle Co boards were perfect for the adventure as when we arrived at Rush Cutters we simply deflated, put them back in the bags and in the car ready for the next paddle. Epic boards for an epic paddle! Thanks Dad for the unforgettable adventure.
Until next time…