We believe that owning an inflatable board should not mean you have to compromise on performance, looks or quality. We believe that the experience you get when you use one of our boards is that of an authentic SUP experience and not a low quality substitute to the real thing. Inflatable SUP boards offer the ultimate in convenience but this should not be at the expense of performance.
We've always thought of the design of our boards as so much more than just how they look. It's the whole experience. Owning an inflatable board is about storage, transportation, ease of inflation, as well as on-water performance. To design a board is only part of the process. Owning a Red Paddle Co inflatable board is about the whole package, the real deal and not some compromising experience that leaves you wanting more.
Here are a just a few of things that set our boards apart from all other inflatable brands: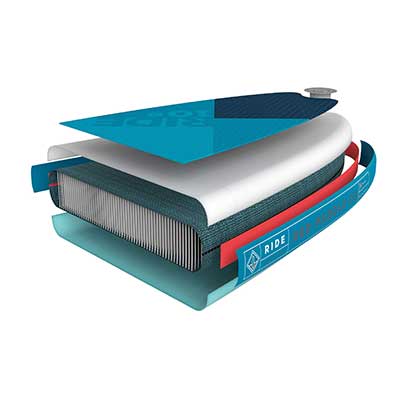 THE FUTURE IS MSL
MSL composite and airtight coating, MSL involves fusing a second layer of hard-wearing polymer to the dropstitch core at the raw material stage, removing hand gluing errors. The high-tech industrial process also saves almost 2kg in weight and makes the boards stiffer at lower pressures.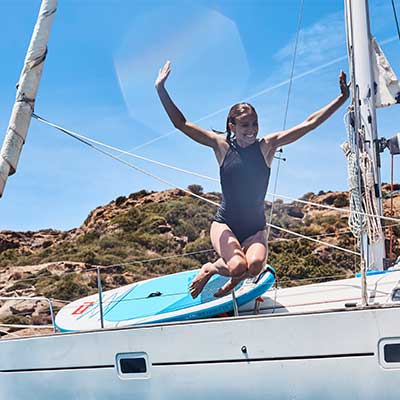 2 YEAR WARRANTY.
All Red Paddle Co products come with a 12 month warranty as standard against any manufacturing defects. By registering your board you get a free upgrade to a 24 month warranty on any 2018 board. Just click on the Register link on the bottom of any page.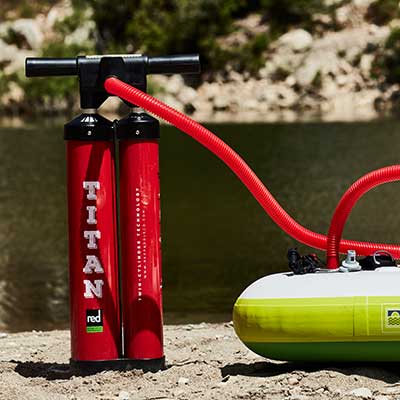 LESS PUMPING. MORE PADDLING.
We prefer spending our time paddling rather than pumping so we developed the Titan Pump. The Dual Cylinder system combined with the Hi Flo handle means you are in complete control of the time and energy required to inflate your board. It puts the volume into your board faster and reduces the effort required to reach a higher pressure.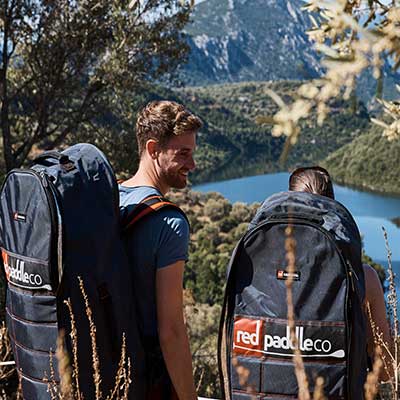 GET CARRIED AWAY. EFFORTLESSLY.
Our bags were the first to include integrated wheels that make travelling through airports a pleasure. The hidden back pack system can be stowed when not in use and is super comfy when you need to put the board on your back. The front loading system makes packing and unpacking super simple.The internal straps make sure the board stays put while in transit.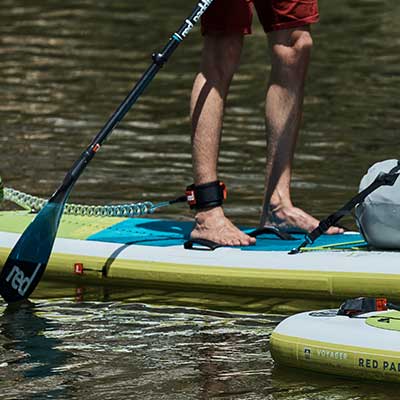 INCREDIBLY STIFF. BY DESIGN.
We're really proud of the award winning Rocker Stiffening System, or RSS. It's unique to Red Paddle Co – we designed and patented it to make some of our bigger, expert boards even stiffer to deliver greater performance. It works by slotting two stiffening battens into pockets that are individually laminated onto the side of the board. We've proved this makes the board up to 40 per cent stiffer. Combined with FFC on our Elite race boards ensure the most rigid ride for an inflatable SUP.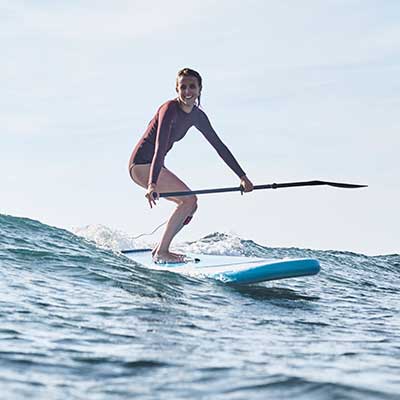 THICKNESS. REDEFINED.
Making a board thicker will automatically make it stiffer but it will also affect the performance of the board. If a board is too thick it's maneuverability and stability in the surf and on moving water will be compromised. We have worked with material manufacturers to produce our drop stitch material to exact thicknesses to allow us to make the stiffest boards while still maintaining the highest level of performance and allow the board to match the feel and performance of their hard board cousins.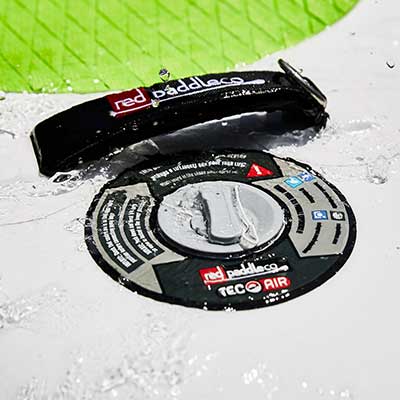 THE BEST DESIGN. FOR THE BEST PERFORMANCE.
Tec Air is not a product, it's a process. We looked at how we built boards, and by focusing in on the key areas of the production process, we have been able to refine each process to make the very best boards. All Red Paddle Co boards are built using our Tec Air specification to ensure the best possible build quality. Our strength comes from the inside.
EXCEPTIONAL CUSTOMER SERVICE.
We like paddling more than anything - but coming in a close second, we like hearing from you. We aim to reply to all online messages and enquiries within 24 hours. Wherever you are in the world, drop us a line to ask us any SUP-related questions and we will be happy to help.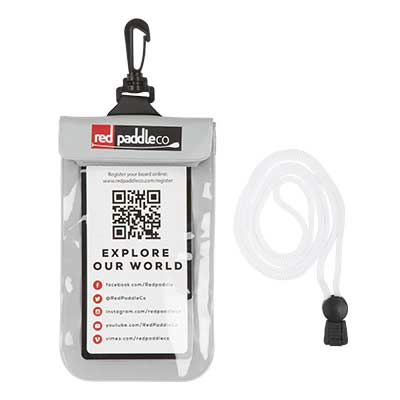 FREE PHONE CASE.
We know how much people like to capture their SUP experiences to share with their friends so we include a free water resistant phone case with every board. It's also important to always take a communications device with you when going on the water so you can contact the emergency services should you get into trouble.
---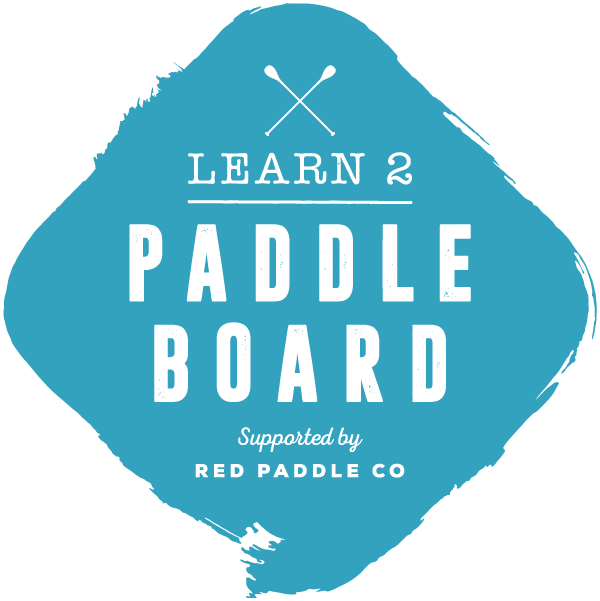 Visit Learn2paddleboard.com for a comprehensive guide to the very best schools and centres around the world as well as in depth tips and advice for getting started in paddle boarding.
Visit website