N'ayez pas peur, tout va bien !!!
Vous trouverez une bosse sous certaines de nos planches, à l'arrière. Cette bosse se forme lorsque l'on écarte les fils du drop-stitch, préalablement coupés, pour insérer la valve dans le deck de la planche. Nous nous efforçons de rendre cette bosse moins visible en la camouflant dans la mesure du possible sous les ailerons. Cependant, elle reste parfois visible sur certaines planches équipées d'un boîtier d'aileron US.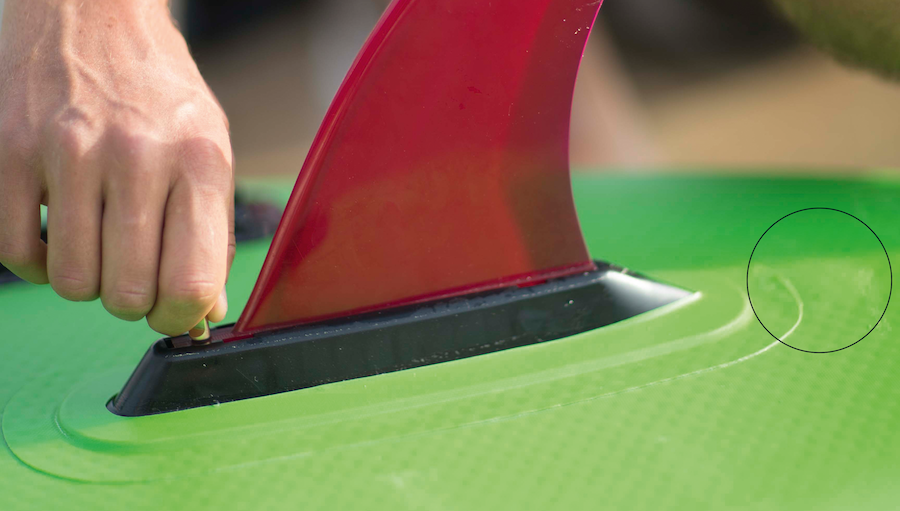 FFC BUMP
The Red Paddle Co Elite boards have 2 Patented Stiffening systems. The FFC system in the front half of the board works by putting a carbon rod under compression. This works in partnership with the RSS system to create an incredibly rigid board. The compression in the systems creates a downward force onto the board. The result of this is that you will see a "bump" on the underside of the board directly beneath the FCC mounts. This "bump" will get a little bigger as the material softens up over the first few months of use. This is normal and nothing to worry about. Your board is not delaminating or at any risk of failure. Please continue to use and enjoy your board as usual.