The growth in popularity of stand-up paddleboarding shows no signs of slowing, with an increasing number of people venturing out on to the water every year to experience this wonderful sport. Whether they're enjoying time with the family, heading off on an adventure, racing, exercising or simply want to enjoy the freedom of a paddle down the coast, there is no shortage of both "newbies" and seasoned paddlers. The rise in popularity has also led to an increase in demand for paddleboard rental, with people keen to experience the sport and see what all the fuss is about.
However, as with any new business, it's important to do some research and get a plan in place to give you the best chance of success and help you avoid the inevitable pitfalls associated with starting any new business. In this piece, we take a look at the key elements you need to assess when planning your new business, from choosing a location, deciding which boards to stock and the best way to start promoting your new venture.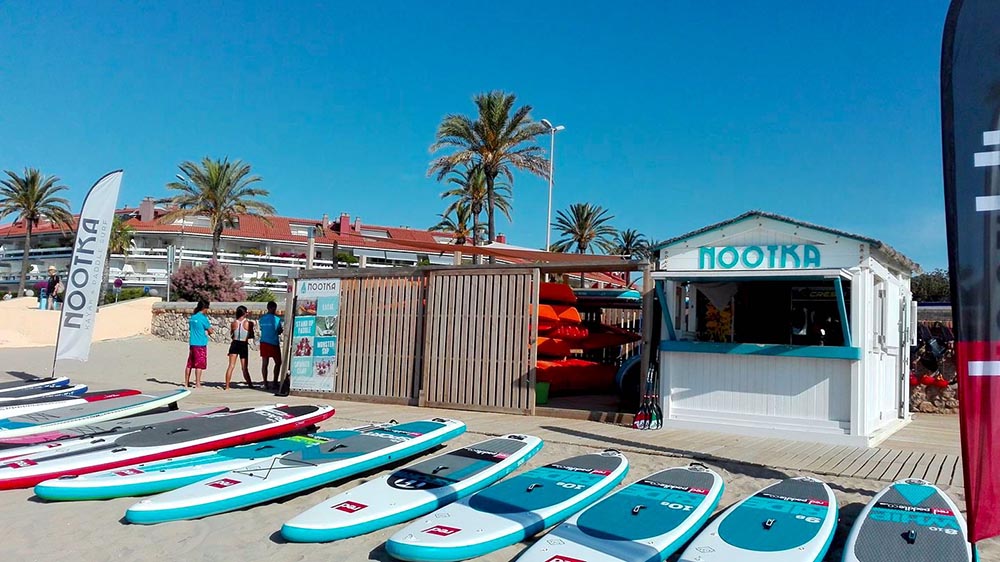 Paddle Board Rental Businesses For Sale
Before setting up a paddleboard rental business it may be worth spending a little time investigating if there are any already established paddleboard rental businesses for sale that may offer an opportunity for you. Buying a pre-existing paddle board business could significantly cut set up costs and time, although of course, you need to carry out some due diligence to understand the reason for the current owners selling and ascertain whether it is a viable and profitable business. Assuming it is, then you may be able to also gain some insight into what does and doesn't work based on the owner's experience, potentially saving you time and helping you shape the future of the business.
Location of Your Paddle Board Rental Business
If purchasing an existing business isn't an option, then the first and most important decision to make is what type of rental business you want to run and where to locate it. Broadly speaking, there are 3 main types of rental business – a physical store, a mobile service or an online rental-and-delivery service.
Inevitably, there are pros and cons of each.
A physical store provides a base from which to operate and can often help to develop better customer relations as customers always know where to come for a quality and reliable service. It also provides a meeting place and location for other services, such as SUP lessons, and also retail opportunities. However, operating a store incurs additional costs such as rent, rates and utility bills, all of which have to be factored into the business plan. If you do decide on physical premises, then the location is everything. It's important to take time to scout locations bearing in mind local transport links, accessibility for customers and parking.
Operating a mobile option dramatically reduces overheads and also gives you a lot of flexibility of where you can operate, allowing you to choose the location based on conditions on any particular day. On the downside, it will also require a lot of physical transporting, not to mention the running of at least one vehicle, and you will probably still require some storage space depending on how much equipment you end up owning.
The online rental-and-delivery service option is becoming popular in some regions and requires neither the cost of running a store nor the physical transportation (by yourselves) of a mobile service. Instead, you can operate it from one location and make use of courier services. However, there will, of course, be delivery costs involved and less opportunity to sell other services as you'll have no face-to-face contact with the customer.
It is, of course, possible to operate a business that offers a combination of these services, although this will form part of a longer-term plan rather than from the get-go.
Create a Safe Paddling Environment
Whether you opt for a fixed location for your business or choose to operate in a variety of locations with a mobile solution, it's important to demonstrate an authority and level of knowledge of paddleboarding to convey the right impression to your customers. This will reassure them that you are a professional operator and create a safe environment for them to enjoy their paddling. There's no better way to do this than gaining some instructor certifications. The American Canoe Association offer a range of stand up paddleboard courses and qualifications, whilst if you're based in Canada you should take a look at the comprehensive SUP Program offered by Paddle Canada.
Getting some formal qualifications will not only make you a safer operator as you'll be able to advise on things likes paddling technique, equipment, tides and weather, but it will also give you some extra confidence and enhance your reputation.
Which Boards to Choose for your Paddle Board School or Rental Business
Whatever business location you decide, you will need a selection of sizes to cater for all types of paddlers, from novices and to experts. Paddleboards come in a variety of sizes and weights and an important decision is whether you chose to go for the traditional hardboards or the inflatable SUPs. The original hardboard type is a solid option for many although the inflatable paddle board is rapidly increasing in popularity as SUPer's are discovering that the performance is just as solid in the water, but without any of the transport or storage issues. Being lighter than hard boards not only make inflatable boards easier to transport and carry but also a lot easier to manoeuvre in the water, ideal for less experienced paddlers. What's more, once packed into a backpack a board can fit in any size car and be checked in as luggage on flights, giving your customer lots of options of where to take the board during the rental period.
Once you have decided whether to provide inflatable or hard paddle boards you will need to choose the right selection for your business; there are many different types of board to choose from and whilst your local conditions and types of customer may dictate the type you choose, it makes sense, certainly while you're getting off the ground, to opt for a range of all-round paddle boards, to appeal to as wide a range of potential customers as possible.
Remember, you'll also need to provide paddles and it's also a good idea to offer accessories, such as personal flotation devices and leashes. All of these items provided opportunities for additional revenue and should be factored into your rental prices.
---
Find Out Why Red Paddle Co boards are ideal for your Paddle Business Rental Business
---
Paddle Board Rental Insurance
As with any business, it is vital that you have appropriate insurance for your activities to ensure that in the event of any type of claim you are covered. Whilst there are of course a huge variety of options available in the wider world of insurance it is worth looking for a policy that will provide a level of cover that is specific to your needs. If you're based in the US, you may be interested in becoming a member of the American Canoe Association, as membership gives you a variety of benefits, including insurance.
Promoting Your Paddle Board Rental Business
Once you've got the structure of the business in place, it's time to promote it. One of the initial things will be to build a website. The website will influence your customer's impression of your brand so it is important to portray the correct image as well as working as an important sales tool. Take time to research the best online sales and booking software as this could make a difference between gaining and losing new customers. It's also worth investing time in your site's SEO to ensure it is being found by people searching for the services you provide. Building content on the site around your subject area and optimizing for specific search terms that you want to be found for, will help generate business.
Once you've got the website operational start getting your business known, through both traditional marketing and also social media:
Create some local promotions and offers.
Gain some local PR via the local press, tell them your story and why people should give SUP a try.
Get involved in local events, in particular, any water-based ones.
Give away prizes such as free hire, free classes or lessons.
Speak to local hotels, campsites etc about promoting paddleboard rental to guests.
Be active on social media, in particular in the local area and in the paddling/watersports community.
Start your Paddle Board Rental Business
Start planning today and turn your passion into the reality you have always dreamed of. Once you have the location, the SUPs, the website and you have grown a client base through marketing and promotion; you will be ready to live the lifestyle choice you've earned.
For more information about starting a Paddle Board Rental business talk to one of our team, who will be happy to provide you with support and guidance:
Email Red Paddle Co USA on [email protected]
Or call 1(800) 565-5405