Going on a Stag Hunt
George Shillito shares his slightly alternative stag do! 
To say it was one of the more bizarre phone conversations I've ever had would be an understatement. It was late Wednesday night when my phone rang – The caller ID showed a smiling, if not slightly dazed, picture of 'Chris 'Muzza' Murray'. I answered immediately, keen to hear the latest plans, ideas and observations that had sprung into Muzza's head during the previous week or so. These calls are a relatively regular occurrence and there was nothing to suggest this call would be any different. That was until Muzza dropped a bombshell. As far as bombshells go this is up there with the mother of all bombshells. It went a little like this… "Anyway mate, what you up to next weekend? I'm, um, getting married!"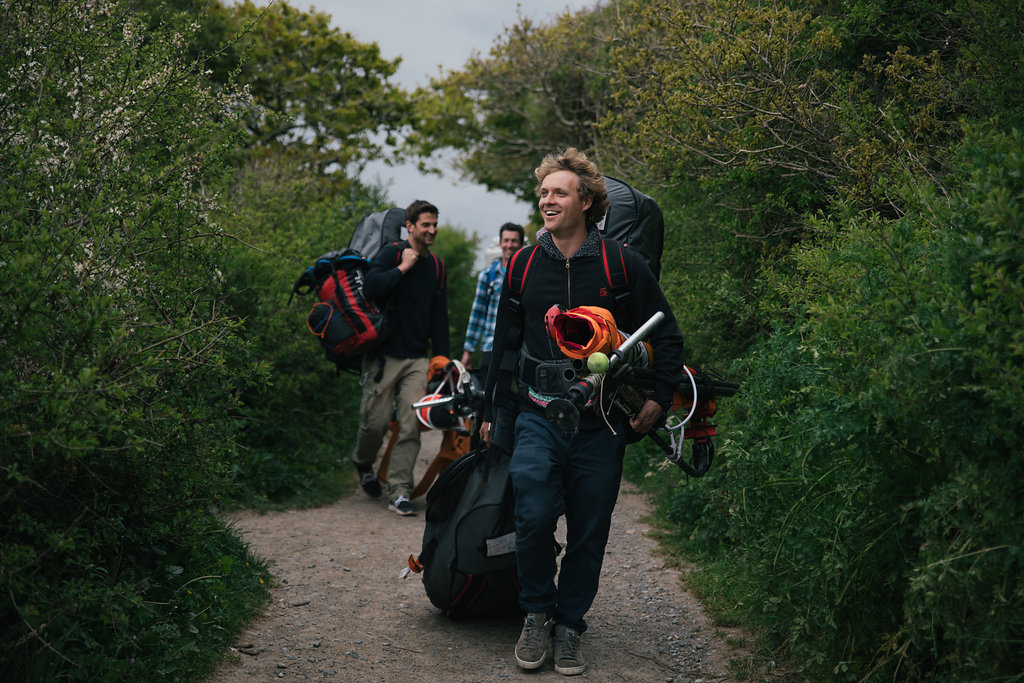 At this point, I should point out that the reason for this, seemingly 'out-of-the-blue', announcement was not due to Muzza's usual organisational style, but rather due to unforeseen family circumstances which had caused the wedding preparations to be expedited to an impressive rate.Needless to say, from that moment on the plans for a surprise stag began to spin into motion, in fact, just under 48 hours we were all set to go.
It was now Friday evening and I found myself bouncing along a small country lane sandwiched in the front of a van between one very excited Chris Murray on my left, and Red Paddle Co, Managing Director and good friend, John Hibbard at the wheel to my right. We were winding our way towards a long-forgotten shore situated to the west of Bantham, South Devon.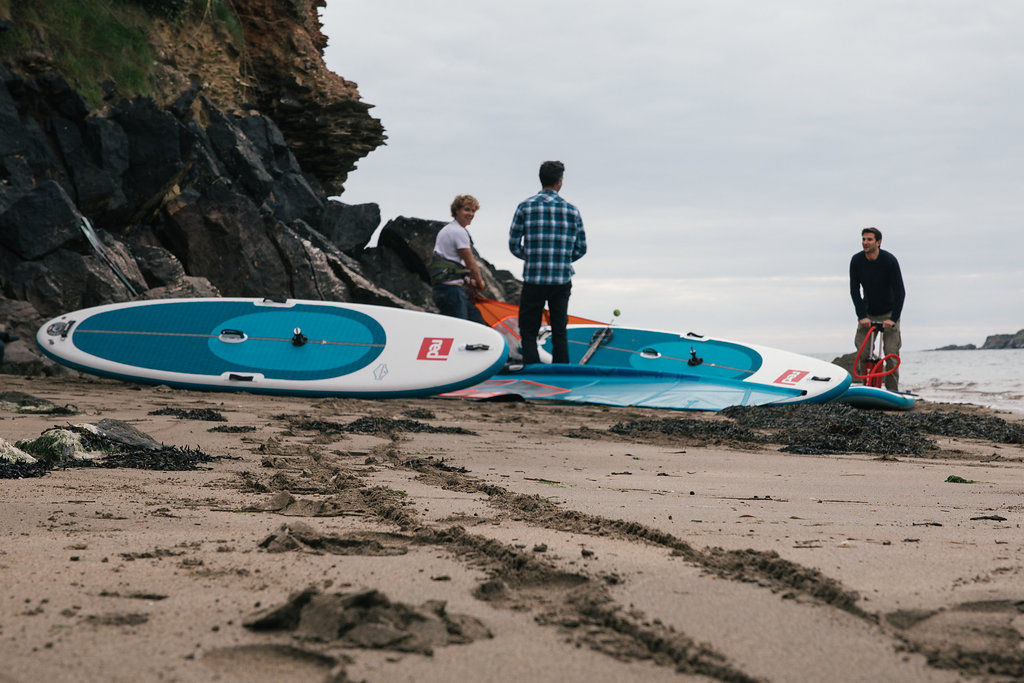 This spontaneous journey was in fact the result of a thought-provoking conversation Muzza and I had had a couple of weeks earlier combined with my new-found, stag-induced motivation. We'd been talking about the adventures of Jono Dunnett and his incredible coastal escapades around Britain when something suddenly occurred to us both. Despite, having windsurfed for as long as we could remember, we'd never embarked on a 'destination windsurf'. Sure, we'd travelled all over the UK in our trusty vans on the hunt for wind and waves, but never had we thought about venturing further than the breakers in search of a real adventure.It was absurd that we hadn't thought of this before now! It was a conversation I replicated the very next day with John and we agreed, that, as soon as the forecast allowed, we'd pack up our Red Paddle Co WindSURF boards, pack up the camping gear and explore!
We didn't have to wait long. Friday threw up the perfect combination of wind, weather and tide for such a trip. In doing so, it had also offered-up the ultimate disguise for the stag and was the reason we now careered towards our chosen launching point.
Chris Murray –
"When George suggested we go on a WindSUP adventure there was no way I was going to miss it, even if there was only a week until my wedding! I grabbed my bivvy bag, fishing rod, spear gun, lead weights, flippers, camping stove, hammock and anything else I thought might be useful. Admittedly, it looked like I was going away for a month rather than a week, but I was desperate to catch a fish for the barbeque."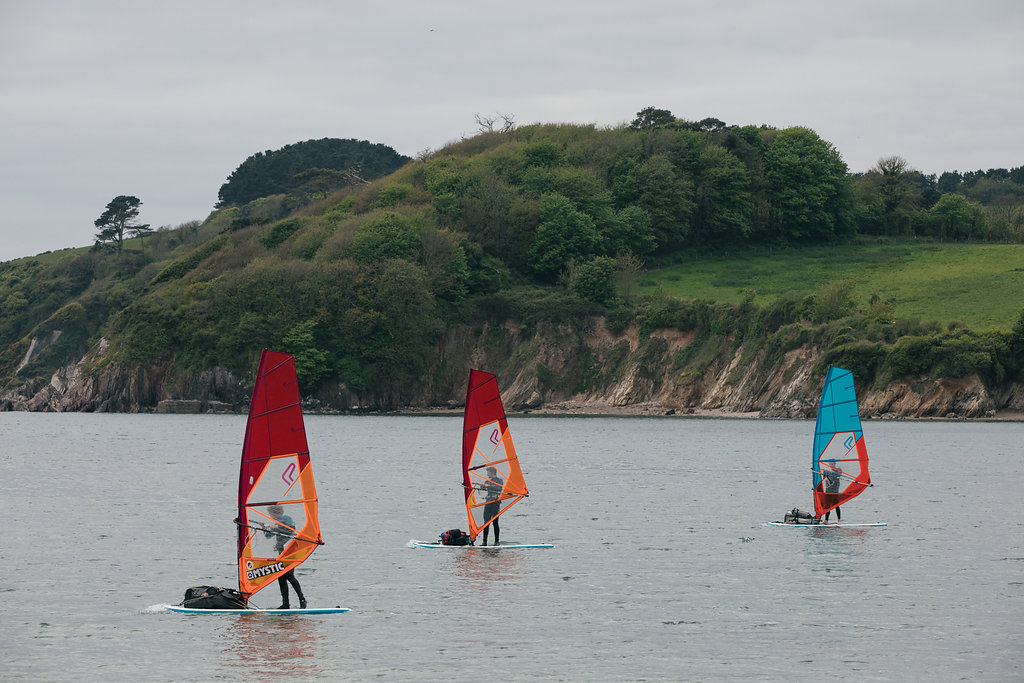 As we arrived at the small beach, we were presented with a light 6-8 knot breeze funnelling down the estuary. This in itself felt strange. With almost 60 years of windsurfing experience between us, we were all used to scouring Windguru for the ominous dark hues that signified the arrival of an imminent low pressure. Instead, we now found ourselves looking out over a calm, flat (!?) sea disturbed only by the lightest of south-westerly breezes. What's more, we were looking forward to it. No more than that, it felt like we were re-discovering windsurfing all over again.
With the evening and tide racing in, we slung the boards on our backs and grabbed our rigs, our kit bags, plus a six pack of beer for good measure and headed to the beach. As we unpacked, inflated the boards and rigged up, it occurred to us how easy it would be to do this just about anywhere in the world! The whole process took less than ten minutes, we were rigged and we were ready to go.
John –
"When George told me about his plan to windsurf along the coast and camp I was immediately in. Having hung-up my competition jacket in 2009, I haven't spent much time with a boom in my hands. It was an exciting prospect to get back out there with the boys – especially when I heard Muzza was already on board. Spending time with him is a joy! He is such a unique character that just makes any journey a lot of fun.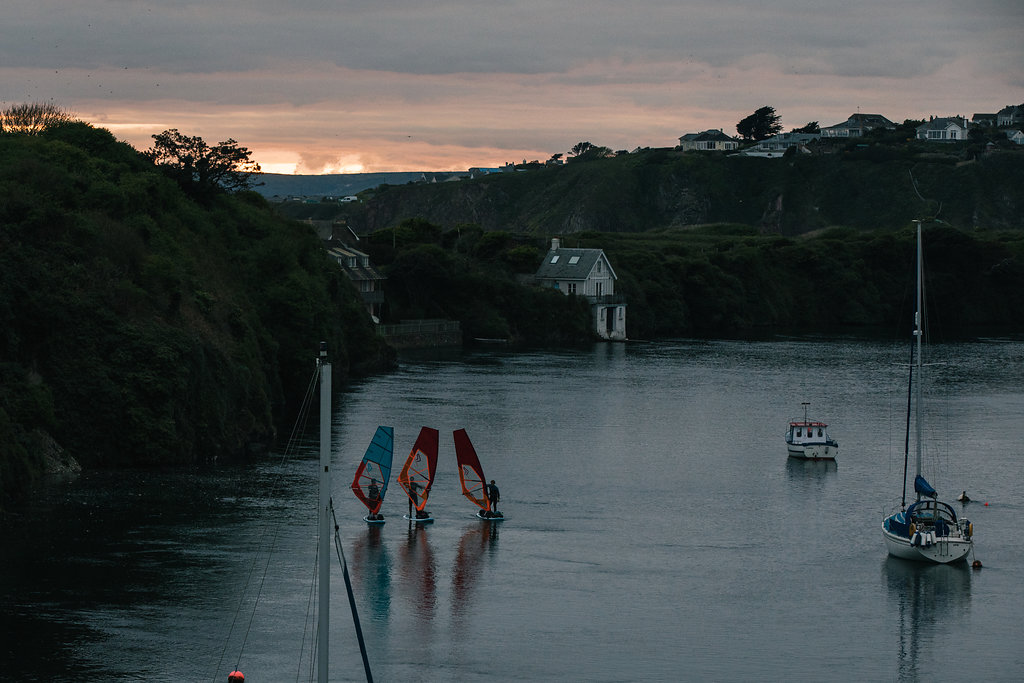 Tacking out of the River Erme took a little longer than planned due to the light 6 knot, onshore-wind and 4 knots of in-coming current but, after a tacking race upwind, followed by a few U-turns to get back to Muzza who seemed intent on fishing, filming and generally doing anything other than sailing in a straight line, we were eventually in the open ocean.
That was when I realised I was approaching this whole thing with my competitive head on, focussing on getting from A to B as quickly as possible. I decided to take a leaf out of Muzza's book, cracked open a cold one (don't drink and sail kids!) from our 'emergency' rations and re-grouped with the guys.
Sailing a mile or so out to sea, slowly gives you plenty of time to look around. It's a different perspective that most will never experience; a little like looking at your life from above I guess. We realised that our misspent youth was not misspent at all but rather it allowed us to feel totally capable of going wherever we wanted in an almost over-confident, yet calculated way. We were in our element, we weren't blasting along at 30knots, but were enjoying windsurfing in its absolute rawest form."
As we cruised happily along the coast and let the pressures of the week slip away, a thought suddenly dawned on me. I hadn't heard from the boys who were meant to be lying in wait at a slipway just upstream in Bantham ready to spring their surprise. Were they there? Would they be in the right place?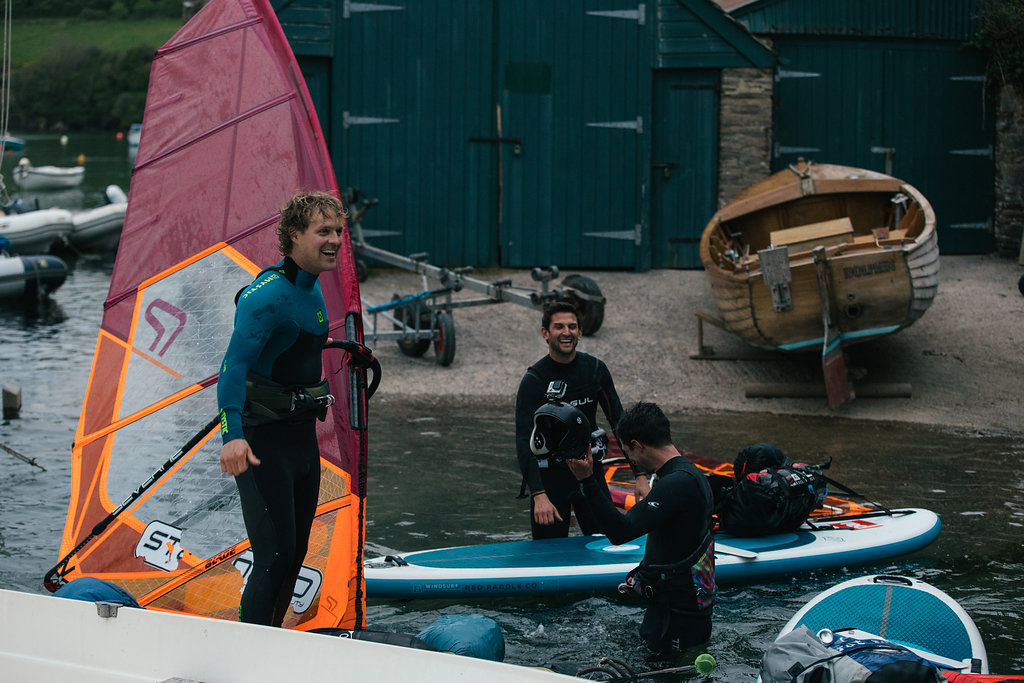 No sooner had I thought this, I heard a yelp from behind me. I turned around to see Muzza diving off his board in pursuit of something. He had dropped his fishing rod which was now heading to the bottom of the ocean, whilst he pulled desperately on the end of the line as it spooled out over 150m of now very tangled fishing tackle! After a good few minutes of crippling laughter, I realised this was my opportunity to peel off and use the phone I had in a waterproof case to send a message to the "Photographer" (boys) and give them an update.
Jamie Gibbs –
"We pretty much got the go-ahead on Friday morning. George sent a message to our shared whatsapp group saying, "it's on!". I arranged to meet Adam Lewis, Ric Cleworth and some of the lads from Cornwall in Bodmin to get some essential supplies, mainly consisting of the ingredients for the legendary 'turbo plonk' we had created on George's stag a few years before.
As we wondered around collecting food and booze, we suddenly realised no one had informed Andy 'Bubble' Chambers what was happening and it was now 4pm! After a quick call from Ric, saying "Get in the van mate and start driving! We're having a secret stag for Muzza", I decided I should follow up with another call to strengthen our arguments and convince him to come. He didn't need it. He was already on route driving the four-hour drive from Bournemouth to Bantham. That's commitment for you!
For some reason, it seemed to take forever for us to get what we needed, and it wasn't until we got a message from George saying they didn't have too far to go that we realised it was going to be a race against time to arrive before they did.
Chris Murray –
"As we arrived at Bantham, George said, almost on a whim "Shall we float up the river on the current to find a good place to camp?". Having lost and then found my fishing rod earlier in the trip I was desperate to redeem myself and catch some dinner for the lads. As we cruised up the river, we were no longer using the wind but drifting silently on the current. There was so much to look at that I didn't notice as I sailed over some slack ropes floating just below the surface that extended to the boats moored beyond. About 30 seconds later, I stopped dead. Had I caught a big fish? Would I be able to provide an amazing dinner? This was my moment! As I started tugging on the line to haul in my prize, I realised the error of my ways; I was pulling myself closer and closer to a boat. A boat which I was now well and truly attached to!"
By now John and I were firmly back on terra-firma having landed on our designated slipway. We watched on and laughed as Muzza fought hand over fist with a small fishing boat. If the current predicament was not enough it was only made sweeter by the fact that the boys were exactly where we had agreed, hidden from sight and doing everything they could not to give the game away as they listened to Muzza's groaning from somewhere just out of view.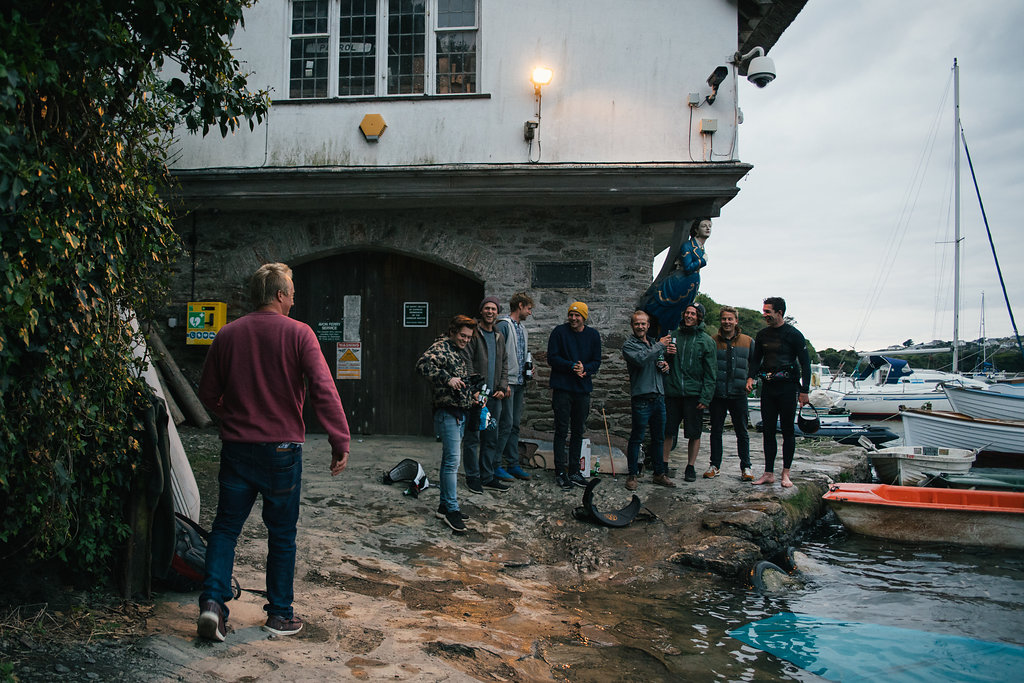 What happened next, happened quickly. Muzza let out a roar of success as he freed himself from the line only to have it echoed by an incredible explosion of roars and cheers as the group jumped from their hiding place. The noise was a stark contrast to the sleepy setting of just moments before and as Champagne and beer filled the air, Muzza's face contorted to display more emotions than I ever knew possible on one face. Happy, overwhelmed, amazed, stunned… Terrified!
As the drinks began to flow, we packed down the kit and headed to a small, tucked away campsite not far from the beach. With the light now fading and darkness creeping in we lit a campfire and cajoled some disposable barbeques into life as stories from the day became more and more embellished as the beers began to flow, and flow….. and flow.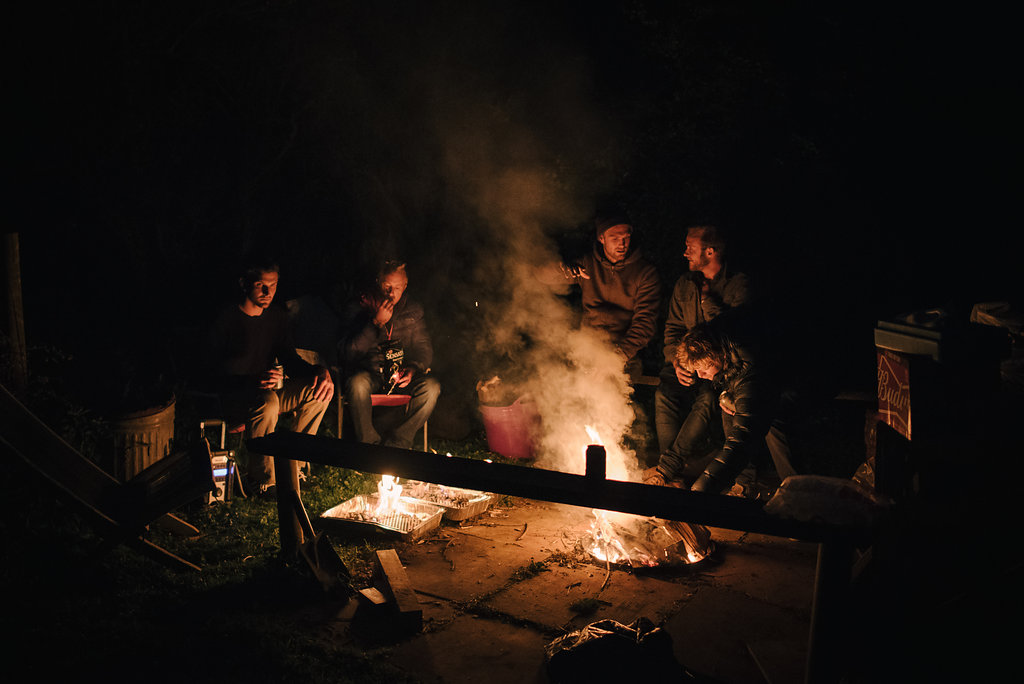 —
The following morning the campsite was a sorry state of affairs with bodies, tents and vans littered everywhere. After a very slow start and full debrief of the antics from the night before, we began to consider the leg back to the van. Unlike our heads, the day was exceptionally clear, the sun was already high in the sky and the wind had swung 90 degrees and in doing so had built to a fresh 16knot south easterly.
After waving goodbye to the others, our small trio returned to the slipway from the night before to inflate our boards and re-rig once more. It was now a very different scene, it was a hive of activity with vibrant boats sailing up and down the river, paddle boarders exploring the river banks and the river was a striking shade of royal blue against the unbroken sky.
We pushed off once more, this time into an out-going tide which ejected us almost directly upwind of Burgh Island. The swell had now increased and we found ourselves hooked in and punching through sparkling white-capped waves as we headed further out to sea. The boards had come into their own and despite their size were incredibly agile allowing us to easily navigate out of the channel and reset our course as we chased rolling swell lines downwind towards our original launching place.
Little did we know that the best bit was yet to come. When we rounded the headland to sail back into the River Erme, the scene before us was comparable to what can only be described as a heavily photoshopped version of reality. The grey waters from the night before had been replaced by an incredible turquoise azures and golden fringed sandy beaches that lined the banks of the river. It was spectacular and the perfect end to the trip and left us hungry for more, just maybe we'll leave the Port at home next time!
Right – time for a wedding!
Written: George Shillito
Photo's: Yeti Photography
For more information visit: www.redpaddleco.com