This week we spoke to a few paddlers from our global paddle boarding community to find out why they think the Sport range of paddle boards make a perfect paddling partner.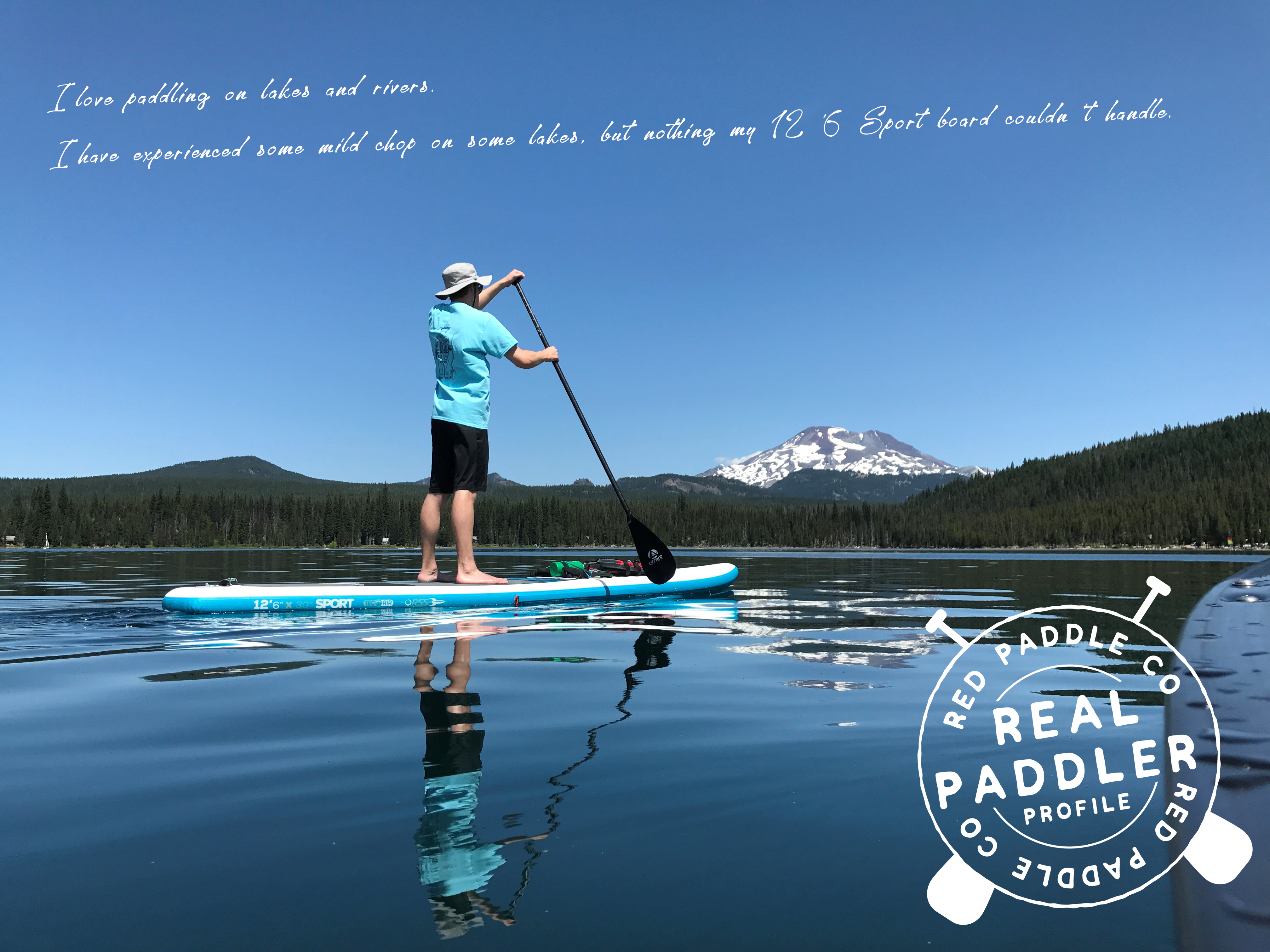 Dylan Breneman
Board: 12'6"
Age Bracket: 16-25 yrs
Approx Weight: 150 lbs
Height: 6'1"
Job: Instructional Student
Country: USA
How has paddle boarding changed / improved your life?
Paddle boarding has changed the way I adventure. With my Sport board, I am no longer tied to hour rentals, or the burdens of a hard board. My inflatable paddle board can go further than any other board on the market, literally. I can fly anywhere in the world and just pump up my board and go. I love the durability, especially as a clumsy person. I never worry whether I should go up a stream, or around those rocks; I simply go – my Sport board takes care of the rest.
Why did you choose a Red Paddle Co board?
I chose a Red Paddle Co board because I wanted a durable paddle board. I didn't want to worry about babying some fragile plank. Red Paddle boards are tough, which is good when you have two teenage brothers. The strength of these boards provides me with peace of mind whenever I go out on the water.
Why did you choose this board?
I chose the 12'6″ Sport because I wanted a versatile paddle board. By that, I mean I wanted a board that had the speed to paddle circles around my brothers and provide ease and comfort while cruising with my parents. I also wanted a board that provided something my whole family could use. I love watching my family take it out on the water, because I know they are enjoying it just as much as I am.
What kind of water conditions do you normally paddle in with your Sport board?
I have only taken my Sport board out on flat water; I love paddling on lakes and rivers. I have experienced some mild chop on some lakes, but nothing my Sport board couldn't handle. I plan to take it out and around Balboa Bay in Southern California very soon. I have no worries about taking my board out on ocean water!
Roger Kacmarcik
Board: 12'6" Sport
Age Bracket: 56-65 yrs
Approx Weight: 170 lb
Height: 5'10"
Job: Fire Fighter
Country: United States
Why did you get into SUP?
I'm an active mid-fifty year old and am trying to live a healthy lifestyle. I strive to exercise 4-5 times a week (preferably paddle boarding a couple of those days) and maintain a solid eating plan, including lots of vegetables and quality protein. After trying paddle boarding I realised how easy it is to fit into my lifestyle and after finding the board the suits my paddling intentions I just can't get enough.
Why did you choose Red?
After I had tested a few Red products I had no other intentions of getting any other SUP brand. I was so impressed by its quality. The technology behind it's stiffening is incredible and makes it construction truly one of a kind.
Why did you choose your board?
It seemed to be the best choice for the type of paddling I wanted to do such as the inland waters of Washington State. I like to load up some food and paddle a couple hours to a remote beach and hang out with my wife while refueling ourselves for the paddle back. The Sport paddle board is perfect for this type of touring.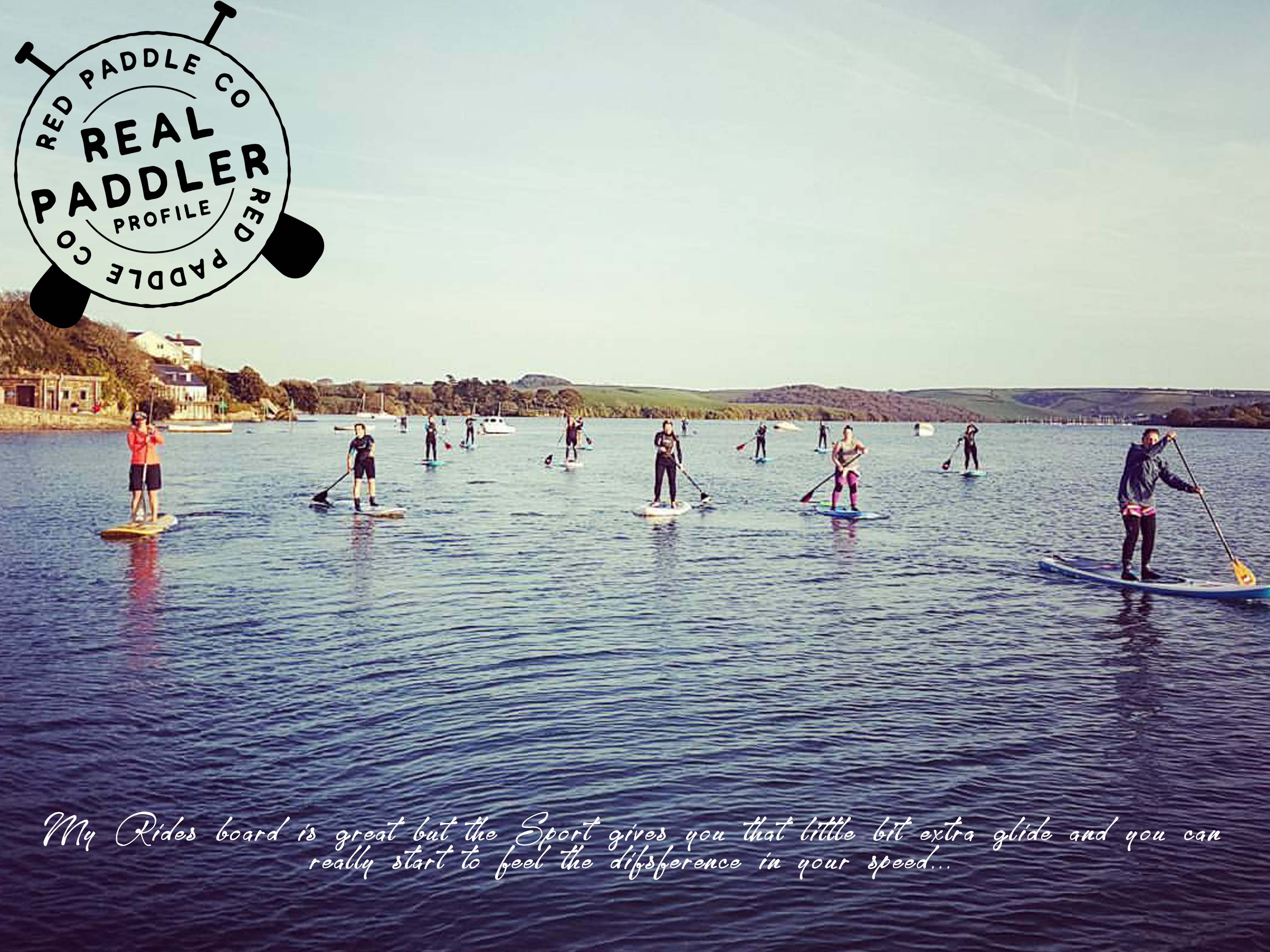 Christine Tottman
Board: 11'0" Sport
Age Bracket: 40+ yrs
Approx Weight: 11st
Height: 5'9"
Job: Operations and Accounts Manager
Country: England
Where do you go paddle boarding on a regular basis?
I live in Devon, UK, so I enjoy paddling around local estuaries, rivers and beaches. I am very fortunate to have a women's paddle boarding club, we regularly go out on Monday evenings and even better, it can sometimes end at the pub!
How has paddle boarding changed / improved your life?
A few years ago my health took a turn for the worse and one of the things that I really missed doing was SUP. When I started to get better I was so excited to get back onto the water again.
One of the beautiful things about paddle boarding is that you can put as much effort in as you want, so it was the perfect way to build my strength and fitness up again. I didn't realise how much I would miss it!
Why did you choose you board?
After paddling for a little while I wanted something that I could get a little bit more speed on. The Ride inflatable boards are great but the 11'0 Sport gives you that little bit extra glide and you can really start to feel the difference in your speed!
Who would be your ideal paddling partner?
Daniel Craig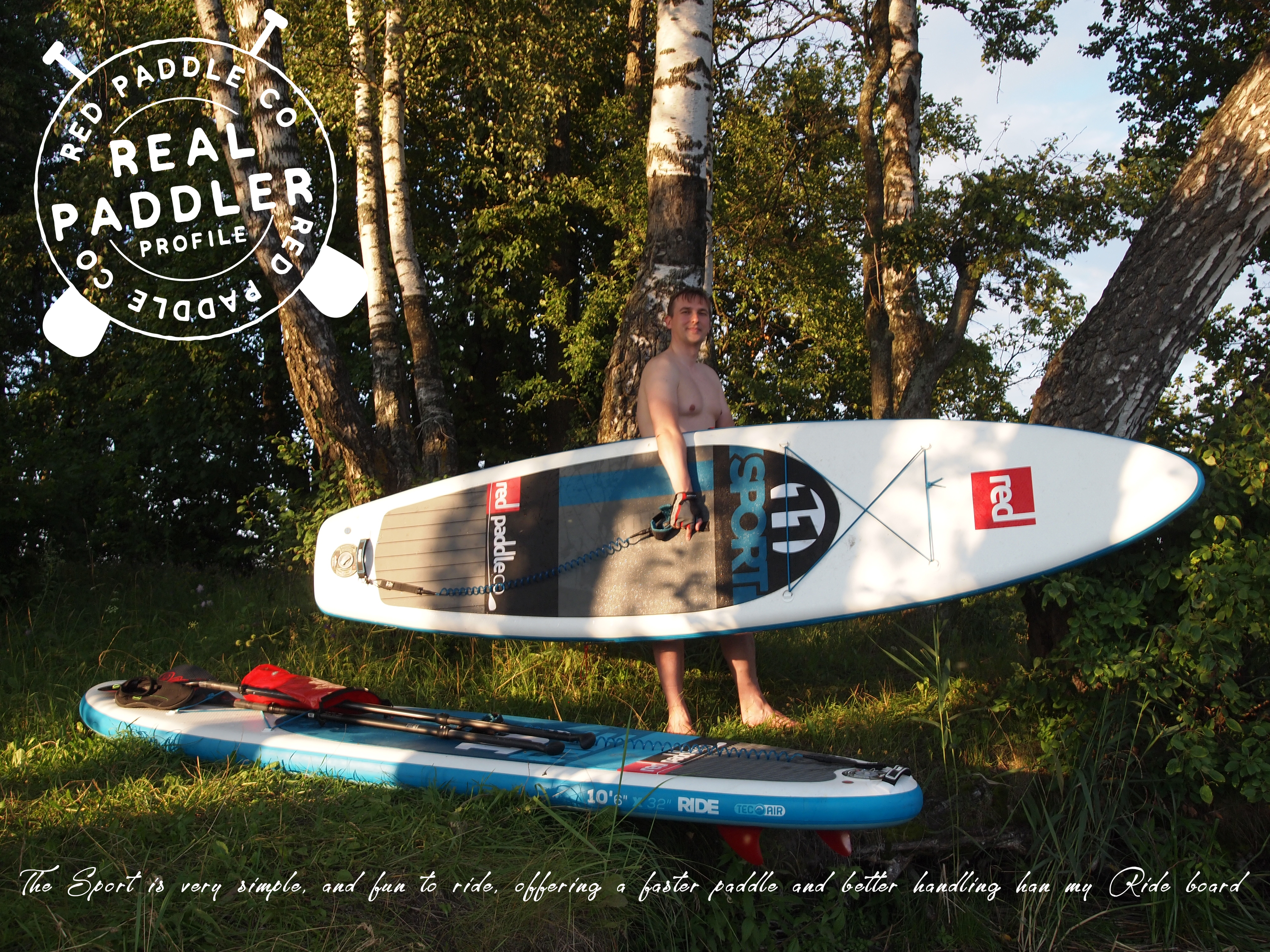 Vytautas Ramonaitis
Board: 11'0" Sport
Age Bracket: 36-45 yrs
Approx Weight: 82 kg
Height: 180 cm
Job: CEO
Country: Lithuania
Where is your favourite paddling spot in the world?
I love paddling anywhere around the Greek Islands!
How did you get into SUP?
I discovered SUP a couple years ago and ever since it has been a must do activity, especially in the summer time! I already enjoyed hiking, swimming and travelling so SUP fitted perfectly into my other hobbies. I love that I can take my paddle board out after work for a ride. I usually paddle between 10-12km in the evenings and when I get the chance on the weekends, I love extending these to much longer paddles.
Why did you choose your board?
I actually tried Red Paddle Co at a corporate event and loved it. After that I did some online research, I tried and tested a few more boards but I became set on the 12'6″ Sport paddle board. I liked that it's just that little bit faster than the Ride but I can still use it for general paddling and touring, which is what I primarily do with it. It's just a simple board yet incredibly fun to ride.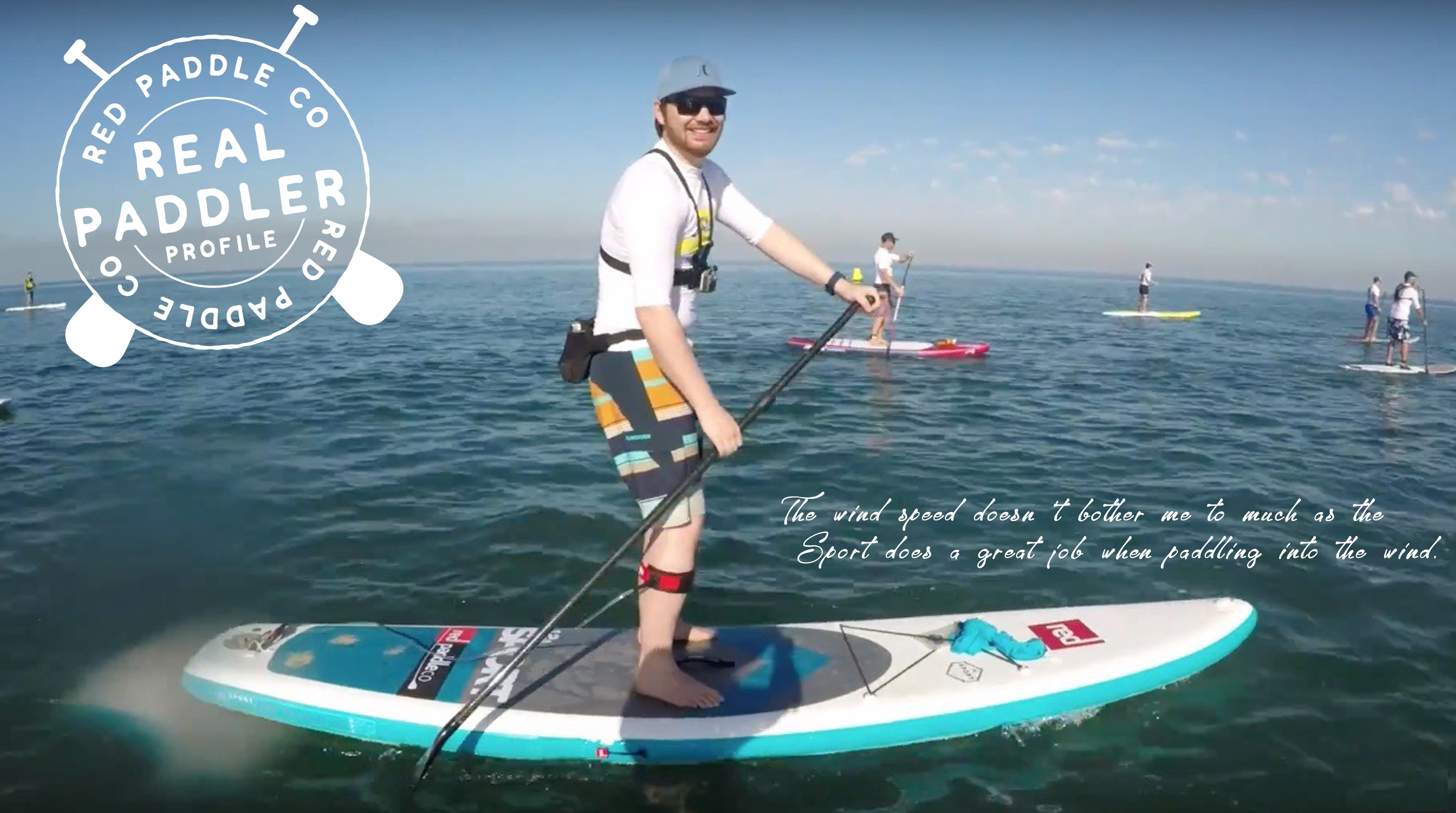 Paul Fenton
Board: 12'6" Sport
Age Bracket: 26-35 yrs
Approx Weight: 95kg
Height: 6'2"
Job: Technology Manager
Country: Australia
Why did you choose this board?
I chose the Sport as I wanted to step up from a 10'6" all rounder into a quicker board that I could tour with. I went with the 12'6" option to provide a better glide on the water. I used the board to do a 10km 'Paddle across the Bay' event in Melbourne early this year – it was stable, smooth and fast – just what I needed! I love how the board performs and the fact it is bullet proof.
How has paddle boarding changed / improved your life?
Paddle Boarding is now my 'go-to' hobby and will be with me for life. I love the fact it is just you, the board, and the sea – it brings a sense of mindfulness and peace from the stresses that everyday life sometimes brings. It gives me a sense of adventure knowing that I can rock up to a beach and take the board out for a paddle to explore a new area.
I love that paddle boarding gives you a different view of marine life – my best experience so far was to have an interaction with a couple of dolphins in the bay who came up to me to check me out. It is also great exercise – both when inflating the board, and the actual paddling!
Where do you go paddle boarding on a regular basis?
I paddle board in Port Philip Bay in Victoria and my local spot is Hampton Beach. I'm lucky to be currently living across the road from the beach, so I'm able to get out on my paddle board regularly. I normally go out in flat water or minimal chop conditions. The wind speed doesn't bother me too much as the Sport does a great job when paddling into the wind.