---
At the start of the year I kind of fell in love with Norway. Of course, I'd heard special things about the Norwegian fjords but when SUP Adventurer, Titus Kodzoman told me he was running SUP expeditions exploring the wonders of the western fjords, I knew I had to get out there and see for myself.
Words by Robyn Dawson
---
After a restless night under the never-ending light of the Northern night sky, a distant shout wakes me with a start. In a fuzzy state I roll over and check my watch. 6am. My senses slowly return to me as I listen and picture the alien surroundings of our campsite nestled at the base of the magnificent Nærøy valley. The shouting had faded only to be replaced with what sounded like my friend Paul's tent taking off in the wind. Then there it was again, this time much louder… 
"Man, that was close!"
I hurriedly wiggled out of my sleeping bag whilst simultaneously unzipping the tent door. I emerged to find Paul and his tent still very much intact. Smiling he stared skyward. "Look sharp" he exclaimed, as a skydiver skyrocketed past our tent, landing just meters from our pitch.
Following his gaze upwards, I found the dawning sky to be littered with parachute silhouettes floating quietly through the valley; one by one, landing precariously close to our sleeping comrades, who remained blissfully unaware our campsite had become a drop zone.
Our 5-day SUP expedition had yet to begin but our adrenalin fuelled visitors left us feeling even more excited and full of expectancy. I'd made it to Norway, the furthest north I had ever been, and I couldn't wait to hit the water.
——————
I first met our expedition leader and ex-Royal Marine, Titus, back in January 2018. He had reached out to make me and the rest of the Red Paddle Co team aware of an epic paddling route through Nærøyfjord – an UNESCO World Heritage site. The details sounded spectacular and upon receiving an image (below) of a Red Paddle Co SUP looking out on a glassy fjord, reflecting the giant mountains that loomed above it, I was hooked. I confirmed mine and my husband's spot on his July expedition that same month.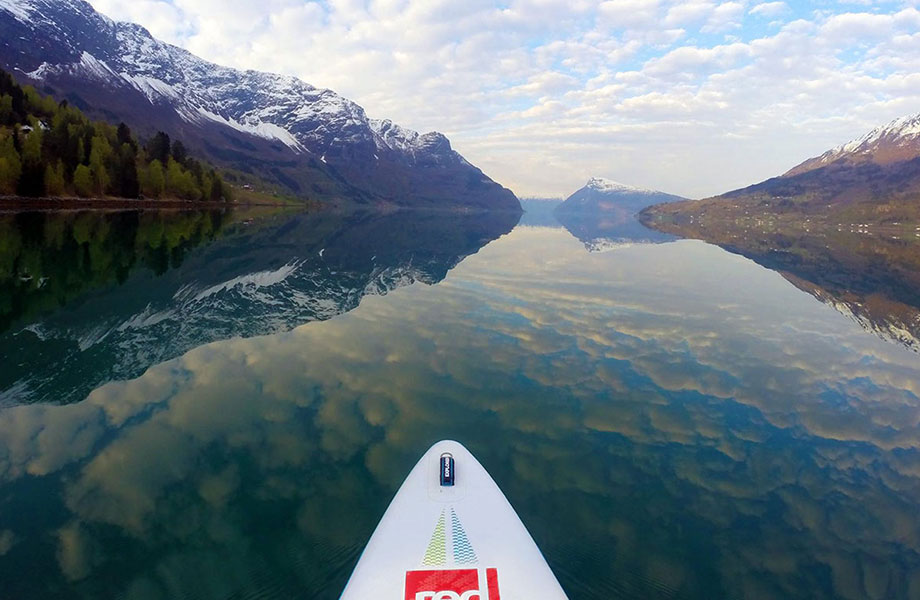 Our journey began at the base of a beautiful valley  in Gudvangen. Travelling 4 hours north of Bergen, located on the south-west coast of Norway, my excitement grew as the tight winding roads and long dark tunnels brought us to our base camp. My nerves quickly subsided as I got to know my fellow SUP enthusiasts and were each presented with a hand-branded Norwegian Kuska (wooden cup) at a small ceremony to mark the beginning of our voyage.
As we sipped wine from our Kuska's and soaked up our new surroundings, Titus talked us through the itinerary for the next 5 days, kindly reminding us this was no guided tour. It was an expedition. We were soon to be pioneers, exploring Norway's majestic fjords by stand-up paddle board and needed to be prepared for every eventuality.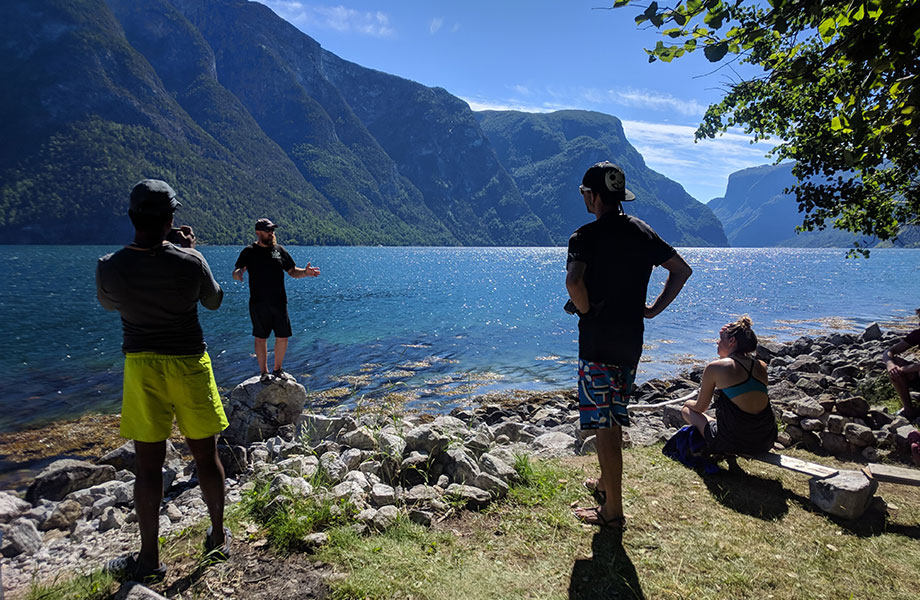 For this particular excursion we were also joined by Geologist and SUP explorer Kumaran Mahalingam and his colleague Sathish Kumar. The guys had flown in from India the previous day to support our expedition while raising awareness for their charity 'Paddle for Future'; a vital program which strives to conserve water bodies for future generations through research, education and SUP sports throughout India.
---
Our group consisted of 13 of likeminded souls with a love for SUP and true appreciation for the great outdoors – we were in good company.
---
Named after  'Njord, the god of the sea, Nærøyfjord's namesake doesn't disappoint. Boasting an abundance of deep valleys carved into the vast landscape with the clear, dark waters reflecting its mountainous beauty. This place is rippled with mystery and wonder and I instantly understood why Titus chose to run his SUP voyages here.
Having solo paddled the length of Sognefjorden, the world's longest navigable fjord, he definitely knows a thing or two about paddle boarding. Titus's ethos for life is to 'live his beliefs' by dedicating his time to adventures, fun and helping others. Principles which are embodied in his SUP Norway fjord expeditions.
"Having the most beautiful and amazing surroundings means nothing without having cool people to share it with. To see someone open their mind to a different way of thinking and challenge themselves is a very special experience. I have seen grown men brought to tears during these expeditions. This place and experience truly grounds you. Having had my own 'breakthrough' a few years back has taught me we never lose in life. We win, or we learn."
On our first day on the water we paddled 9km from Gudvangen, the southernmost part of Nærøyfjord, to set up camp at a beautiful spot in Odnes. Upon landing, I was eager to explore and a short hike up the hill revealed a huge glacial waterfall thundering down from the mountain high above.
While the power and magnificence of the waterfall was exceptional enough, as we tentatively inched our way to up to the cliff edge, a seamless and spectacular 360° rainbow appeared in the mist which now surrounded us. "It all relies on the position of the sun and the power of the fall, Titus explained. You have to find it at the right time… a bit like a hidden treasure."
After a full day's paddling in the summer heat, I was ready to refresh my limbs in the ice-cold fall. Apparently four minutes of cold water immersion offers health benefits for up to 6 days, so I tried my best to remain in the pool as long as I could, with my shivering comrades at my side. I managed about a minute. As a first go, I figured that would do me.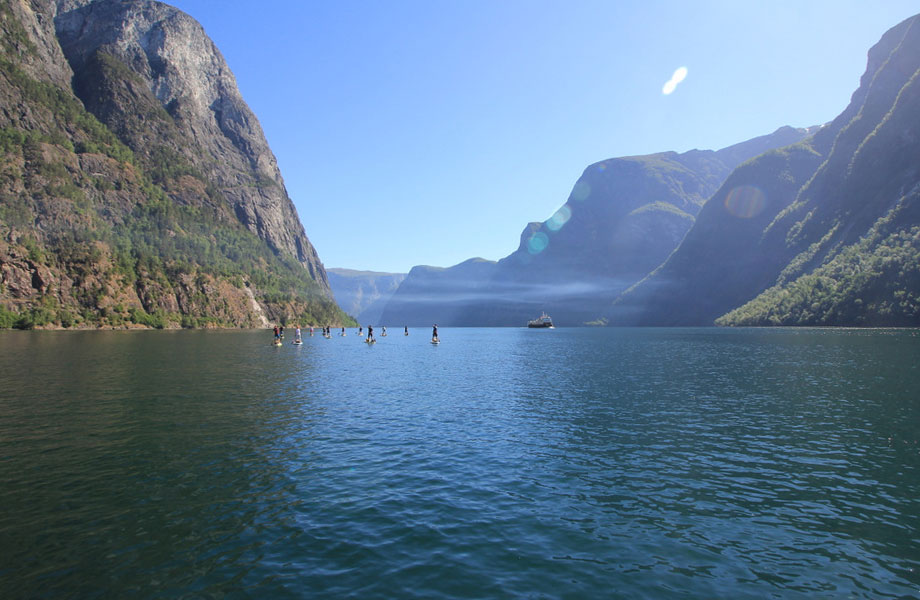 An expedition on the Norwegian fjords is a tiring but truly fulfilling experience. Throughout the trip we were paddling distances up to 16K/10miles, and the following few days saw us paddle deep into the heart of Nærøyfjord. This is what all the days of paddling had been building up to and as we disembarked at a serene wild camping spot situated close to the point where 3 fjords (Nærøyfjord, Aurlandsfjord & Sognefjorden) meet I could understand why.
To paddle along knowing you are completely self-sufficient and have everything you need to survive and recuperate feels incredibly liberating in a place of such raw power and nature. We spent the evening gazing across the vast expanse and sharing stories around the fireside before being lulled to sleep by the distant rumble of waterfalls in preparation for the following day.
The next day took us south into Aurlandsfjord, helped along by a friendly tail wind and a few curious seals as we passed inaccessible farmhouses perched precariously high on the cliff edge and the local goats who showed off their climbing skills, as we eventually arrived at the tiny village of Undredal.
Famous for its goat produce the village has an interesting heritage dating back well into the 12th Century. That evening we filled up on cheese, meats and beer while we watched the sun dip behind the mountain horizon painting the village in a deep shade blue.
I had read that this part of the sound was truly beautiful but to find myself in the middle of the deepest fjord in the world , with imposing mountains stretching for miles on both sides, it was arguably one of the most humbling SUP experiences I have ever had.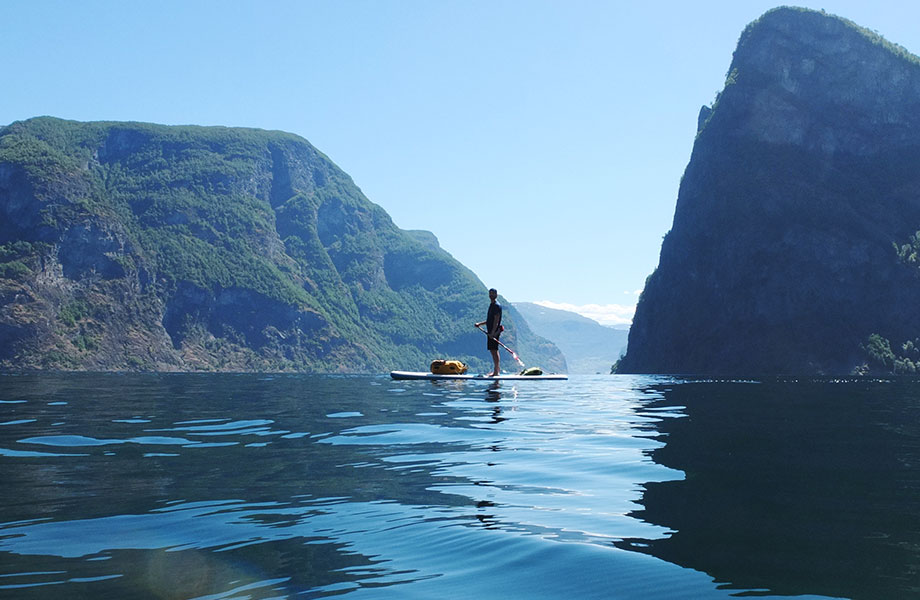 For the final full day of paddling, everyone awoke early, ready to end on a high. Overnight the wind had a change of plan and we were facing a 5-6K paddle into a strong headwind – a challenge for even the strongest paddlers within the group. Luckily our Red Paddle Co Voyager boards cut through the chop and after almost two hours of paddling we finally reached sanctuary of the mountain side, cheered in by the celebratory bleats of a team of goats who seemed to appreciate our achievement.
As I sat with my feet in the cool fjord, stretched out my shoulders and quenched my thirst with the sweetest glacial waterfall water, I reflected on what Kumaran had told me earlier in the trip, "the mountains are always moving". Looking up at the waterfalls flowing from the skyline above, I understood what he meant. If only I could bottle that feeling!
---
As I'd expected, the slow pace and magnificence of Norway has rubbed off on me. We started as a group of strangers with various paddling experiences but as we slowly winded our way back to our initial launch point I could see the strength and confidence of our team had grown not just in paddling but in self and mind. Days on the water left us with an improved technique, experience of paddling with gear on board, knowledge and skills required for a safe SUP expedition but most importantly memories and friends that will last forever.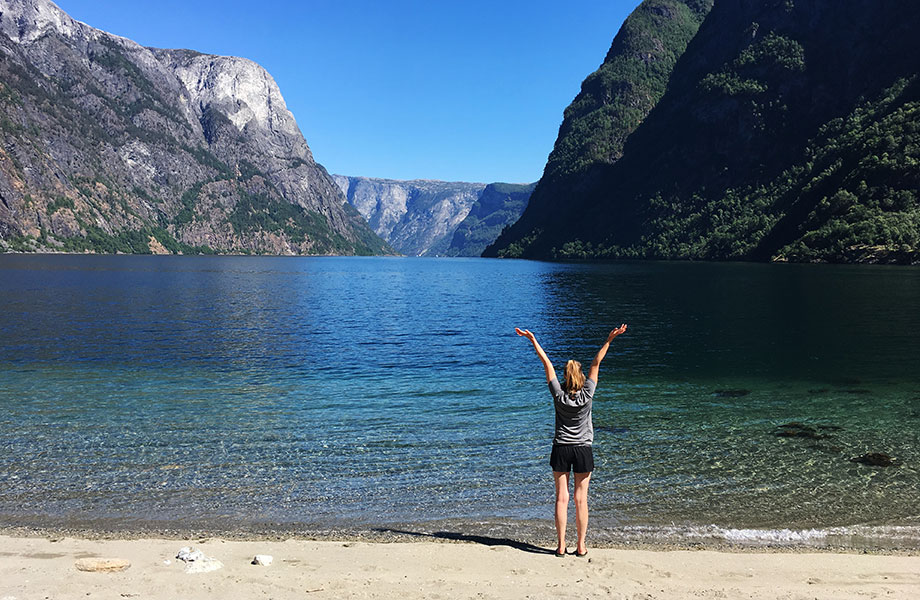 To head out on a Norwegian SUP expedition with Titus visit: https://supnorway.com
Images by Michael Brown, Kumaran Mahalingam & Robyn Dawson