It's been a while since we caught up with Kev Brady. With the busy Christmas period, it's been hard to keep up with Kev's speedy progress on his epic Sri Lanken adventure. Despite, enduring some major drawbacks (losing a fin!), Kev has managed to maintain a positive attitude and thanks to the warm hospitality of the Sri Lanken people, been able to continue his journey of a lifetime at relative ease, when considering the problems suffered. To not make this blog excessively long, you can read back on what he has seen over the past few weeks on his own Facebook page.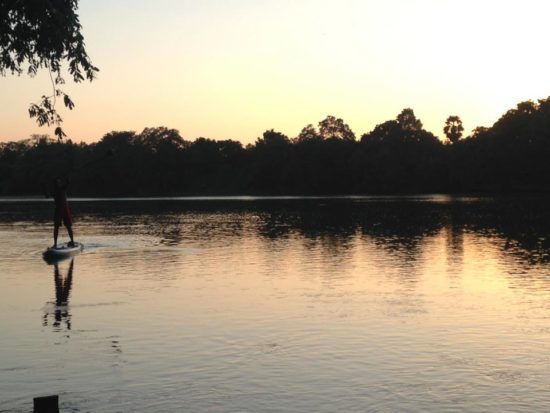 We managed to catch up with Kev to see his progress over the past 3 days…
Day 34: Rubbish Elephants
I was told I may be able to spot elephants from the road into town, so I decided to walk instead of catching the bus. After an hour of seeing nothing but hectic traffic, I accepted an old guys offer of a ride into town on his motorbike. I wanted to introduce myself to the hotel staff that would be receiving the package of my new fins to make sure it wasn't redirected. I knew a phone call would just cause mass confusion, but it turned out face to face wasn't much better:
"Hi, I'm having a package delivered here."
"You want accommodation?"
"No, you should have something in your mail. Your post."
"Breakfast?"
"Ah. No. Ummmm. My friend has sent you an email!"
"Booking.com?"
I held my frustration, after all, it's me who cannot speak Singhali. After a while, the young man at reception called a friend to come over and translate. They would call me once the package arrived.
I pottered around Polonnaruwa town for a few hours drinking too many cokes and at 3pm they called me. The fins had arrived. Four flexible fins with extra fixings. That should suffice until the end of the trip! I stocked up six days worth of supplies to get me to Trincomalee, rationing myself per day: one sweet bread roll, a banana (probably be mush in two days), an apple, some dates, two carrots, two packs of two minute noodles, one tin of mackerel. Oh, and a big pack of chocolate bourbons for whenever I'd fancy them.
I got back and unloaded all the food onto the bed and the guys all came in to see what I'd bought. I also bought two large cakes for us all to eat and a red, white and blue doormat for the house to thank them for their hospitality. I showed them the new fins and we immediately went out to try one out. It would be nice to paddle with confidence in the fin once again. The youngest of the workers, Sanas, asked me if I managed to see any elephants today? I told him I had no idea where to look on the big busy road, so no. He said, "let's go on bike, I'll show you them". I got very excited "yeah? Awesome! Let's go!" "After tea." He replied. We all sat around drinking sweet black tea and eating ginger biscuits before four of us jumped on two motorbikes and sped off up the road.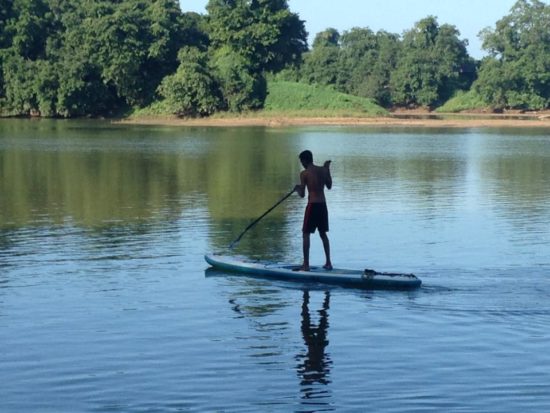 After five or six kilometres on the main road to Polonnaruwa we turned off left. The dirt track was flanked either side with a large electric fence. We rode on for around two kilometres before we came to a rubbish dumping ground where nine large elephants stood eating. We got off the bikes and began walking towards them, two began fighting and charged into the jungle behind. The remaining seven just stood there happily eating the crap us humans had thrown away, it was very bittersweet to see. Despite being a lot closer to these magnificent wild creatures, it wasn't half the experience of seeing them cross the river in the middle of the jungle when I was alone. I felt like we were in an ugly zoo.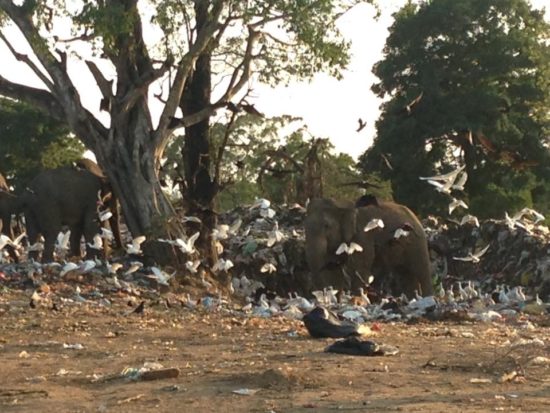 Communal washing in the river seemed a very happy, social ritual. Once back at the house I jumped in to join a few of the guys. Everyone covered in suds chatting, laughing and splashing around in the river. I'd never been so clean. We all ate dinner with no cutlery in a wooden hut kitchen then they showed me how the washing up was done. They dropped the pans into the river and for a few seconds hundreds of fish went wild, like a piranha mauling. The pans came out squeaky clean.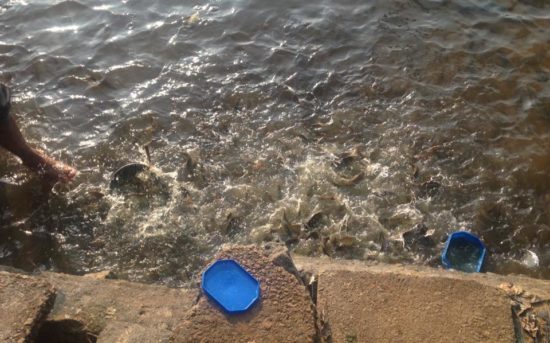 Days 35 & 36: Solo SUP Safari
Boss woke me again with a small china cup filled with sweet milky tea at 5.45am, first light. Over breakfast the men were trying to persuade me to stay another day, my plan being to head off around lunch time after finishing writing a few blogs. Their new toy in the river and a different face around must have been nulling the boredom. As the morning wore on and my writing struggled, I took their advice and decided on another day here, 'why not?' I thought. For the rest of the day I swung in the hammock I'd strung up just to show the guys, swam, washed and messed about on the SUP with the others.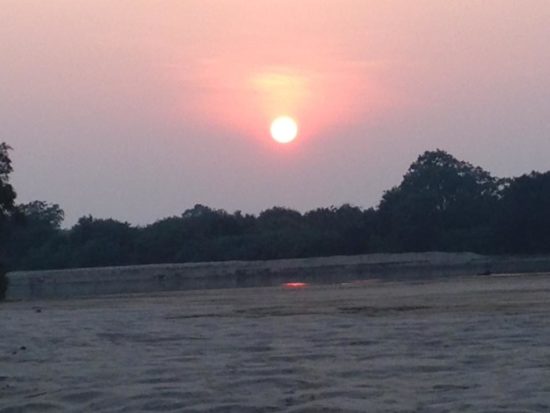 Just after midnight I heard Boss shouting "Kevin! Kevin'". "Yeah?" I grumbled in reply. "Elephant coming." He quietly said. I crawled out from under the mosquito net and grabbed my torch. Out the back door, only ten metres away, was a huge elephant stood in the middle of the back garden. It was looking up and reaching high into the mango tree, stripping the branch of its fruit in one loud thrash. The four men that had awoke began making all sorts of screaming and shouting noises. This was a regular occurrence for them and elephants could cause vast amounts of damage as well as being extremely dangerous. As the men hollered at it and the dogs barked, the elephant began to waddle backwards. The second before it turned to walk back down the trail, it raised its trunk and let out a huge hiss. It was quite obviously the elephant version of the middle finger.
In the morning we assessed the damage. The one elephant's brief visit smashed one of the fences and ripped down the antenna. I could only imagine the destruction a whole herd could do. Following one more rice-heavy breakfast, I packed up and said goodbye to my housemates. Every one has been hospitable, friendly and kind. These traits seem to be engrained into Sri Lankan people. Many selfies and handshakes later, I jumped on my more heavily ladened SUP and floated down the river.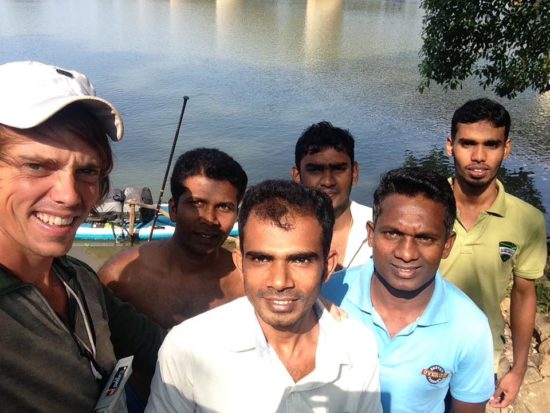 I had been told that past this bridge, the crocodiles could be unpredictable and dangerous. Previous to this, I would only wear my buoyancy aid and leash during times of fast current and rapids. Now I decided I would wear them constantly. If a crocodile grabbed me, it would be a struggle to take me beneath the surface and drown me. At least I could try and fight it off on the surface. I also now decided to keep my pen knife in my pocket with the large blade open, ready to go for the eyes.
The first frustrating hour was so shallow I had to walk behind my board, pushing it as the fin scraped through the sand. Just as my mind was wandering into the realms of 'if this continues for two days, I've had enough' territory, the river deepened and Mother Nature blessed me with a tailwind. I spotted a split in the river up ahead creating two routes and a huge island. I'd already looked at the map and decided to take the left route as it was nearly two kilometres shorter. The decision was taken out of my hands. With the water level so low, there was no left route, only a huge long desert.
With the river effectively halved, it became more narrow and meandered sharper. Sometimes the deep channel would be on the inside bend and I would startle unseen crocodiles which would splash into the water. My nerves were beginning to settle around them now. Still extremely vigilant and observant, but more relaxed. As a headwind hit me around a sharp bend, I sat down on my rear dry-bag. A few paddle strokes in I turned to my left to see the dark green face of a crocodile not five metres from me. It seemed as soon as we made eye contact, it melted into the water. I immediately sprung to my feet "I saw you." I said to myself." And my eyes flicked downwards, paddle ready.
Up ahead in the distance I saw two colourful figures. Fishermen in a plastic canoe regularly casting a large net out in a perfect circle. I approached them and practised my new learned Singhali from the irrigation workers. "Oyata komoda!" I called out, both men smiled and wobbled their heads side to side. Along the usual line of questioning the paddler asked "Only one man?" I confirmed I was alone and nobody was coming downriver behind me. He looked concerned and said "Hmmmm. Very danger." I agreed.
I paddled closer to what I thought was a collection of dead trees in the middle of the river and heard a rasping cry, which reminded me of the velociraptors in Jurassic Park. It was a herd of buffalo wallowing in the water. Large black cattle with upturned curly horns. I'd heard people talk about buffalo but assumed, lost in translation, they were referring to cows. Were buffalo dangerous? I had no idea. I gave them a wide berth as two dozen heads watched me past, heads all turning in sync.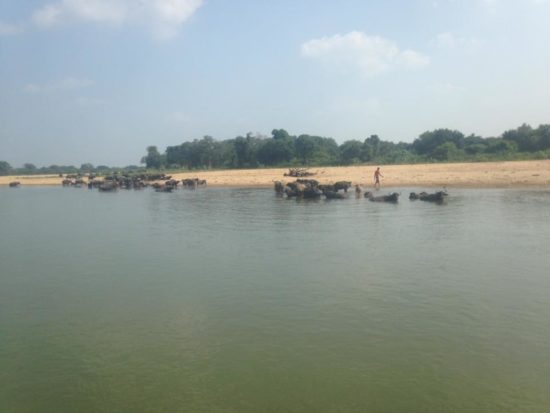 Another sharp bend approached and I took the inside deep channel, unusual for rivers. Just around the corner I could see slide tracks into the river, could there possibly be a crocodile sunning itself? I took two strong paddle strokes and silently cruised in front of the opening. At the top of the bank, an elephant froze for a few seconds as it assessed me, then turned and almost ran into the jungle. A huge smile wiped across my face and I whispered "wow."
Nearing the time to stop for the evening I was eyeing up a huge sandbar up ahead on the left. Then I spotted a man herding huge herd of buffalo across onto it. I decided it probably best to avoid that spot, last thing I want is a buffalo camp-invasion in the middle of the night, eating all my bourbons. I pulled my SUP into the shallows of the next beach and hopped ashore for a recce. It seemed the best trees to sleep between were a couple hundred metres on the northern tip. But all the best firewood seemed to be where I was. To save time and energy, I loaded my board up with firewood as much as I could balance and slowly paddled around to the top end.
I sweatily cleared the bush between two trees with my machete and strung up my hammock. I sat in it to test it out as usual and one of the trees collapsed inwards, nearly on top of me, dead and rotten. 'Every day's a school day.' I thought and went about clearing and rehanging in another area. A mild mist created a stunning sunset where the sun seemed to fade away in a deep red just before hitting the trees. My campfire and noodle cooking was soon illuminated through the trees by a huge amber full moon. Another stunning riverside camp.