Have you and your travel buddy ever had a UNESCO World Heritage Site all to yourselves? With the Red Paddle Co Compact board it has never been easier to reach beautiful spots far from the madding, selfie-stick wielding crowd. Join Londoners Christina Coulson and Hugo Broodryk as they do just that, jetting to Germany to SUP in the city. This is paddle boarding with a difference, as the couple take in the sights from a different view – all made possible with their Compact inflatable SUP.
Paddle boarding with a difference – the next step in traveling with an inflatable SUP
Thanks to their Red Paddle Co boards, Christina and Hugo get a unique and uninterrupted view of the wonderful turn-of-the-century architecture that lends this old industrial district its charm. Picturesque red-brick buildings built on wooden stilts tower above a labyrinth of waterways criss-crossed by wrought iron bridges.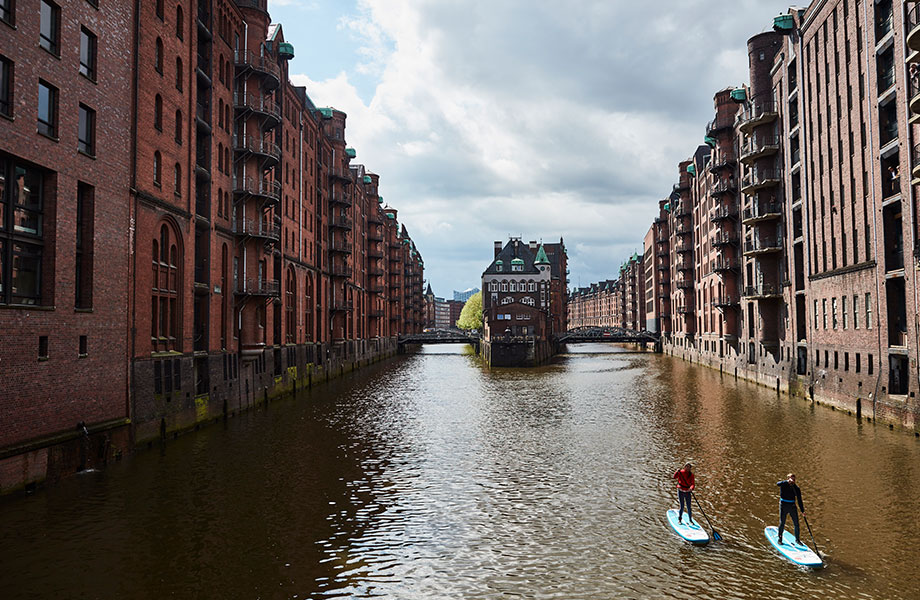 There isn't a soul in sight and the only intruder in this historic landscape is the shimmering glass crown of  Elbphilharmonie concert hall peeking over the rooftops on the horizon. This edifice is a symbol of the recent transformation of Hamburg from a utilitarian working port into an economic powerhouse and alternative cultural capital. The city now offers the best of both worlds to visitors, seamlessly merging medieval cobbled streets and districts belonging to its rich industrial past with the vibrant atmosphere of today's alfresco café culture, abundant luxury shopping and world-renowned gastronomy.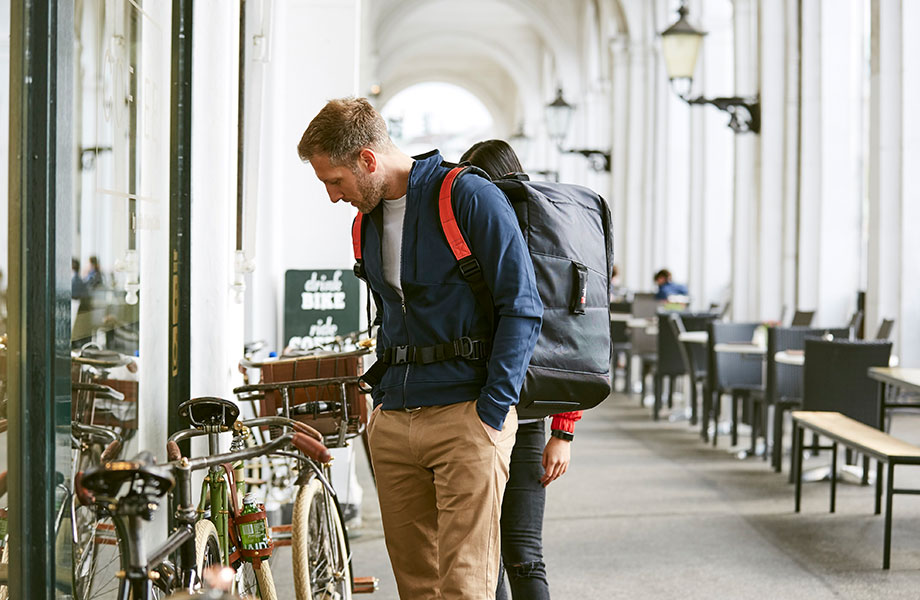 'I can't believe I was worried about crowds of tourists,' giggles Christina, gesturing at the empty waterways around her. 'It's hard to imagine that nearly all of Europe's trade used to pass through here – especially considering how quiet the water is today!'.
What's even harder to believe is that only a few hours earlier the pair woke up in England, before boarding an early flight to Germany. After calling in at their accommodation, they head straight back out with their new Compact boards on their backs, ready to make the most of their weekend break.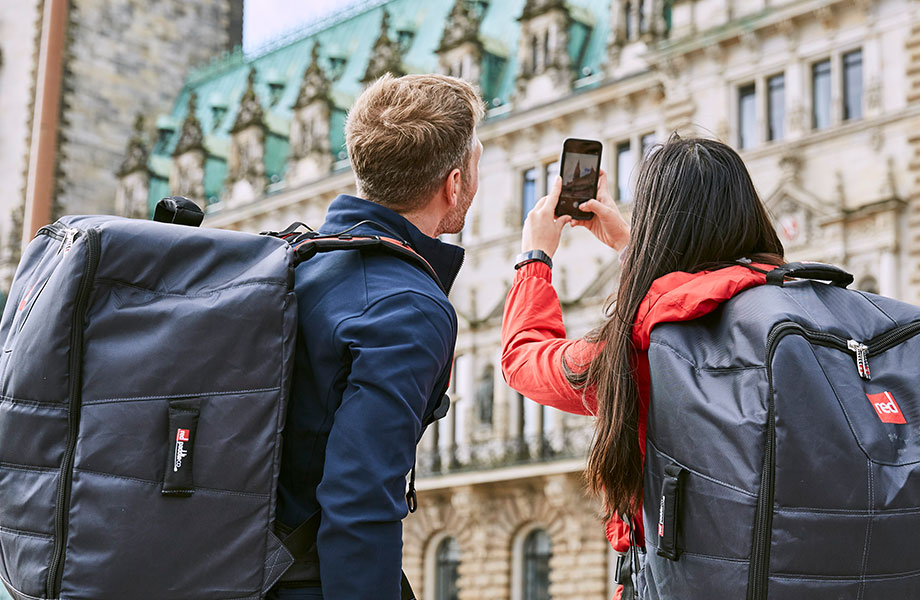 The Compact board revolutionises the paddle boarding experience. After ten years of research our design team have cracked it, creating a board which packs down to half the size of a traditional inflatable board and weighs just 12.7 kg. There's also a new five-piece paddle and a new pump- all of which can be taken anywhere you want in the new Compact backpack. This ergonomic design was made for travel, moving away from boards that are primarily for home-based activities, to boards which actively aid you on any adventure you choose. Enter a board which is more portable than anything before it; a capable means of transport you can take all over the world, rather than a piece of baggage which weighs you down.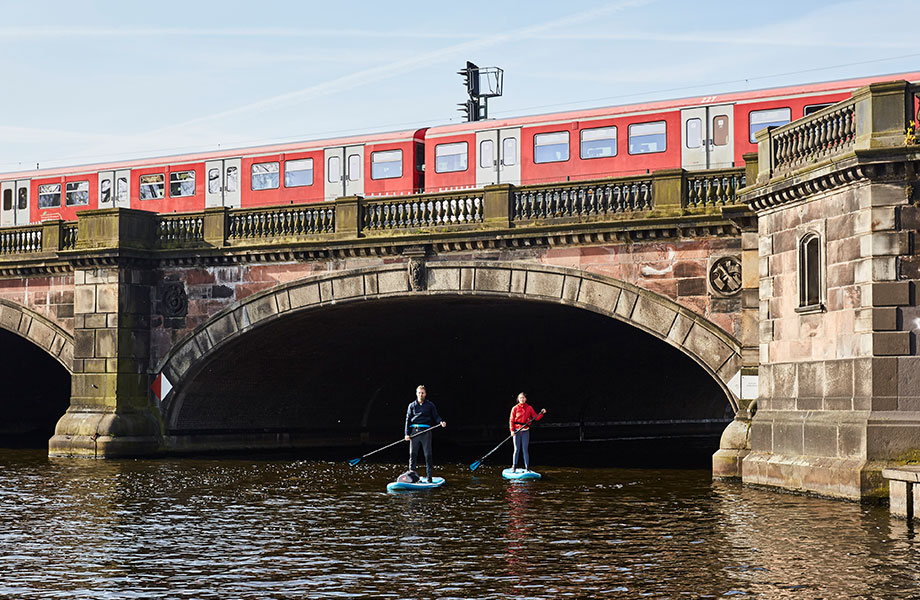 'On short breaks it can be hard to fit everything in,' explains Hugo. 'Having an inflatable paddle board definitely helps make the most of a city visit. Not only can you cover a lot of ground and explore new parts of the city, but you also get a work-out in at the same time.'
The pair have built up quite an appetite, so they paddle to waterside eatery Wasserschloss, hop out of the water, pack up their boards and enjoy a late lunch on the terrace. Refreshed, they jump on the Stadtbahn, the small train which links up the whole city, and head for the main port.
From here they climb Stintfang hill and admire the sweeping views of the harbour over the river Elbe. Hamburg is the second largest city in Germany, and Europe's third largest port. More than eight million containers of freight pass through here each year, and the sheer scale of operations is as impressive as the container ships sailing by.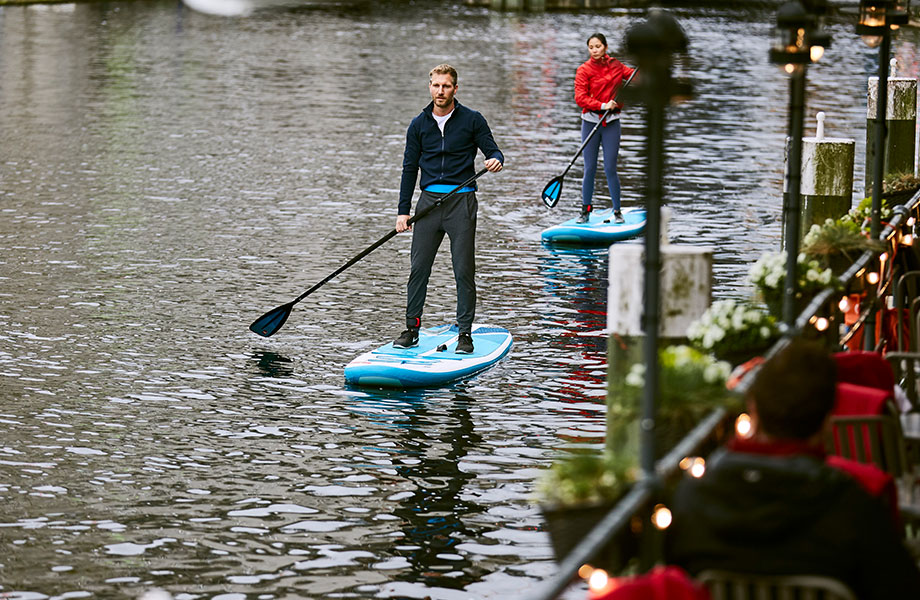 Christina and Hugo continue to enjoy the city skyline through the windows of the Elbphilharmonie restaurant, where they tuck into an early dinner of fresh fish, before catching a recital in the world-famous concert hall.
The pair awake bright and early the next morning, feeling fresh despite having been for drinks in the infamous Reeperbahn district the night before. They breakfast on Franzbrötchen (cinnamon pastries) from a local bakery as they head out with their boards to catch the Alster ferry. This beautiful wooden boat takes them up the lake, where Hamburgers go to relax. In stark contrast to the hustle and bustle of south Hamburg, here they find a peaceful haven of beautiful parks and green spaces.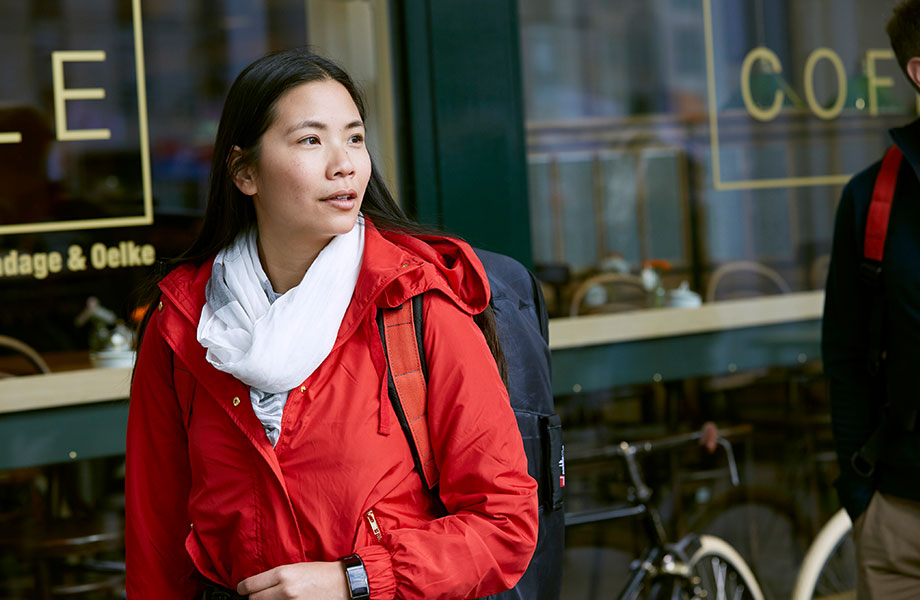 It's a matter of minutes worth of inflating their boards before they're gliding out through the tranquil emerald waters, admiring the mansions on the shoreline. Many of these grand houses have wonderfully manicured lawns and gardens tailored down the curve of the banks right to the water's edge.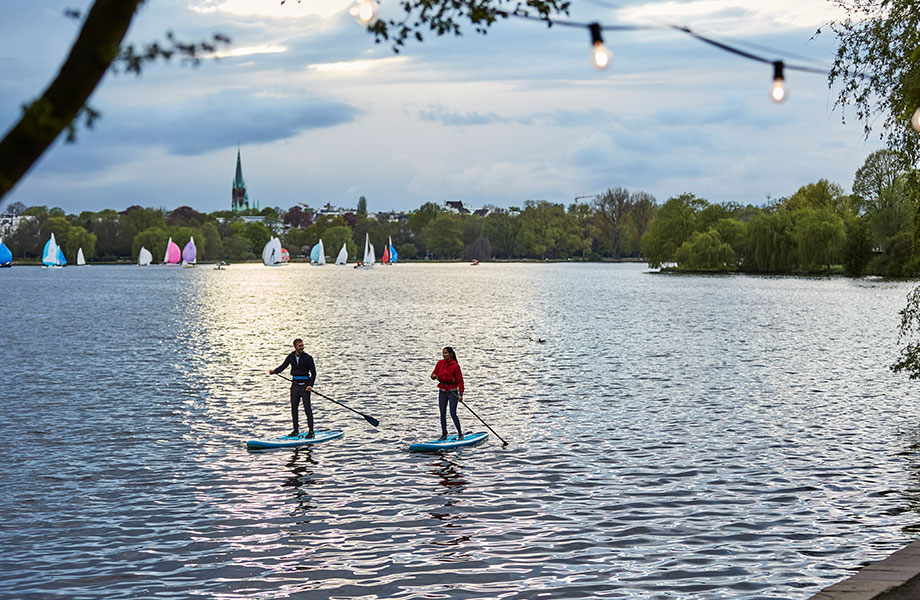 After a quick lunch of Italian food, they cycle back to the centre of Hamburg. Using rent-by-the-hour town bikes (and with their boards on their backs), they pedal along the tree-fringed paths which hug the edges of the lake.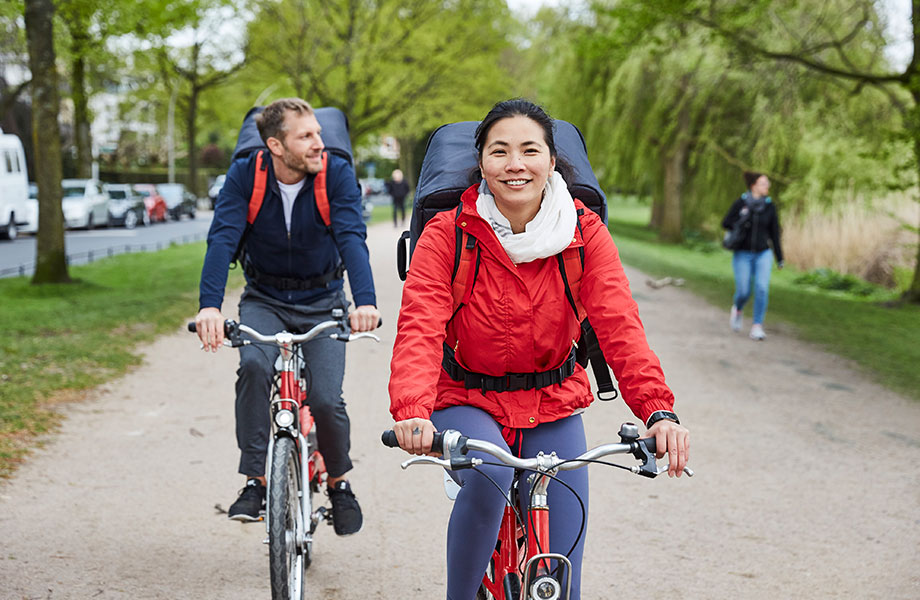 Soon it's time to head back to the airport – although they make time for a final Currywurst and a beer before catching their flight.
'It's always over too soon. But it's so fun and easy – I'm already planning our next city-break SUP adventure!'
SUP experiences in Hamburg
01
Buy a Persian rug
You can paddle right up to the rug shops in Speicherstadt, the historic hub of the European carpet trade.
02
Eat scouse
It's actually called 'Labskaus' but has the same origins as the sailor's stew from Liverpool. It can be bought at almost every waterfront restaurant.
03
Meet the swans
Alster lake is full of wildlife, and animal lovers can get close to many species of bird out on the water, including swans.
04
Make a wish come true
The smaller Binnenalster lake is actually one giant fountain, shooting water 50 feet up into the air. To make a wish, paddle out and throw in some cents.
05
Head under the Elbe
The Elbe is too busy to cross, so take the famous tunnel underneath to the south side of the city (you will need to pack away your board and carry it on your back for this experience).