"Wildness reminds us what it means to be human, what we are connected to rather than what we are separate from."
Terry Tempest Williams, Author and Conservationist
The average American spends over 90% of their life indoors. This unsettling fact is proof that, now more than ever, we need to make time for experiences that bring us back to nature. Thankfully it is not all doom and gloom. Outdoor participation grew by 1.6 million last year, so it seems that people are beginning to wake-up to the positive power of the great outdoors.
We all know paddle boarding is a great way to immerse yourself in the calming feeling of simply being outside but what about taking it to the next level on a SUP Adventure?

Top tips to create your own SUP adventure
Decide where you want to go and check travel options in advance – this way you are more likely to get a cheap deal! Think about the waterways, temperatures and paddling conditions as this will help you decide when is the best time to go.
Make sure your inflatable SUP is of superior quality. All Red Paddle Co boards use MSL technology and go through rigorous quality control checks so you can guarantee durability and reliable performance throughout your trip.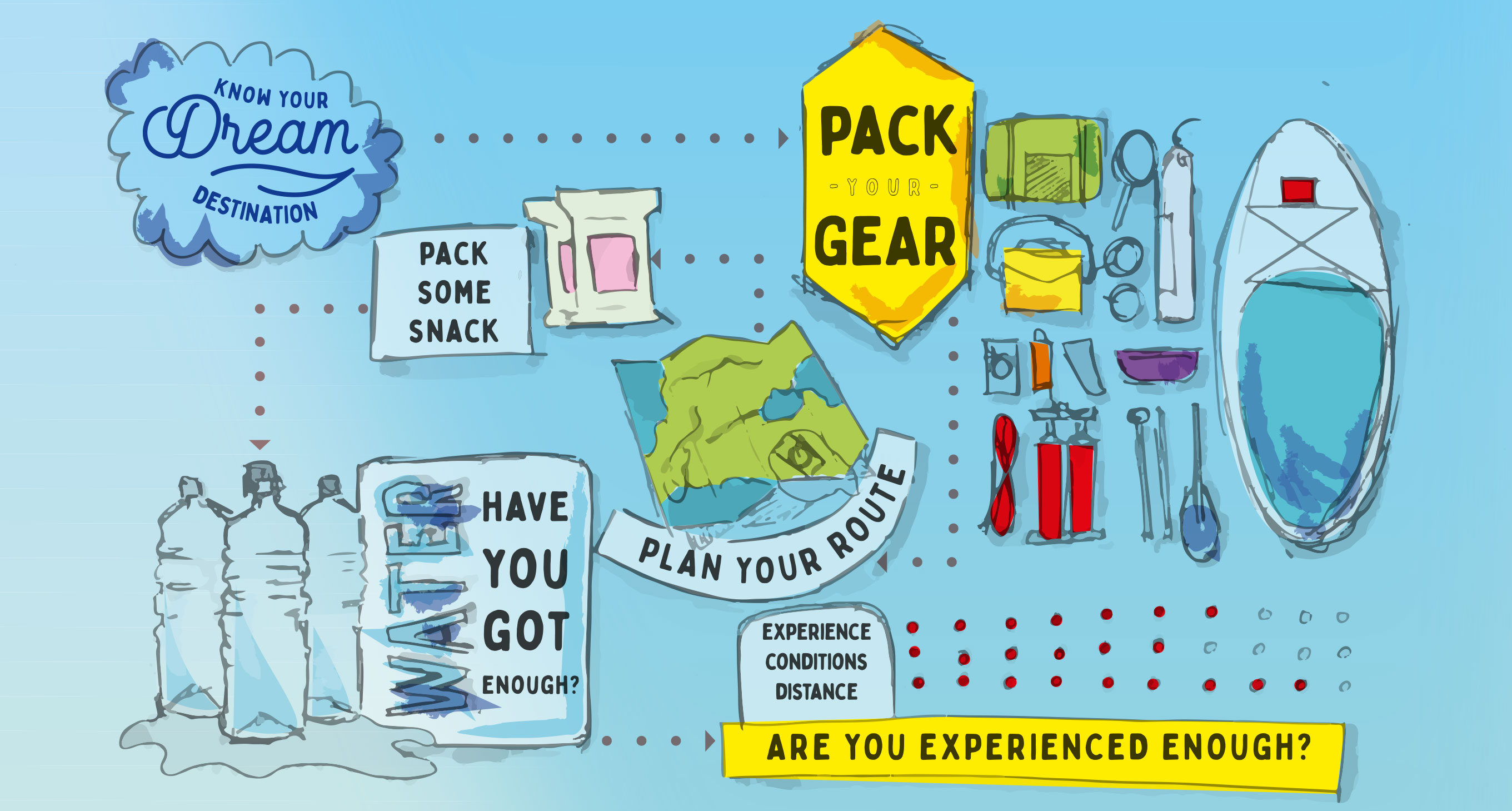 Do your research, plan your route and know where you want to stop and rest or even stay and set up camp (if you're doing an overnight trip). Look for local guidebooks, articles or use Google Earth to study satellite images of the beaches and water ways before you get there. Be aware of any potential dangers especially if the wind picks up and be mindful of other water users – You don't want to get caught resting in the wake of a huge ferry cruiser!

SUP Safe and pack light
Staying safe on the water is a priority for any watersport participant and paddle boarding is no different.
Leashes save lives and it is vital you wear a leash at all times and keep it secured to your board throughout the trip. It is important to take a communication device and good quality personal flotation device with you whenever you hit the water but even more so when you are on a SUP expedition. Hopefully you'll never need it, but you never know when you may need to call for help during your paddle trip.

Pack once. Strip it back and pack again. It is always tempting to take more than you need but if you plan to camp along the way, your tent is likely to take-up a lot of your space. You'll be surprised how many people lug around extra clothes but only actually use the same three / four items throughout the trip. Always have one full dry set of clothes incase you get wet. Your food and water supplies should take precedence and after a long day paddling you be thankful for any extra weight you saved!

Understanding the weather conditions before you go is essential for any SUP trip and this will help you prepare for every eventuality. The more research you do prior to the trip the more confident you will be with the conditions on arrival. Be prepared and know what to do during strong winds especially when out in open water. If you are paddling in warmer climates, set off early in the day and aim to reach your next destination ahead of the height of the sun – it is the heat that takes it out of you.
Ultimately, the best way is to start small and build up gradually as your confidence and experience grows. If you love the ocean, love exploring and love being in the great outdoors then a SUP adventure is the ultimate way to escape and embrace life to the full!
Grab your SUP, pack your bags and go create your own adventure.