We outline some key things to consider when choosing what to wear paddle boarding.
We have also designed a premium clothing line specifically to use when paddling to give you maximum comfort, style and practicality. You can purchase directly from www.redoriginal.com
For those of you new to SUP, we bet you didn't realise just how easily accessible the sport was. We often get asked What to wear sup boarding? You needn't have fancy expensive garments to hit the water, in fact, as long as you have some sort of active/leisure clothing, you're pretty much ready to go.
With tips from us all here at Red Paddle Co HQ, our expert Red Original accessories team and professional paddle boarder, Sam Ross, let us give you our Paddle boarding what to wear guide!
WHAT TO WEAR PADDLE BOARDING UK / USA / EUROPE / AUSTRALIA / EVERYWHERE!
So the first thing to note is that some of you are fortunate enough to live in places where it can be hot, (or cold) all year round. So we have based our what to wear guide on 'normal seasons'. You can simply adjust our recommendations as you see fit for your climate!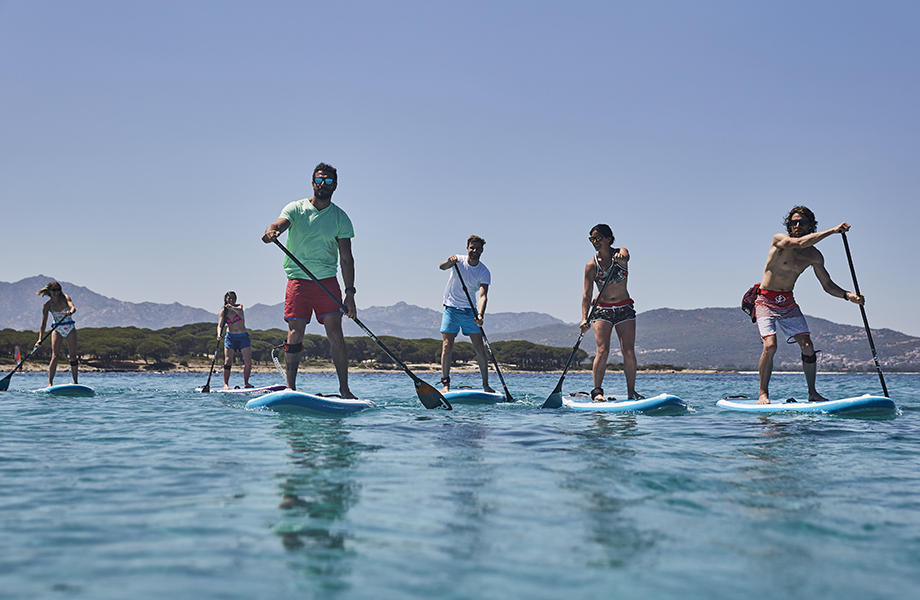 Clothing for summer sup boarding
Probably our favourite time of year and the most popular time of year for paddle boarding – Summer. In terms of clothing, its probably one of the easiest months to dress for as well.
With average air temperatures of 20 degrees in most European countries, you can be safe in the knowledge, you probably won't be getting too much of a chill when you hit the water!
For both males and females, we recommend board shorts and some sort of light-weight tee-shirt, not forgetting a hat such as our Paddle Cap to shelter your face from the sun and easy layer for when a cooler breeze blows.
Our Performance T-shirt is available in Men's and Women's styles and is perfect for paddling with special dri-release fabric technology which will keep you dry and comfortable.
RED ORIGINAL's SUMMER RANGE
Be sun smart with your paddle boarding clothing
Spending the whole day paddle boarding is an amazing activity to enjoy during the summer months but always keep in mind how long you spend out on the water. You are more vulnerable to sunburn as the sunlight will reflect back up from the water so be sure  to protect yourself with sunscreen and carry layers during longer tours or when paddling through into the cooler evenings. Our Red Original on water clothing is all 50+ UPF to protect you from the rays.
It is especially important if you are paddling on the coast where a breeze may mask just how hot your skin is getting as you ride your SUP.
Spring/Autumn Paddle Boarding Wear
As the seasons change you may find you need to add a few more layers to your SUP outfit in order to stay comfortable but very little changes from your summer attire.
Adding an extra layer for your upper-body and potentially, some neoprene shoe boots, or a light water proof jacket will give you added protection depending on the outside temperature.
Of course, if you're more prone to the cold, you can wear as many layers as you wish. We find body warmers or a high tech gilet paired with a lightweight long sleeve top is a perfect outfit for SUP during the Spring and Autumn seasons. Our Performance Top Layer helps regulate your body temperature so is an ideal long sleeve solution, plus it has the added benefit of being super comfortable and looking great too.
What to wear paddle boarding in Winter?
Winter attire really depends on what you plan to do. If it's riding the waves on our 8'10" Whip SUP, then we would advise a full-length wetsuit with gloves and neoprene boots to keep you toasty for your winter paddling.
If you plan to just go for a recreational paddle on a Touring paddle board, you will be able to avoid splashing the cash on a wetsuit and alternatively, wear some thermal base layers, a waterproof top and waterproof trousers.
Remember being active will help keep you warm in winter on your SUP so don't overdress. Thinner layers are easier to regulate your temperature when you are on your paddleboard.
Be sure to check out our complete range of on-water clothing solutions for men and women at the Red Original website
RED ORIGINAL's WINTER RANGE
What shoes to wear paddle boarding?
This is again going to depend on temperature. The grip on the top of our boards is designed for bare feet, so if it is warm, you don't need to wear any shoes paddle boarding. If the temperature drops and you still want to get out on your SUP, then light barefoot trainers or neoprene boots are a good option even in Winter.
Be careful of outdoor shoes with grips because stones might get wedged in which could damage the top of your board. We advise you don't wear heavy shoes because in the unfortunate event you fall in, they will make it more difficult for you to get back on-board your SUP.
What to wear for SUP Yoga
For SUP Yoga, you need to be comfortable and have the freedom to move and stretch with ease. Consider the seasonal dress tips above but in most instances, your normal yoga or gym wear is going to work fine.
There are now plenty of brands with stylish and comfortable leggings which are perfect for SUP yoga practice and day to day paddling. One of our favourite brands is Lulu Lemon – these guys offer a great range of leggings, joggers and tops and are designed for performing yoga moves and for paddling longer distances.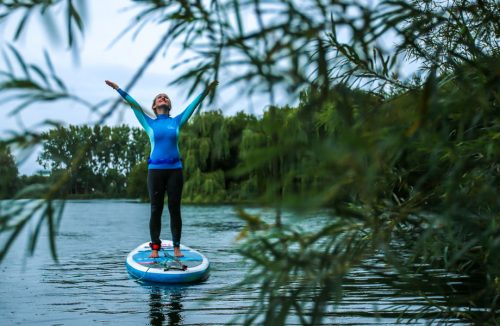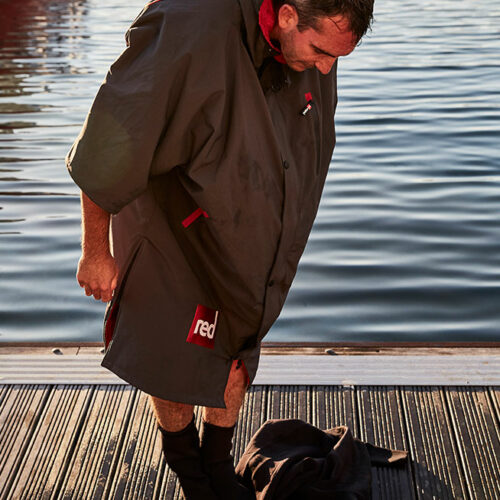 Getting Changed
If you are getting changed before or after hitting the water, or simply want to wrap up warm to avoid a post paddle chill setting in, an outdoor changing robe such as our Red Original Pro Change Jacket is a great solution. You can even throw it on directly over a wetsuit, it will keep you warm, dry you off and is perfect for the journey home.
If you've enjoyed this article then why not sign up to our Red Paddle Co Community Newsletter. You'll receive all the very best content from our blog and social media including offers, competitions, travel inspiration and much more.  Sign me up…
Most recent stories