---
"If you opened your curtains in the morning and found that the grass was scorched, somebody had dumped a load of rubbish in your garden and animals were eating it – you'd be appalled. But that's what's happening in the oceans,"
---
It is not every day that you come across someone who is actively making a difference to tackle pollution affecting our waterways. As the issue of plastic pollution in our seas and oceans is finally at the top of the world's agenda it may feel like the tides are bringing to turn, but with an issue on this scale where do you even begin?
On World Environment Day, earlier this year, the UN's message was simple: "Beat plastic pollution…reject single-use plastic. Refuse what you can't re-use."
There is oddly some comfort in hearing these statements, but unless we begin to take some action the future of our oceans looks pretty bleak.
Maintaining the health of our waterways has long been a key part of our ethos here at Red Paddle Co so we are always keen to find out more about the latest international initiatives and research movements that are actively making a positive change to the future of our seas. So, when science engineers Sarah and Conor La Grue got in touch to tell us about their seven-year marine ecology mission, we were all ears!
Their first of its kind operation will see the global sailing community work hand in hand with the global scientific community to build up a detailed picture of true health of our oceans on a scale that has never been done before.
Introducing 'Given Time'.
We caught up with Sarah and Conor, stationed on their custom built 40ft Ocean going class A adventure yacht, to ask a few burning questions about their ground-breaking operation …
Single use plastic and ocean pollution has seen widespread exposure in the media. When did you first hear or discover the issue?
S.LG: It was through a previous project that we worked on that we were introduced to Prof. Geoff Scamans (who is now one of our science advisors). He explained to us (at the time) that about half of the cans we send to recycling every year, could end up in land fill as there just isn't the capacity in the UK to process them. He also told us an alarming fact that we could save up to 9% of the world's total electrical energy consumption if we used recycled aluminum (versus smelting prime raw aluminum)! We both found that deeply saddening.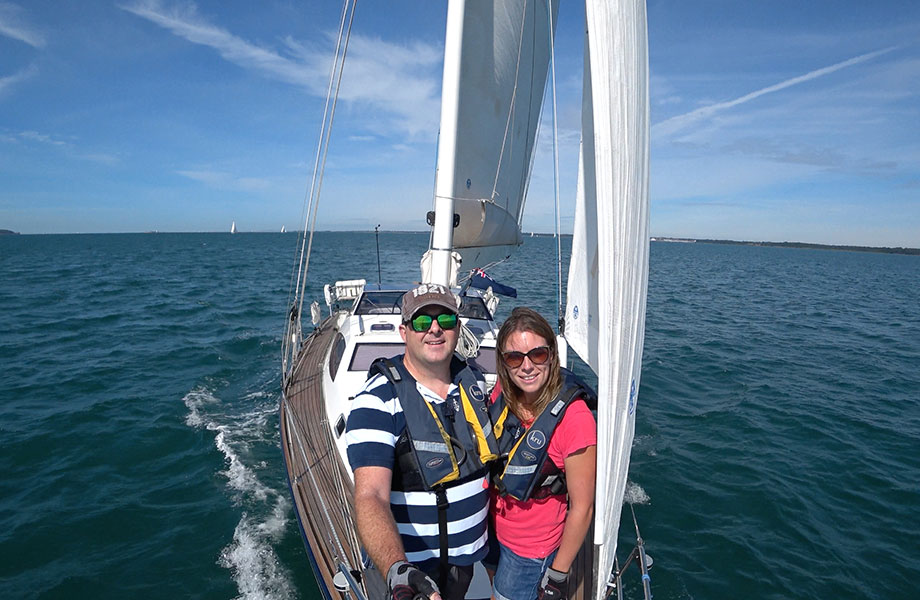 What prompted such an ambitious project?

S.LG: A Circumnavigation is something both of us have been dreaming about completing for many years and both having backgrounds in Engineering with Science & Education Outreach we certainly wanted our trip to be more than just a lap around the planet! It was during the time that we were gearing up for our trip (putting our house on the market and buying a new boat home) that plastic pollution in our oceans were becoming a mainstream discussion, and after little more digging we found it's not just plastic pollution that is affecting the oceans, it's hormone pollution, noise pollution… the list goes on and on.
 We wanted to help the oceans that were about to become our home…but we weren't alone. There are hundreds solo sailors, couples and families sailing around the world who also call the oceans their home – we were sure they'd want to preserve their oceans too.
That's when the idea hit us. What if we could start a movement, where we could connect the scientific community with the global sailing community? Where scientists could ask boats to collect critical marine data as they travel and provide them with data they might never have had the opportunity to collect. And so Given Time was born.
You have a remarkable customer built sailing vessel that will lead the research project. Can you give us a little more information on the crowd-source data capture model you have created?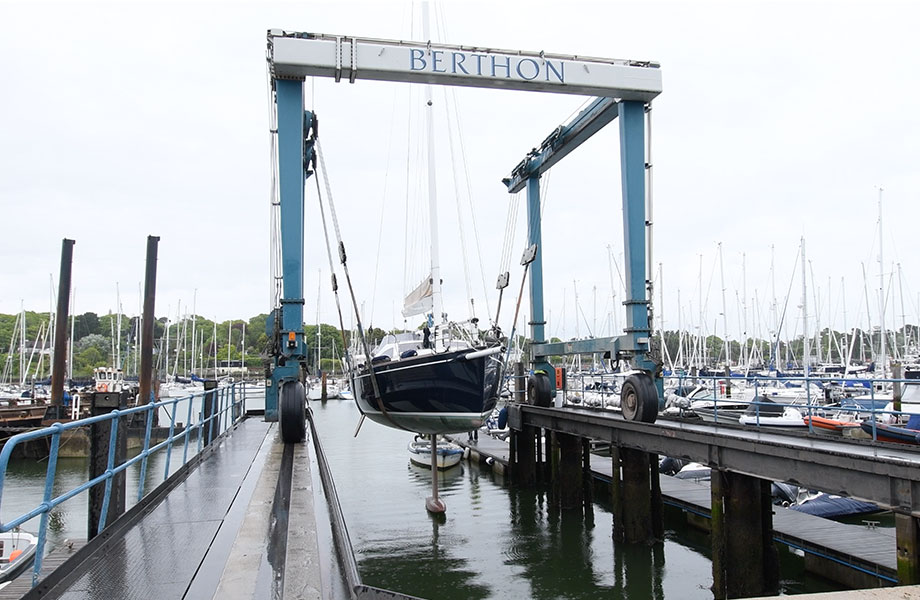 C.LG: Our Sailing Vessel (SV) "GIVEN TIME" is the lead vessel in a collaborative marine ecology research project, which will see the cruising community work hand in hand with the global scientific community.
We are creating a global network of resources for marine expedition research "Exploration through collaboration" – not crowd science but "fleet science!
We hope that by asking the cruising community to become 'fleet scientists' and collect data whilst they travel, we can build up a picture of the health of our oceans on a scale that has never been done before. A lot of cruisers tend to visit the same regions, year after year and this will build up a long-term view of what is happening in our oceans…it may even help to predict things like coral bleaching.
Our scientists and researchers will be able to connect directly with 'fleet scientists' all over the world and will be able to put in requests for a specific set of data to be collected globally or in one particular area and may also allow them to use research grants to a greater effect.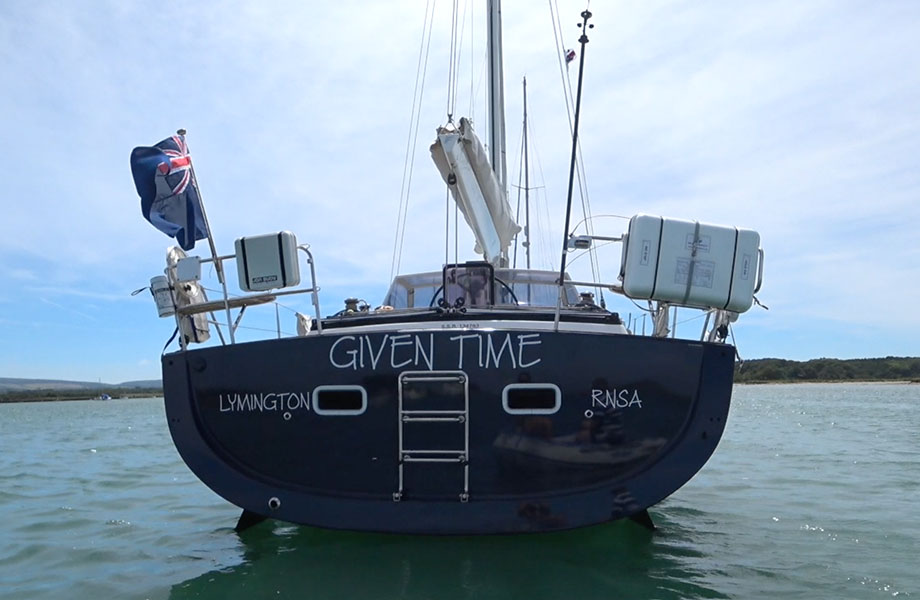 Manufacturers need to be forced through legislation / or convinced through public opinion to produce packaging that's easy and quick to recycle – rather than packaging that gives them the biggest profits and is impossible to recycle – it is a long and heavy fight but we are ready for it!

There are obviously many plans and preparation to sort. When is your expected leave date and how long will you be going for?
S.LG: We were due to leave this summer and head south ready to cross the Atlantic this Christmas (Dec 2018), however, with the project growing the way it is we felt it would be better to delay our departure for a year. As much as we want to be out there sailing and exploring, we want to make sure we can support the project and those who have signed up to become 'fleet scientists' in the best way possible during the early stages. So, the best way for us to do that is to be marina based in the UK for a little while longer.
Our now planned departure will be sometime between June – Sept 2019, which also gives us more time to prepare the boat and ourselves for longer passages and the predicted 7 years it will take to follow our circumnavigation route comfortably.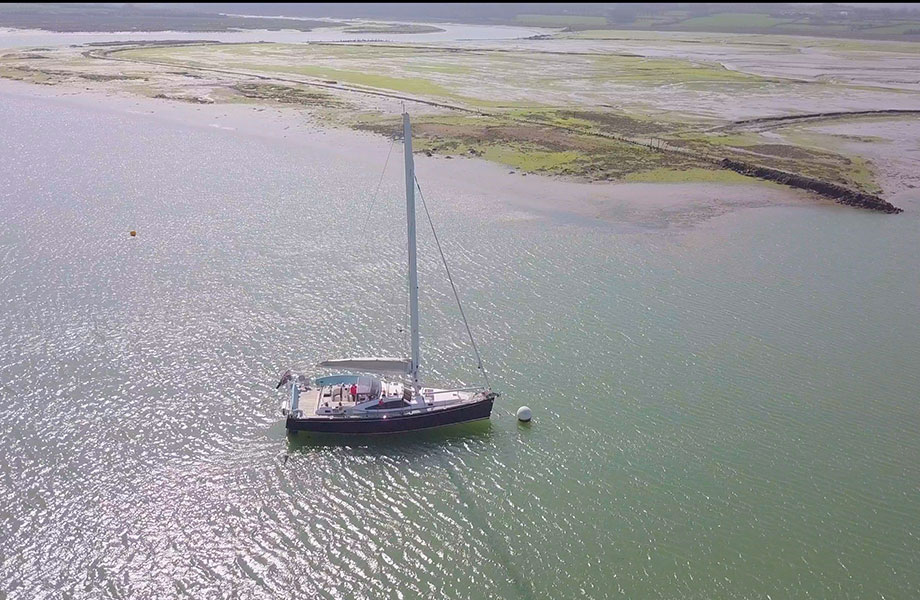 What is your intended route?
C.LG: Ultimately, we are going to let the science community steer our specific route – but our rough intentions are currently as follows:
UK to Canary Islands, then down to Cape Verde.
From Cape Verde across the Atlantic to the Caribbean.
Caribbean then move down towards Panama.
Through the Panama Canal.
Up the West Coast of Central America as far as the Gulf of California.
Back down to Panama to start Pacific Crossing.
Panama to Marquesas Islands.
Moving through South Pacific, French Polynesia, Pitcairn Island etc.
South Pacific to New Zealand
New Zealand to Australia
Australia through to South East Asia.
Two Years roughly cruising through the Philippines, Malaysia, Thailand etc.
Then down to Cocos Keeling.
Cocos Keeling to Chagos
Chagos to Madagascar
Madagascar to South Africa
South Africa to BOT Islands Tristan Da Cunha, Saint Helena and Ascension.
Westwards to Brazil and then back on up to the Caribbean…..
After that, who knows where the mission will take us. Sarah would like to go up the east coast of USA just so that we can anchor the boat next to the Statue of Liberty!!! 
You now have a couple of our inflatable SUP's onboard the boat but why did you originally choose Red Paddle Co and what will you use the board for during the expedition?
S.LG: We wanted SUP's that would last for years and pack away easily when not in use! So, it was a no brainer to approach Red Paddle simply because they have the best design, manufacturing quality and longevity of paddle board available on the market. We were delighted when we found you guys were really interested in what we were doing and in supporting the project.
We knew wanted to have paddle boards onboard to be able to access shallow places in a very non-invasive way. The boards will allow both us and any visiting scientists to access extremely shallow waters and estuaries, (which are some of the most vulnerable but least explored marine environments) They also allow us to do this in almost complete silence, so we can record unique data sets that would otherwise not be accessible in any other way.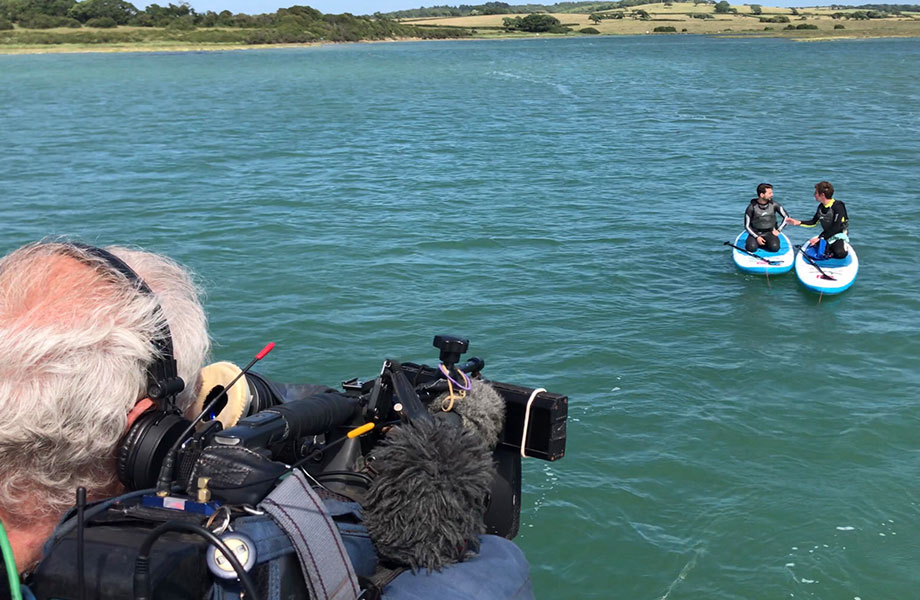 How have you found the boards so far?
S.LG: They are simply epic! So easy and quick to get ready (we recently had to prep and launch in a hurry when Conor had to do an emergency landing of our drone on a deserted beach -but that's another story!) super stiff, light and super strong! Even in challenging conditions we have been able to power through and we are getting better every time we go out! They are just fantastic!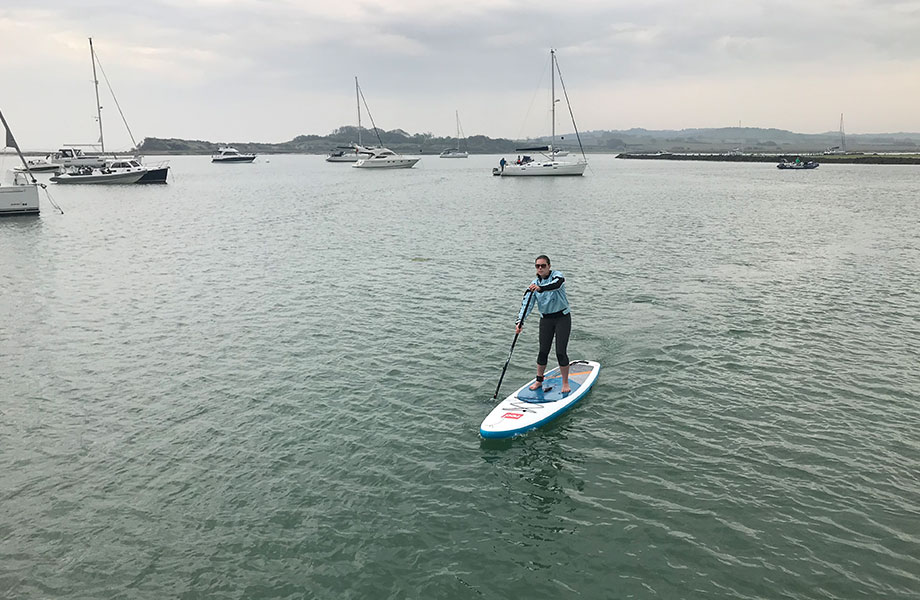 What do you hope to finally achieve by doing this?
C.LG: Education and outreach is the key objective.  The ocean and its health seems a long way away but Dr Steve Simpson and the team at BBC Blue Planet II have put the issues front and center. We are so lucky to have Dr Steve as our lead science advisor – with his help we can help inform and educate the public and the next generation to help drive changes to legislation and also prove that they are having an effect.   The fleet will also collect unique and valuable data sets that there is no other way to collect – a free to use resource for the science community can only accelerate research which will feed and support the rate of change in human behavior.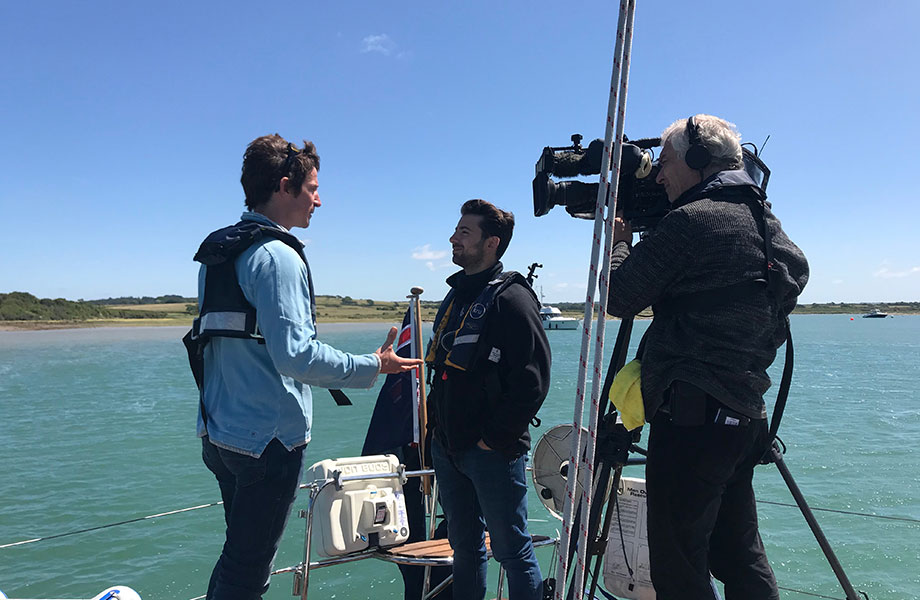 What is your view on the current catastrophe that is ocean plastic? Can we fix it?
S.LG: The quote (at the top of the page) is how we now try to describe to people the problems facing our oceans. For a long time now the oceans have always been that place far off out of our minds, but we need to start thinking of them as extension to our own land, because they are closer than you think – as the oceans have a major impact on the health of everything on this planet inc our lives!
There are certain ocean pollutants that could be fixed fairly quickly, like noise pollution, with the use of bubble clouds around industrial areas and low noise low cavitation propellers on industrial and leisure vessels.
Plastic pollution on the other hand is going to take a lot longer, generations longer. We can certainly work now to stop more plastic finding its way into the ocean.
The solution to remove/fix what has already made its way into the oceans is going to take a long time and unfortunately the longer plastic spends in the oceans the more likely it will break down or degrade into even smaller pieces (micro-plastics) that will never go away.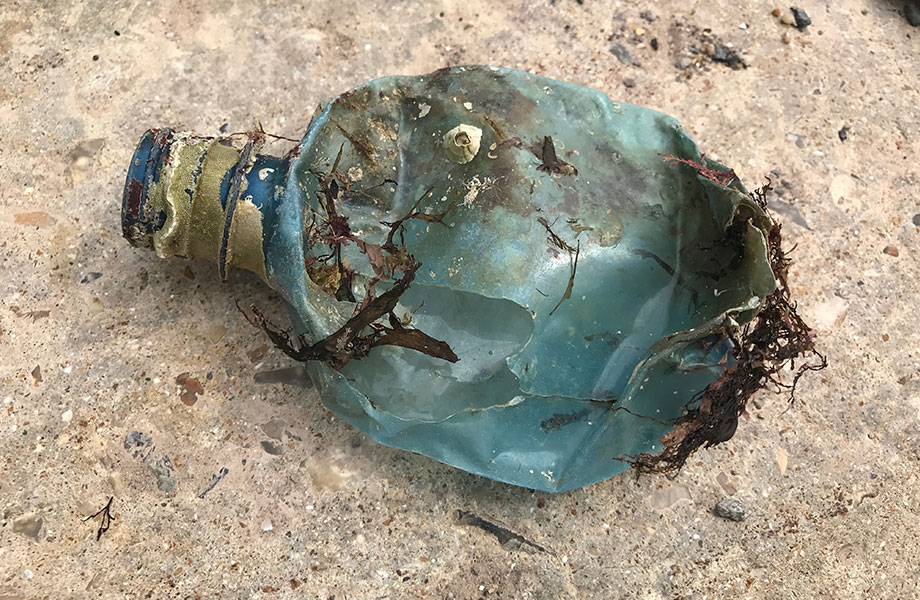 We aren't sure what the solution will be, I'm sure given time there will be something created that may be able to find and remove these plastics from the depths of the oceans.
But for now, we are working, through the project, to help with plastic detection in the oceans, asking cruisers who come across masses of plastic in the oceans to take a photo with a date & time stamp with a GPS coordinate, as this information will help to calibrate orbital satellites that are looking for masses of plastic from space.
And we are also asking cruisers to collect plastic wherever they can and take images of the worst polluted areas on our app so it records the date, time and place so we can track change as hopefully the situation slowly improves.
The education and awareness elements of the project will support vital lobbying efforts to change the way we design and manufacture our packaging –  that ultimately will be the key!   Only about 1/3 of the plastic we all recycle actually gets recycled into new products, many forms of packaging are actually impossible to recycle, so they still go to landfill and that's simply irresponsible!
Manufacturers need to be forced through legislation / or convinced through public opinion to produce packaging that's easy and quick to recycle – rather than packaging that gives them the biggest profits and is impossible to recycle – it is a long and heavy fight but we are ready for it!