Signing up to your first SUP challenge can be an unnerving task. Whether it's a 5k charity paddle or an epic 92km SUP race across the whole of Scotland, if you've not participated in a competitive event before, it can be tricky to know where to start.
Last year, a few of the girls at Red Paddle Co HQ, set their sights on competing in the Head of the Dart challenge, in Devon. A 9-mile paddle along the River Dart seemed an achievable distance, and as newbies to SUP racing, they chose to enter as a team, on their 22ft Dragon inflatable SUP.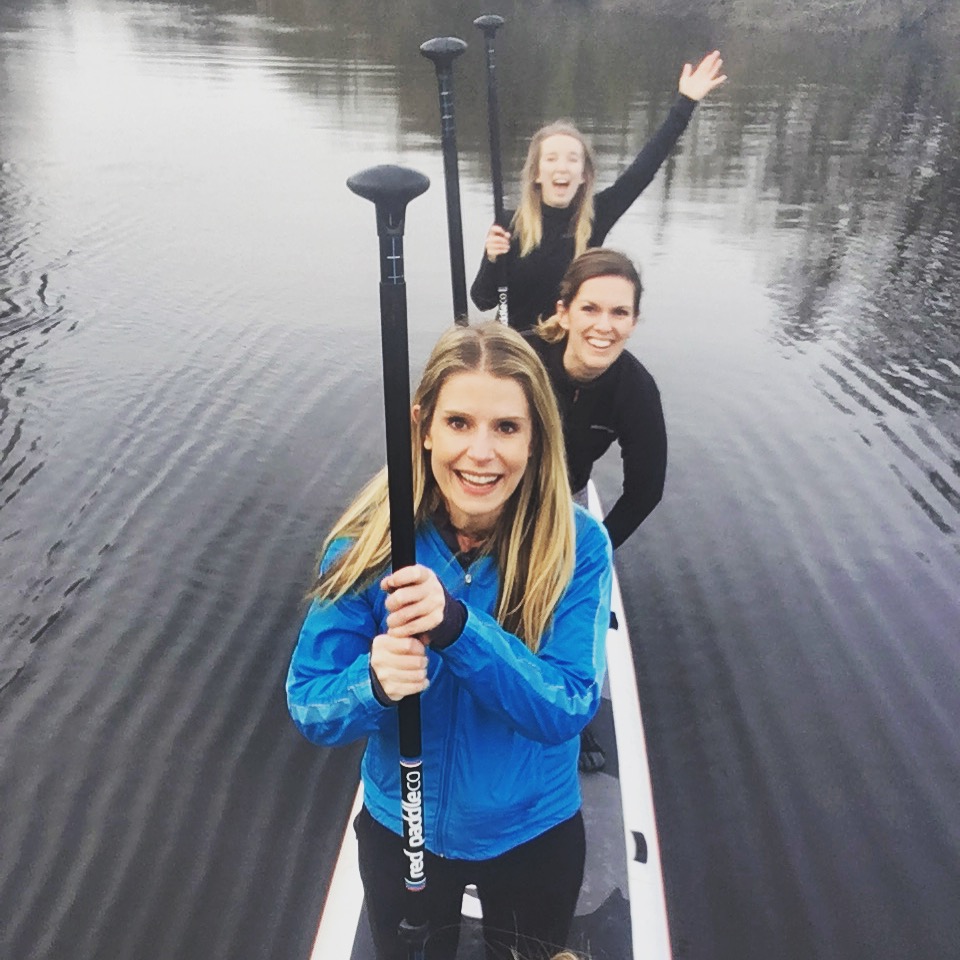 While the team didn't break any records on the big day, they did pick-up a few tips about SUP racing for first timers, as team captain Sam explains…
 "Arriving at the start line was definitely a little nerve racking, especially with so many other boards on the water. Paddling on the Dragon is all about timing and communication and it was great fun to keep each other going during the race. For us, the 9-mile paddle was a realistic goal and our strength training and practise before the event meant our technique naturally improved, so the whole experience was much more enjoyable".
To get themselves in shape for the race, the girls had the support of personal trainer and team coach, Hollie Shillito, who developed the simple exercise routine (below) to help them build strength and stamina in time for the race.
8 Easy Exercises for Beginners SUP Racing
We all know paddle boarding is an awesome sport that develops overall fitness and is a great way to work out your whole body – but there are a few key movements which can help you build strength and stamina, especially over longer distances.
Abdominal strength is an important part of improving paddling technique and while core and shoulder workouts will help improve your skills for SUP racing, they are also perfect for anyone looking to get the most out of their time on the water.
We recommend you do these exercises in a circuit. Try all 8 or mix and match 4 with 10 – 20 reps and repeat each exercise 3 – 4 times. Feel free to pick and choose the best exercises suitable for your SUP fitness requirements.
Jumping lunges – Good for building strength in your hamstrings, glutes and calves
Begin by perfecting your static lunge then incorporate a jump as you switch legs. This is great for developing power, balance and coordination – just make sure you have enough room to jump around!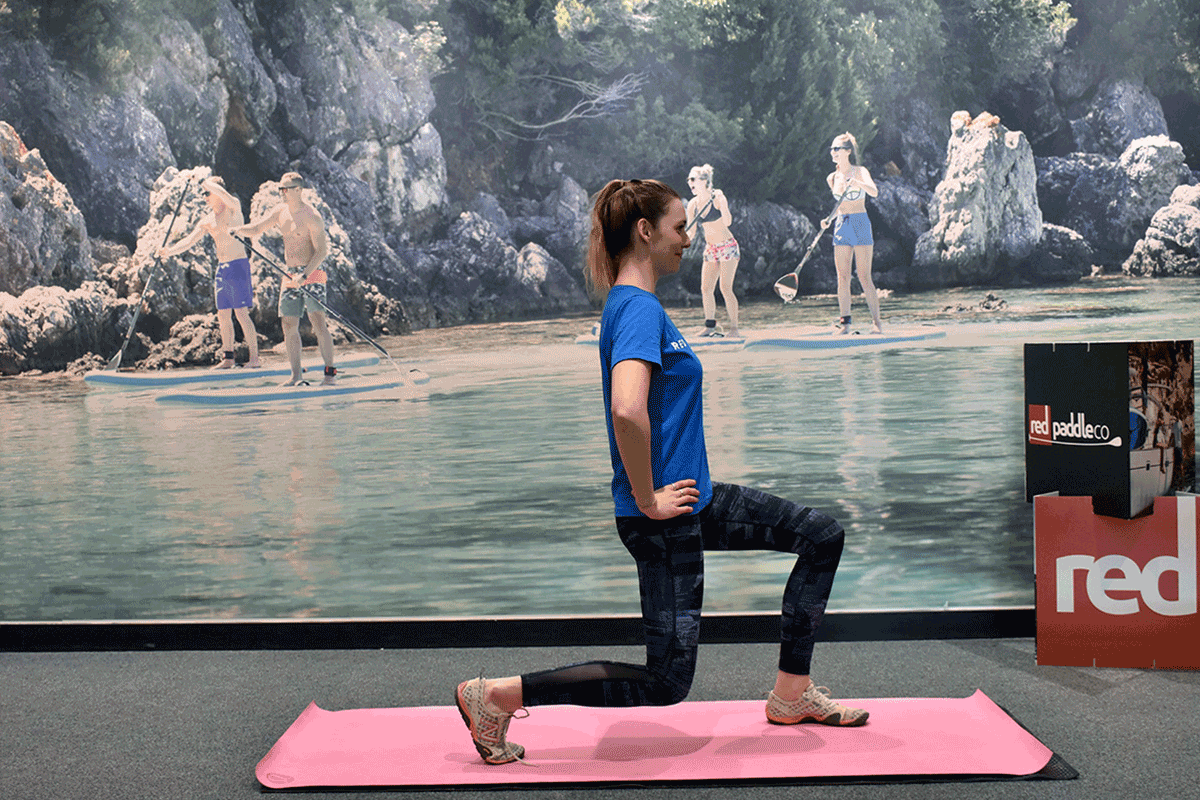 SUPerman Plank – Great for working a whole range of muscles such as abdominals, upper and lower back muscles, shoulders and legs.
Moving your arms and legs away from floor creates instability and forces your core to work harder to stay stable. This is of course similar in paddle boarding; the main difference is you are standing!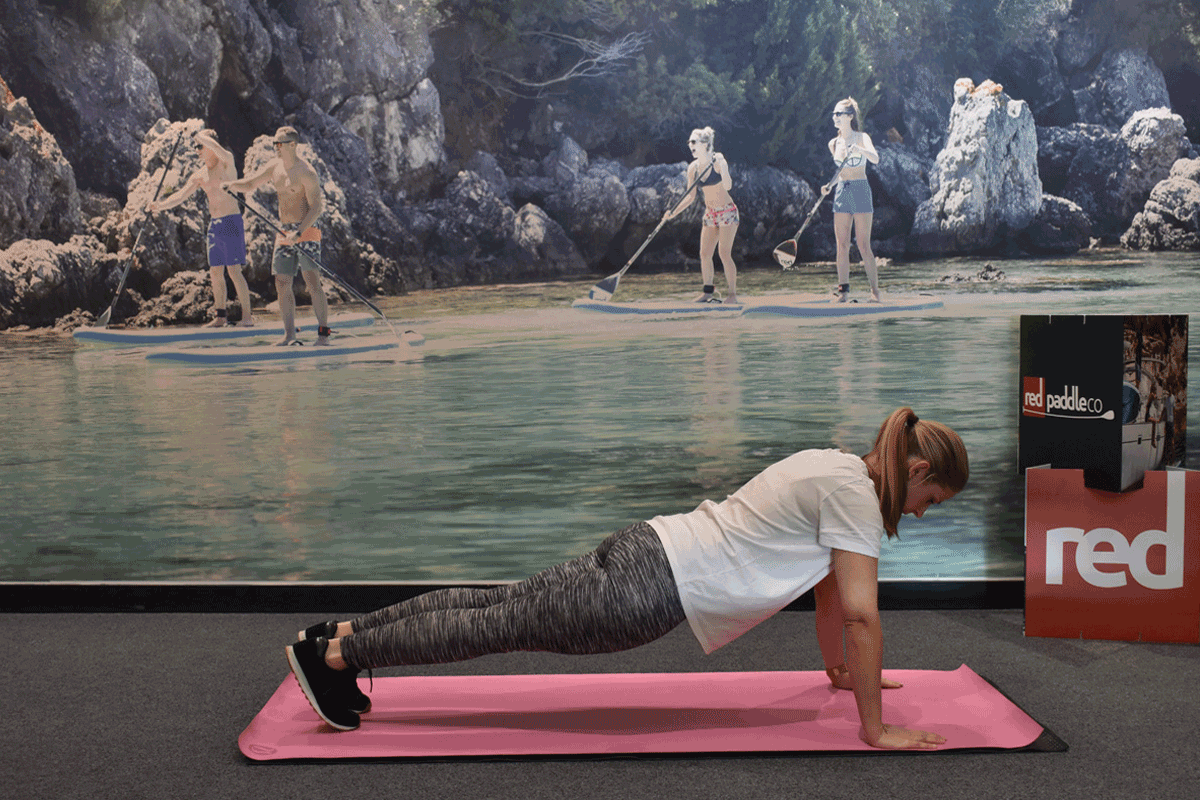 Plank Rotations
This exercise activates shoulder and back muscles that are often used in paddling, whilst engaging the core. As paddling is a very dynamic form of exercise why not add some variation here by walking out in different directions.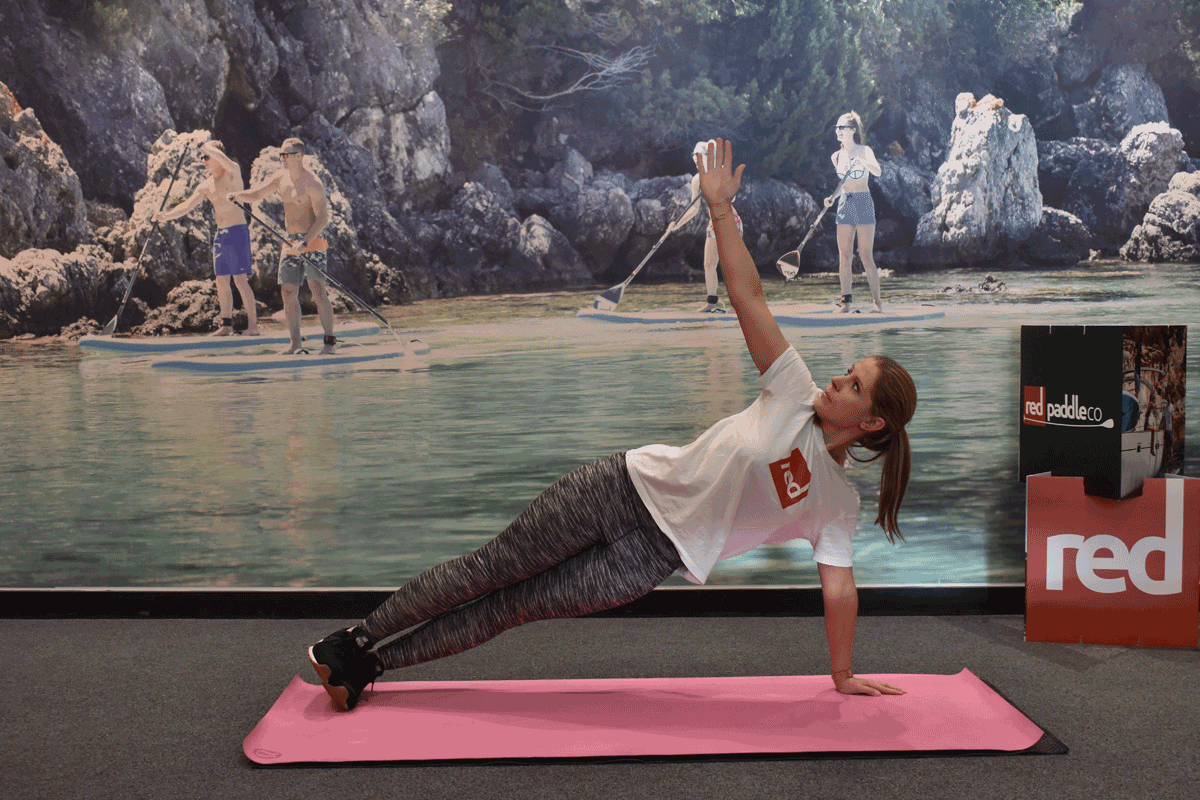 Press Ups – Great for strengthening chest, front of shoulders, abdominals as well as your lower back
When paddling, all the upper body muscles are used, so this is a great exercise to include in your SUP fitness routine. Play around with variations to keep it interesting; try staggering your hands one higher up than the other and place your hands narrow or wide.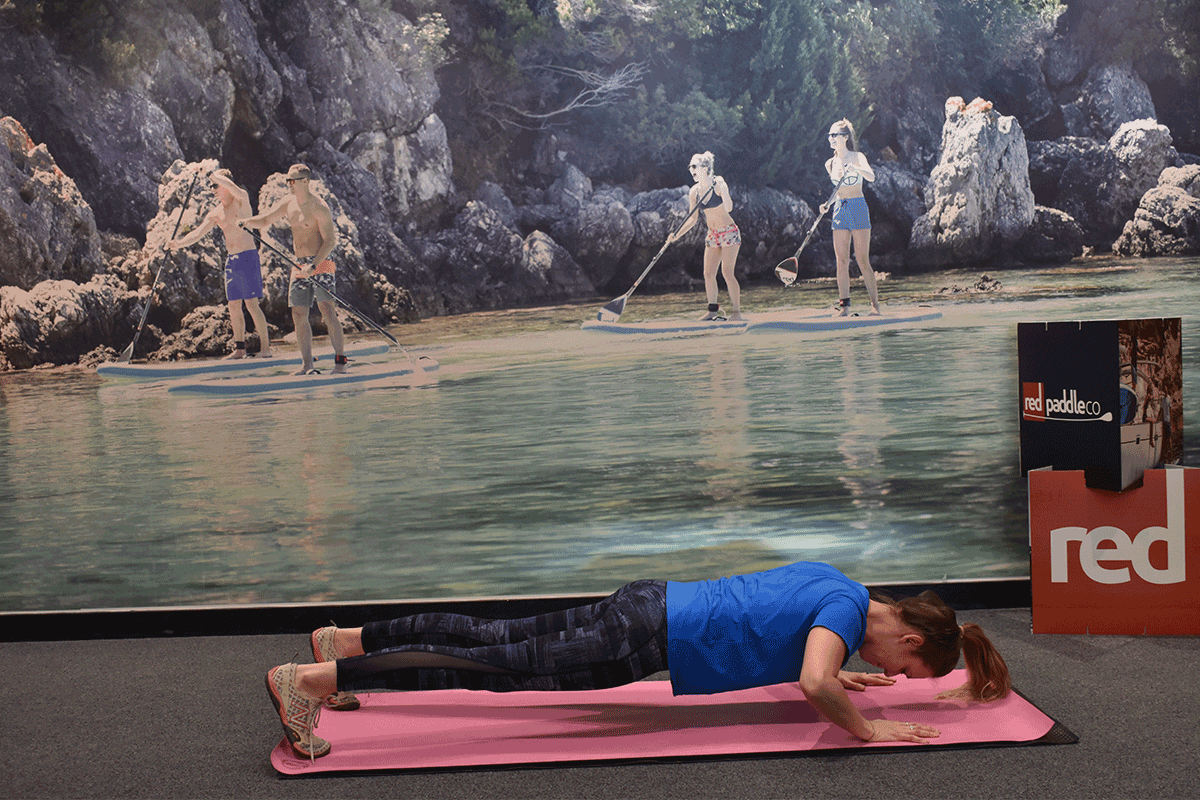 Paddle Squats – Works out your Quadriceps, hamstrings, glutes, calves.
A standing squat helps to develop basic lower body strength which is key to building strength, so you can enjoy your time on the water for longer. Holding your paddle square over your head activates the back muscles as well. Increase the difficulty by holding it in a lowered position for 1-2 seconds on each rep.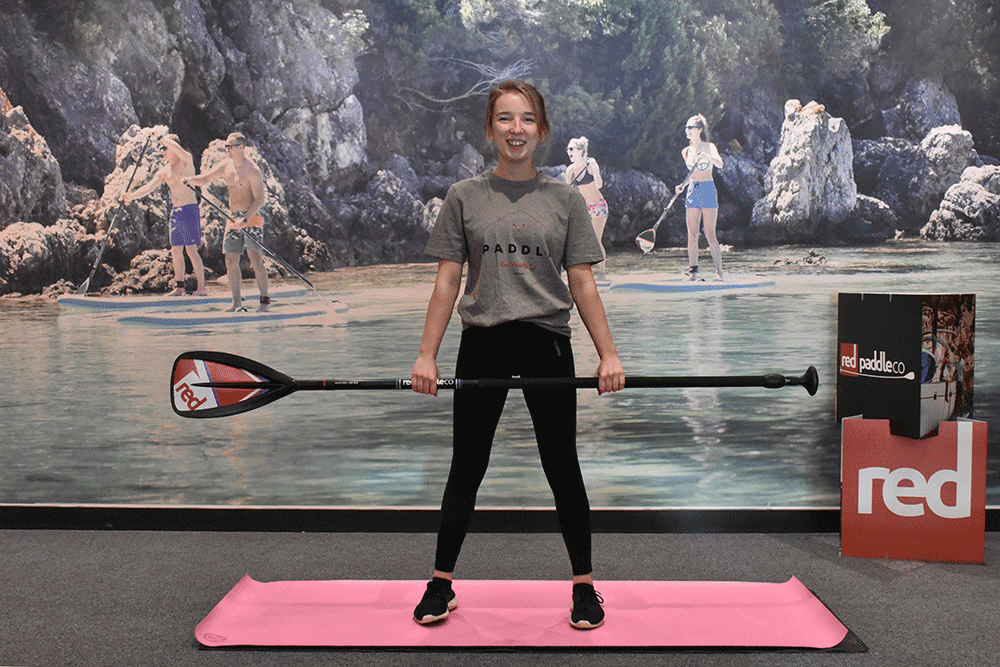 Plank T Rotations – This builds your abdominal muscles, upper and lower back muscles and shoulders.
The movement here mimics the core rotation required when paddling and it helps to develop shoulder strength. Complete equal reps on either side.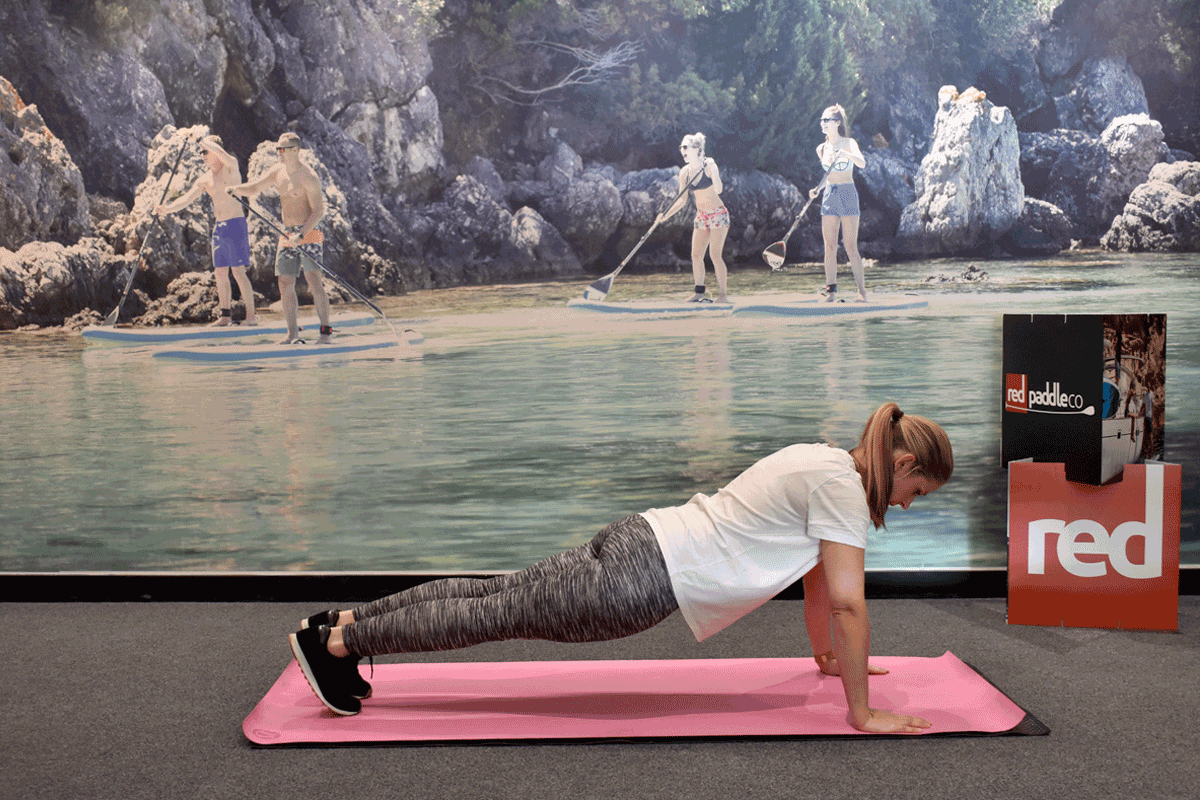 Kick through – Another great exercise that works a range of muscle groups – Shoulders, abdominals, upper and lower back and quadriceps.
This total body exercise develops core rotational strength and extension of the shoulder, required in both phases of paddling.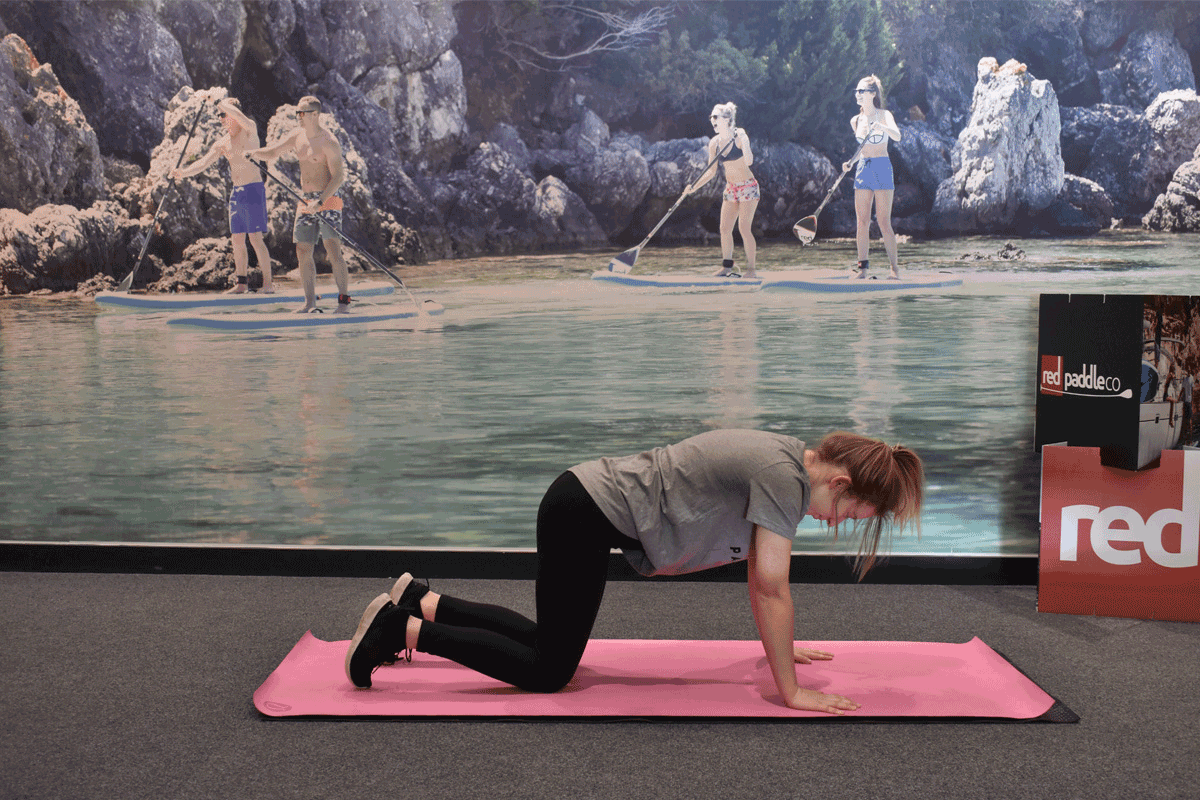 Side Lunges – Great for your hamstrings, quads, glutes and calves.
A great SUP fit workout which works leg muscles in a way that is more similar to paddle boarding than a standard lunge and it helps to develop balance.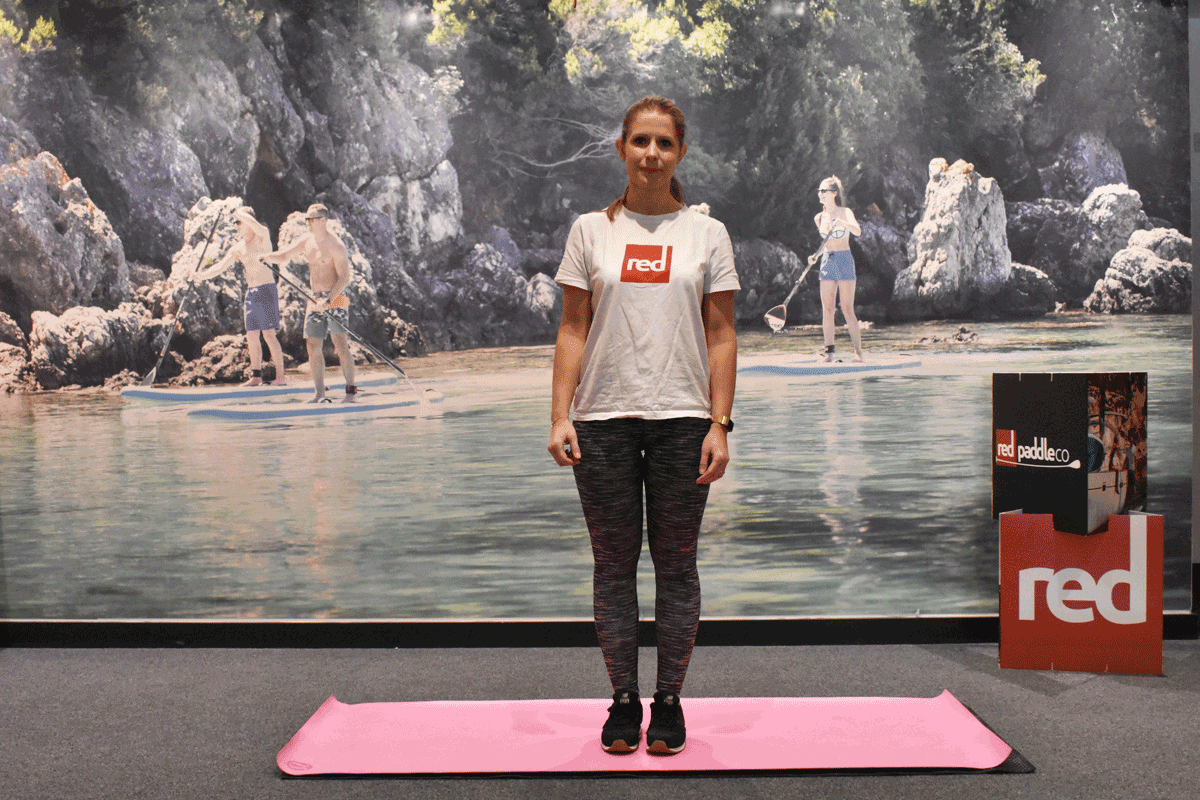 Fancy setting yourself a SUP goal this year? Check these out two entry-level paddle boarding events below:
Head of the Dart, UK
Registration for the 2019 event opens on the 4th February. The leisure fleet of the race is aimed at people who want to complete the course as a personal challenge. The places are expected to go fast this year so follow their Facebook page for regular updates.
Dragon World Championships, 2019 location TBC
Easily one of the most enjoyable events on the SUP calendar, the Dragon World Championships is a must for any SUP enthusiast. Mixing fast, fun racing with a party vibe like no other, this is a paddle boarding event that not only tests speed and power, but team camaraderie, coordination and determination!