At the start of November 2017, four friends with no previous experience of paddle-boarding set themselves the challenge to circumnavigate one of the remotest islands in the world by SUP.
A year in the planning and with limited experience on their SUP's, business executives, Neil, Meril and Mark tackled huge two-meter crashing waves, rolling swells and fickle wind changes as they paddled around Easter Island on their Voyager paddle boards. It's safe to say this SUP challenge was like no other!
Read on for the full story…
THE IDEA
"WHY DON'T WE PADDLE BOARD AROUND EASTER ISLAND?"
I was sitting in a popular Brighton seaside wine bar with some business friends. It was a dark mid winter's night in 2016 and out of nowhere someone said "Let's do a challenge, at sea and for charity!"
I did a quick online search…" Remotest islands in the world".
Easter Island or Isla de Pascua in the South Pacific Ocean stood out as officially the remotest inhabited island in the world, some 3,500km from the coast of Chile.
This island is 117 sq km with a ragged 60km coastline of volcanic rock, precipitous cliffs and it is continuously smashed by South Pacific waves and the odd Tsunami.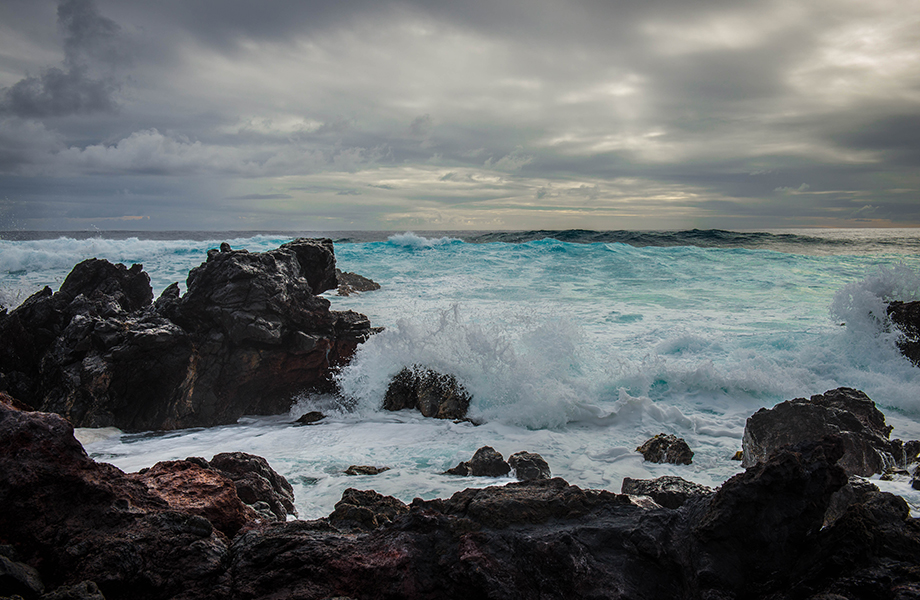 "Why don't we paddle-board around Easter Island!" some bright spark blurted out. "But none of us knows how to paddle-board!" exclaimed another. "Well, we can all learn" I said as confidently as I could muster. "How difficult could it be? Anyone for another drink?!"
The challenge was set in stone, well in Chardonnay, actually, and the team decided:
Mark Newman, MD of a local cleaning firm and quite a sporty fellow
Meriel Davis, a practicing Chiropractor and advanced kite-surfer
Myself, Neil Laughton, a business advisor and part-time adventurer
Rob Pelling: Keen photographer and all-round good guy pitched in to be our "safety man"
Time to start planning and preparing. November 2018 was the chosen month as historically it is the least windy time of year on Easter Island.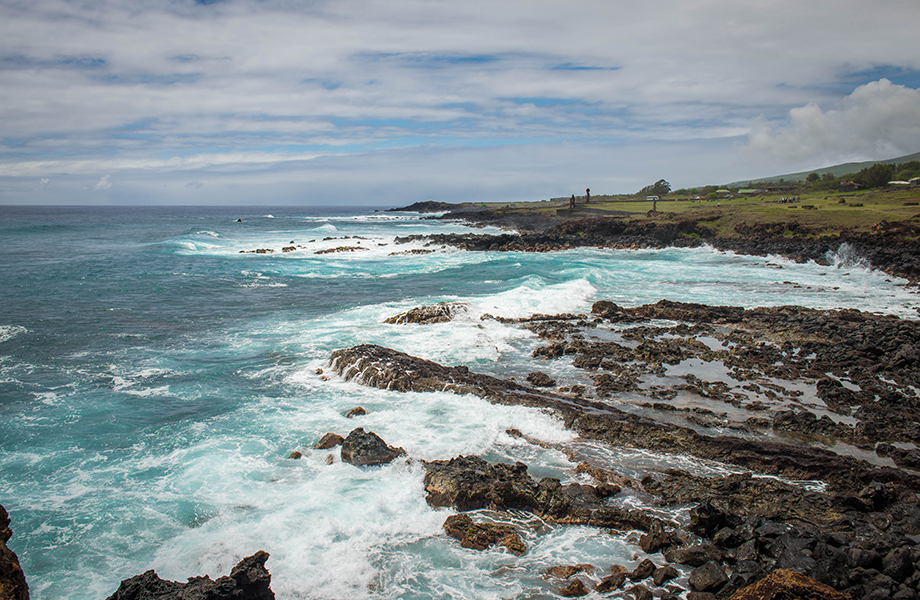 In recent years, stand-up paddle boarding has become quite popular in Sussex coastal towns and the ingeniously designed inflatable boards can be packed down into a rucksack sized package, perfect for transporting half way round the globe. Red Paddle Co seemed to dominate the market with their range of beautiful inflatable models.
I made an approach to Red Paddle Co's Marketing Director, Charlie Green with the bones of our somewhat hopeful mission plan. Unlike most family and friend's initial reaction of "You want to do WHAT?!", Charlie's response was "Great idea, how can we help you?!" A short time later, some large boxes arrived – now we had the boards, it was time to start training.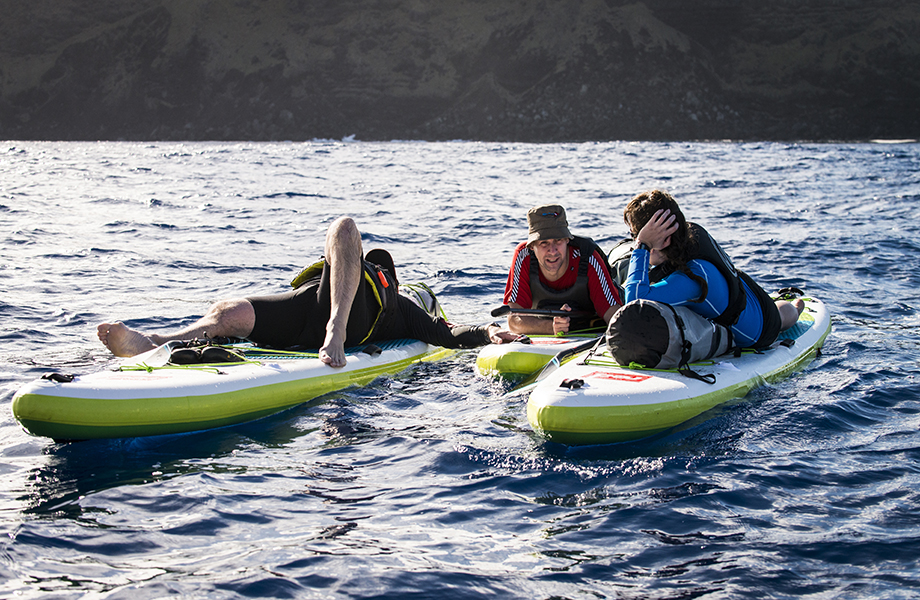 THE TRAINING:
STAYING UPRIGHT ON A 13ft INFLATABLE PADDLE BOARD
Our introduction to the finer art of staying upright on a 13ft inflatable paddle board would be on my local river, the fast flowing Adur and as it turned out, a complete disaster thanks to the full-on winter storm raging. We braced ourselves whilst being taken with the ebb tide half a mile downstream. After a further ten minutes we were all exhausted, headed for the bank and clung to the long grass to catch our breath.
First training run aborted.
Subsequent outings were a little more successful and slowly we advanced to choppy waters, including a mini-mission to paddle board in amongst the wind turbines five miles off the coast of Brighton. We also entered an eight-mile paddle board race in the West Country to test our endurance.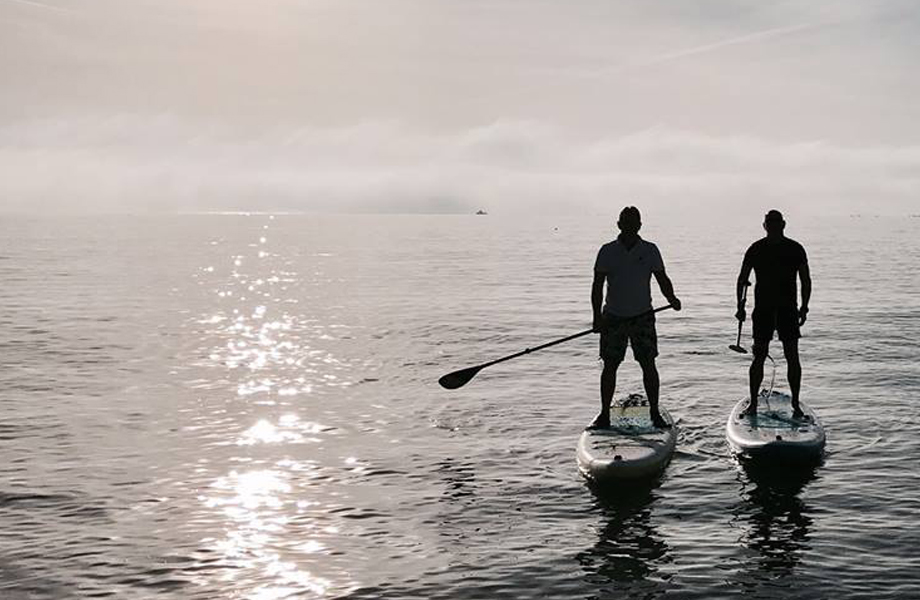 Our final training exercise would be an attempt to circumnavigate the Isle of Wight. With Rob at the helm of a 6m Rib safety support boat, we set off early from Hythe Harbour and after 12 hours on the water and a short break in Yarmouth, we paddled around the famous red and white lighthouse at 9.30pm under a near full moon. It was glorious. The team had successfully paddled 100 km around the Isle of Wight in 21 hours over three days and we felt as ready as we could be for Easter Island.
Final packing of essential kit and equipment for the expedition included off-grid power units from Tex Energy, hand-held Sealblades to be used in an emergency if drifting towards danger and an array of communications devices. And of course, we had our Red Paddle Co 13ft Voyager boards with the very latest innovations in inflatable stand up paddle-boarding.
THE MISSION – CIRCUMNAVIGATE 60KM OF EASTER ISLAND BY PADDLE BOARD
On arrival at Easter Island, we rented a car in order to make a detailed reconnaissance of the coast, which took the best part of 24 hours. All of us were mildly terrified at what we discovered.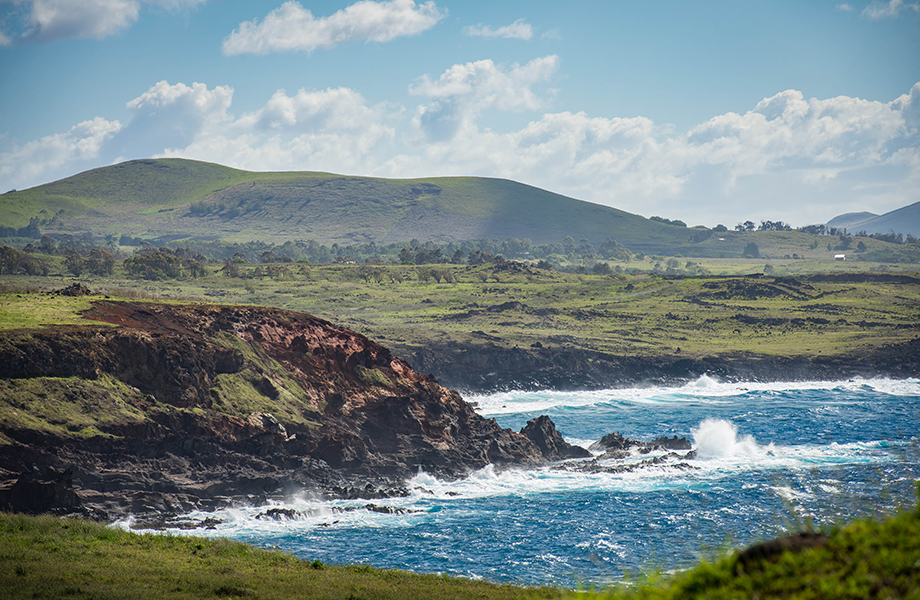 Huge two-meter crashing waves onto 70% of the coastline, large twenty foot rolling swells coming in a SW direction and only two potential safe entry / exit points on the entire island!
We went to talk to the principles of a diving company and the local Chilean Navy detachment stationed in Hanga Roa, the main settlement on the island. They listened with somewhat surprise at our intentions, asked us some pertinent questions and gave us their best advice.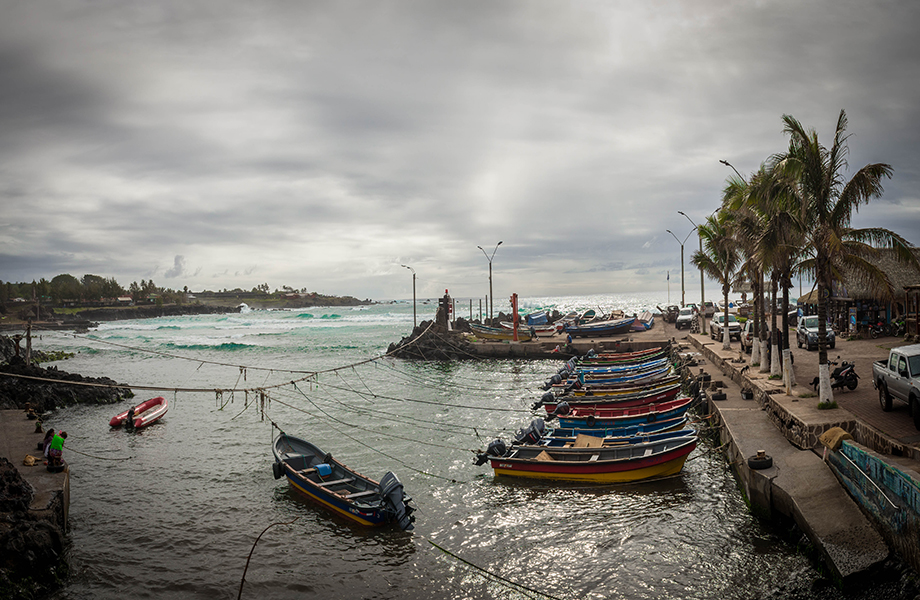 We took on board their recommendations which principally included hiring a local diver & fisherman together with his wooden boat to provide safety cover as the tides, swells and winds could quite easily drive us hundreds of miles offshore!
We rapidly changed our operational plan from having Rob on lookout duty circumnavigating the island's coastal road on a quad-bike to him being photographer in-situ in a 7m fishing boat. With a deteriorating weather window, we decided to set off the following morning at 0700 hrs.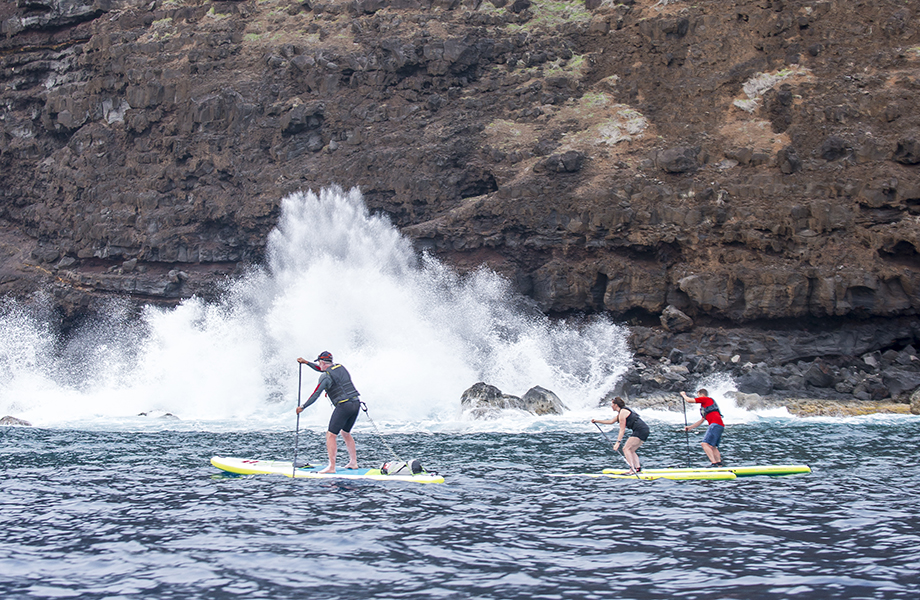 We headed North from Roe Bay near Hanga Roa approximately 400m offshore to avoid the breaking waves over the jagged volcanic rocks with its accompanying deafening soundtrack. The wave patterns were fairly rhythmic but it was the shoreline rebounding choppy water that would suddenly take us unawares with an inevitable tumble into the icy blue waters of the South Pacific.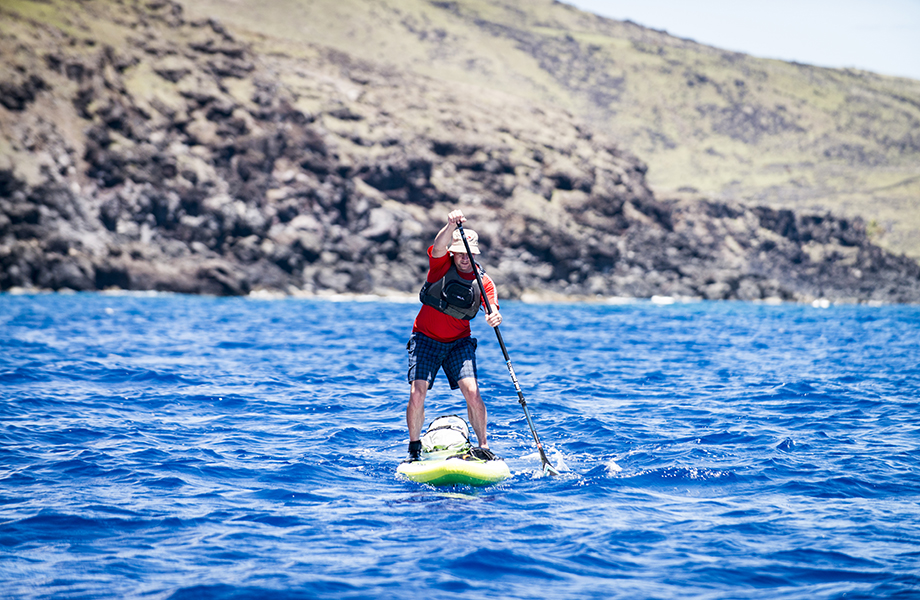 It was tiring work paddling hour after hour into a steady headwind and sometimes every few minutes having to climb back onto the board and furiously catch up the others who might now be 150m ahead. I found myself focusing 100% on staying upright and the slightest deviation off the horizon straight ahead ensured an undignified stagger into the shark-infested waters.
Thankfully, I didn't see any fins lurking on the surface.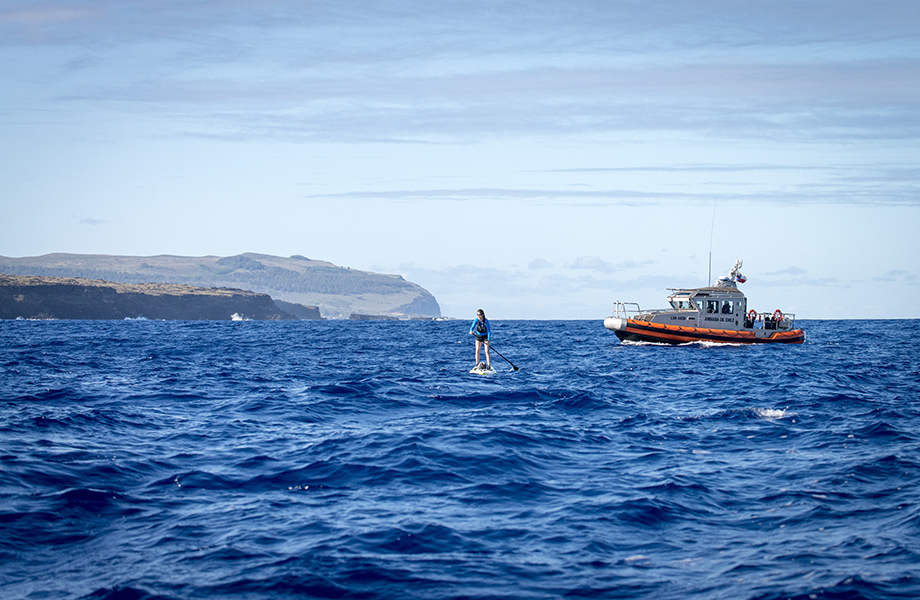 With our safety boat standing by, Rob helpfully provided water and snacks at hourly intervals. After nine hours of paddling, we had covered approximately 45% of the 60km journey and finally reached the safe harbour of Anakena Beach situated on the North coastline.
This was a haven of beauty – a curved white sandy beach fringed with palm trees and featuring an impressive line of Moai statues with "top- not" hats. Exhausted, we struggled up the hillside with our camping equipment, erected our tents, drank some tea, ate a simple meal of pot noodles and crashed out for an early night.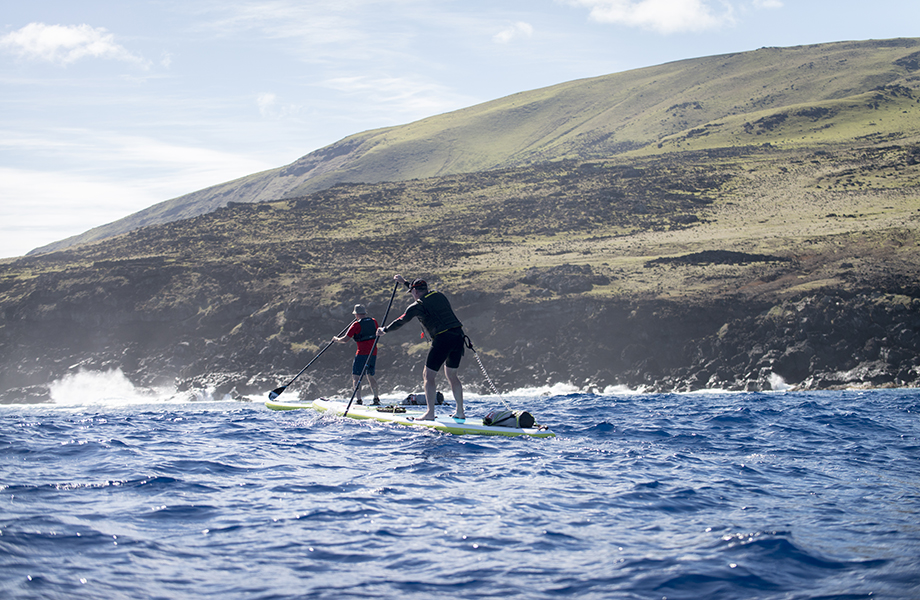 The following morning, Thursday 9th November, shortly after sunrise, we set off again on what we hoped would be our final day's paddling around the island as strong winds were forecast for the rest of the week and we were flying back to the mainland on the Monday.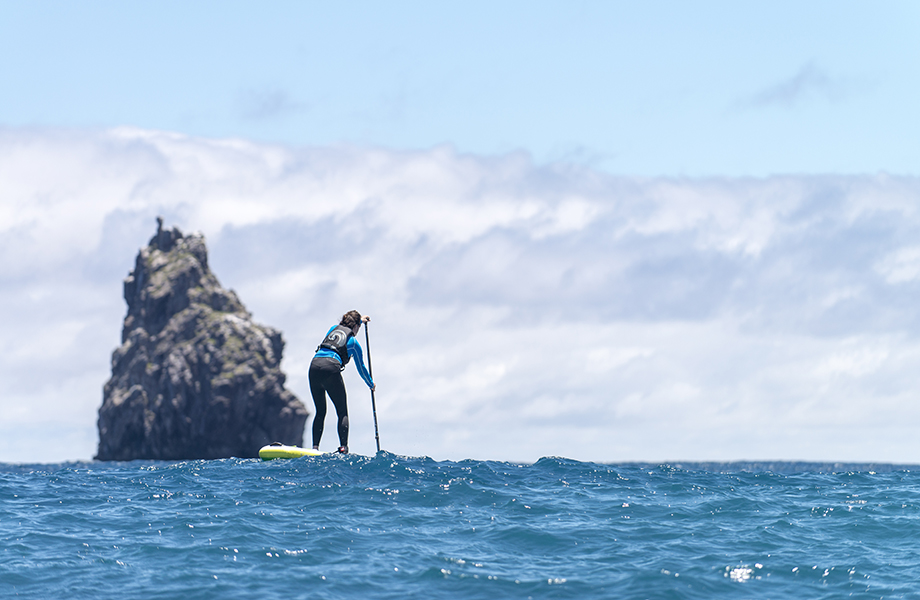 The next section was one of the most daunting – having to circle the vertical cliffs of the eastern Poike Peninsula with its enormous volcanic crater called Maunga Pua Katiki. This imposing headland would be the crux of the mission with its swirling tides, crashing waves and fickle wind changes. We battled on becoming weary as the day progressed.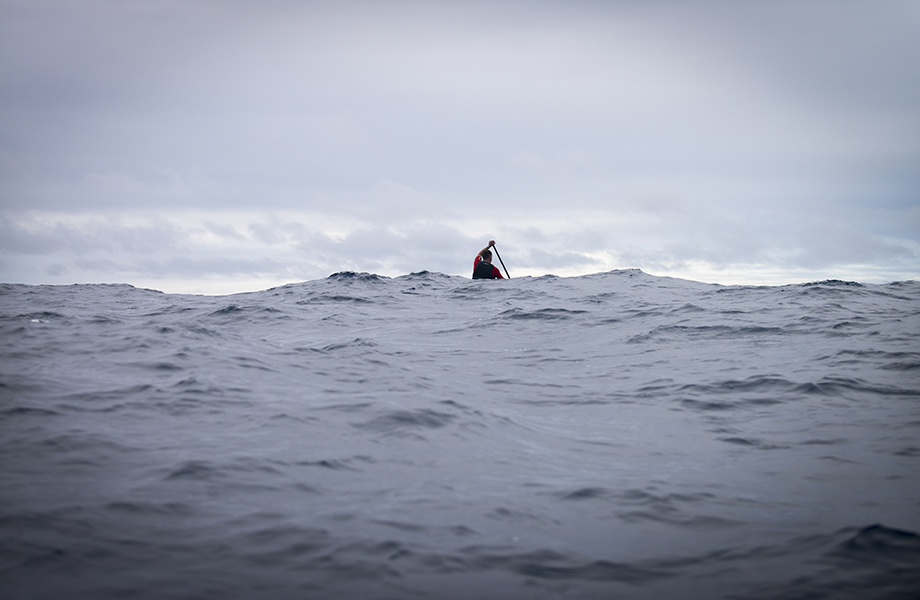 Turning the corner, we passed the magnificent line of fifteen proud Moai statues at Ahu Tongariki in Hotuiti Bay. We turned onto the long south coast leg with the white oil drums serving the airport becoming our new landmark waypoint some 25km away.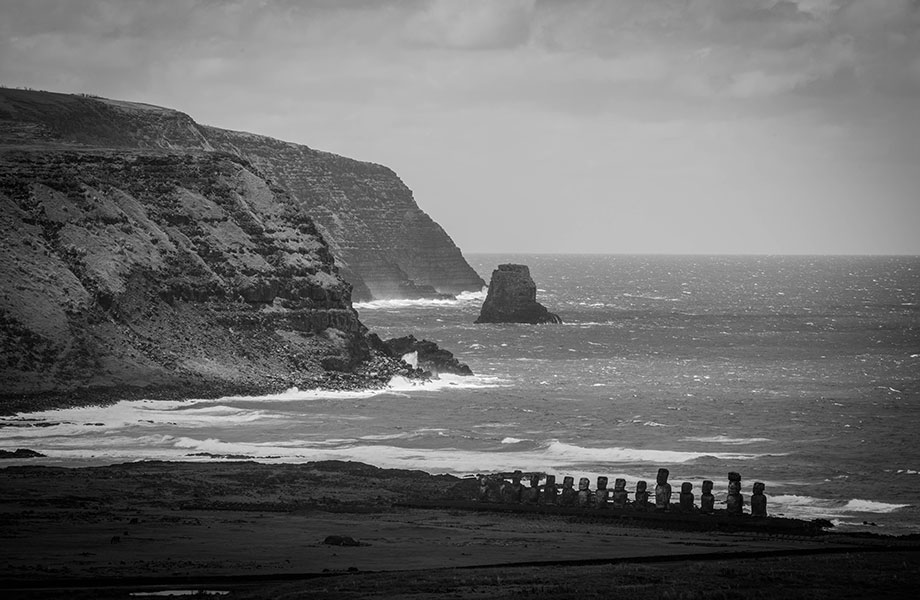 Our mini-breaks became more frequent as we tired but also became much shorter, just long enough to swallow half a litre of water and throw a handful of peanuts into our mouths. Every minute not paddling resulted in lost ground due to the South Westerly sea breeze.
As we finally passed the oil drums, the day was drawing to a close. We had maybe four hours of daylight left to complete the last 15km section including rounding the SW headland including the incredible Rano Kau crater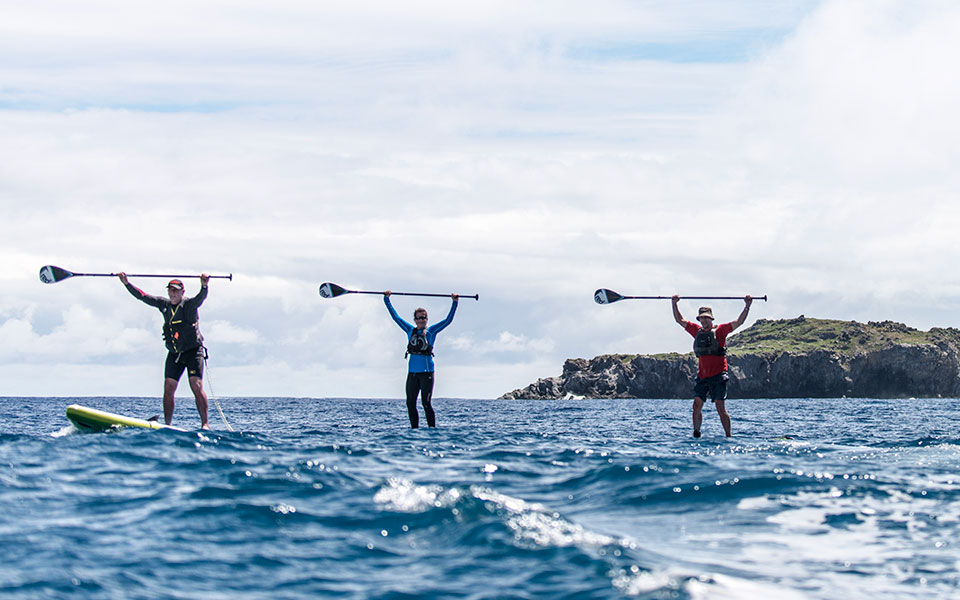 As the sun began its descent below the limitless horizon, we passed the point where we had started our mission some 36 hours earlier and with the help of our local fisherman and boat driver, we negotiated the surfing waves into Hanga Roa Harbour.
As the paddlers took a well-earned rest with a delicious ice-cream, Rob set off to organise some transport but was gone for hours. He hobbled back into the café with arms and legs bound in white bandages. He had suffered an unprovoked attack by a Doberman that had required treatment and some stiches at the local hospital. We tried to console him by saying a bite from a human is far worse than a dog's.
It didn't spoil our incredible adventure on Rapa Nui, the Isla de Pascua.
As I sat on the plane home reflecting on our experiences, it suddenly dawned on me that three middle-aged business executives with no previous experience of paddle-boarding had just completed an improbable circumnavigation of the remotest island in the world and raised a few thousand pounds for the Rockinghorse charity.
Wonders will never cease to amaze me!
A big thank you to Neil for sharing this incredible SUP adventure with us and congratulations guys, we can't wait to hear what you get up to next!