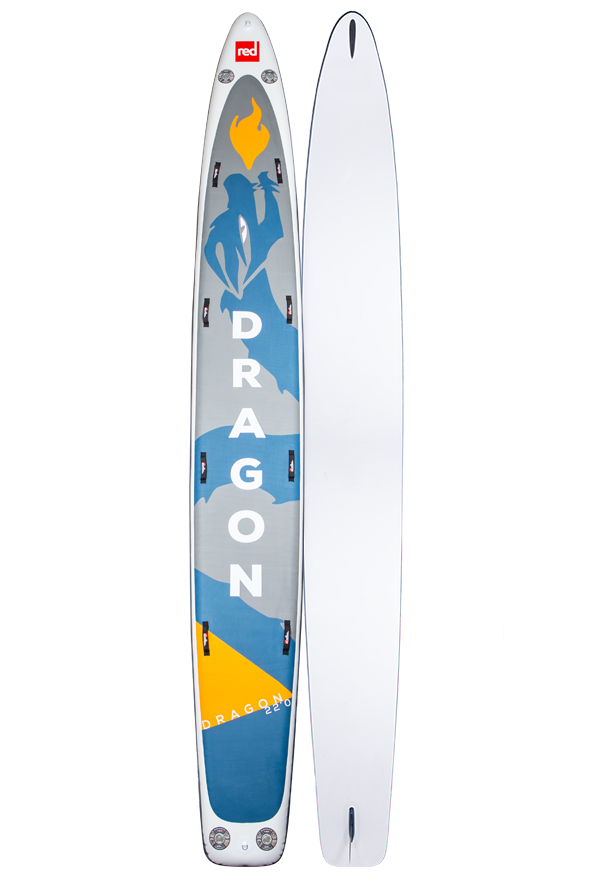 Built for racers who thrive on team spirit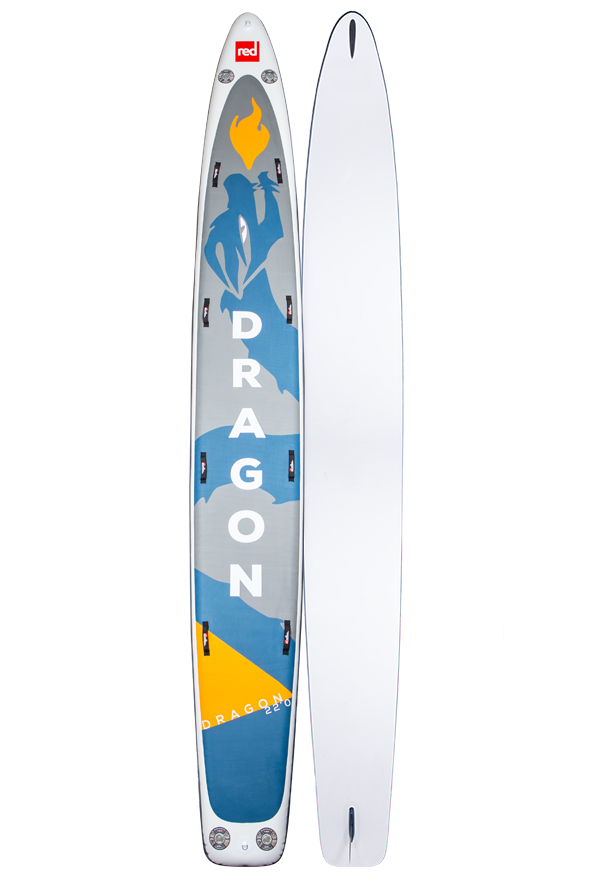 MAX RIDER WEIGHT

110kgs +

RIDER STYLE

Racing

MIN EXPERIENCE

Advanced
Are you ready to rally the troops and create a championship-winning team?
Do you want to mix the intensity of SUP racing with the camaraderie of team spirit? The four-person Dragon can reach an incredible rate of knots. The 22'0″ Dragon retains the same features as most of the Race family, including profiled nose, slim body, and high sides so that it rises out of the water and slices through the waves.
It has eight lateral handles for ease of transport, has four valves for fast inflation and is covered in an extra large decked with a large dragon design, warning other competitors to watch out if they don't want to get smoked! The board is supplied with our glass fibre race fin, designed to provide minimal drag and prevent any debris from getting caught whilst paddling. Don't be duped by its size though: this is one fast machine and with the power of eight arms driving paddles through the water, it is one of the fastest SUPs on the planet!
We will again be inviting paddle boarders from all over the world to compete in the amazing Dragon World Series, with teams of four battling it out across the globe. To find out how you can get involved visit dragonworldseries.com
All board orders come with free shipping, including all of our paddleboards. *Subject to location.
We also include tracking of your delivery so you can follow its progress during fulfilment.
At Red paddle co we support local retailers by offering them the opportunity to fulfil our Online Orders.
Every board we make is produced in our private facility using a unique manufacturing process and it takes an average of 72 hours to create each paddleboard.
Technical Specifications
Board Length

22'0"

Board Thickness

Board Volume

Board Weight

23.2kg / 51.04lb

Board Width

34″ / 863mm
Technical Specifications
Bag Size

This board comes with a cover wrap

Fins

Race Fin

Stiffening System

RSS Battens

Paddle Options
TEC AIR: PIONEERING PADDLE BOARD DESIGN
At Red Paddle Co, we sweat the small stuff. We're dedicated to providing you with quality, and that's why we're the only inflatable SUP brand that makes boards in its own private facility. We use innovative materials and manufacturing techniques to produce superior-quality products you won't find anywhere else.
Unlike other paddle board companies out there, we never compromise on quality and innovation. We've taken standard inflatable technology and redesigned almost every aspect of it to deliver a truly outstanding board.
Our products are of the highest quality, offering safety and durability that you simply won't find elsewhere. Before any of our board designs go into production, we carry out extensive research and testing to make sure your board performs when you need it to most (we even ran over one of our boards with a tractor…it was fine.) It then takes us 72 hours to make each individual board – that's ten times longer than the industry average. This whole process is know as Tec Air and is how we refine and develop our boards at every stage of production. By focussing in on the key areas of the production process we have been able to identify ways we can improve the end result. Whether it be detailing exactly where and how the layers are bonded or how the rocker curve is applied to the board, no area of the design process is ignored.
It's worth knowing that the key areas of construction are inside the board, two while any two boards might look the same…they can be world's apart in how they're constructed. Our attention to detail on the inside ensures the best experience on the outside.
MSL: THE DIFFERENCE IS IN THE DETAIL
Our exclusively-owned MSL Fusion technology provides unrivalled stiffness, weight-saving stability and a superb cosmetic finish. Together, with our patented RSS stiffening system, we make the most durable inflatable boards on the market.
MSL is recognised as the industry's leading construction process and is exclusive to Red Paddle Co, here's why…
A SUPERB COSMETIC FINISH – All Red Paddle Co boards have an industry-leading cosmetic finish. No wrinkles or blemishes. The boards look cleaner and smoother and even feel better to the touch.
WEIGHT-SAVING BUT STABLE – All Red Paddle Co boards are up to 2kgs lighter than our previous double layer construction. But very importantly they are not too light. If a board is ultra-light it is more affected by wind and current while on the water. MSL boards have a reassuring lightweight feel.
STIFF AT LOWER PRESSURES – Due to the Torsion Stiffness effect all Red Paddle Co boards are stiffer at lower pressures compared to other products on the market. We recommend a pressure of between 16-22psi. Less pumping and more paddling.
ENHANCED DURABILITY – The multiple-layer coating of Red Paddle Co boards is tough and durable. With our third generation of MSL material now in use, our boards are more durable than ever.
WHAT'S INCLUDED


10" Straight Leash
When heading out on the water it is important to always securely attach the board to you using a safe and reliable leash. When windsurfing we recommend always wearing a PFD/Buoyancy aid without the leash.
10′ Straight Leash- Perfect for ocean paddleboarding, limits the board from recalling when you are in the water.
Safety Note: If paddling in river currents we advise wearing only a Personal Floatation Device or a waist leash to avoid snagging on obstacles and debris.


US Box Fin
US Box Fins originated in the surfing world where they are widely trusted to do a great job.
These fins are inserted after inflation and simply attach using a simple nut and bolt system. The fins are specially engineered to slice through the water and the Race fins have a 45% rake on them to ensure no weeds get caught which could slow you down.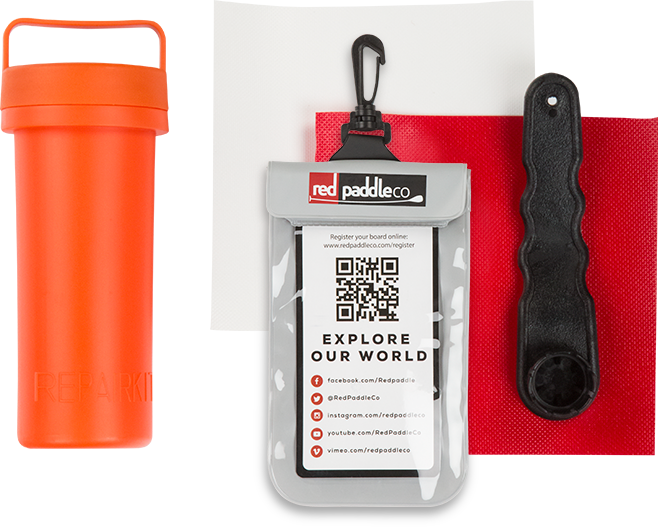 Essential Kit
Every Red Paddle Co board comes with a handy little repair kit including some essential replacement parts and tools should you ever need them, plus a super handy water -resistant phone case to keep your phone dry during your adventures.
The repair kit includes a patch of MSL material in the appropriate colour for the front and back of your board, (150mm x 150 mm), a valve tool which can also be used to scrape off glue when repairing punctures and instructions, all stored in a waterproof can.
In the unlikely event that you need to clean or replace the valve, this can be easily done using the valve removal tool included in this kit. Check out this video below for step by step instructions on how to do this.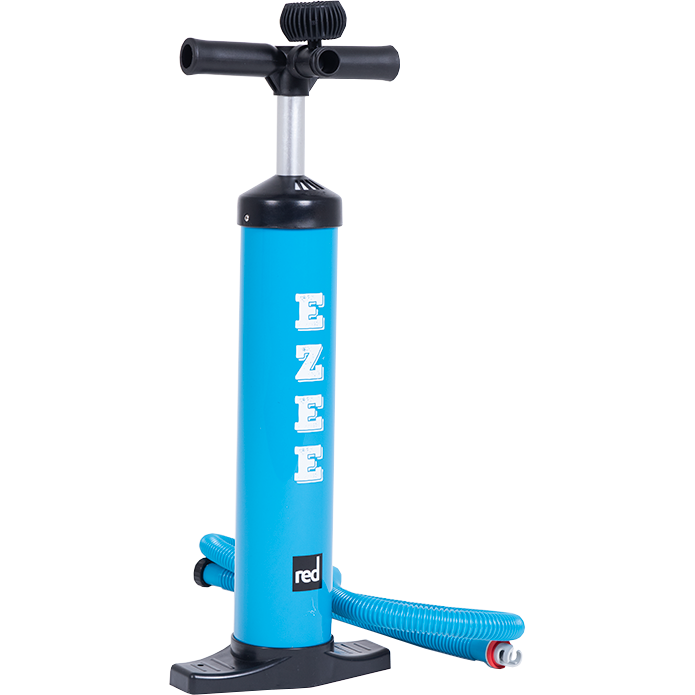 Ezee Pump
The Ezee pump has one larger cylinder for an ezee way to inflate your board. Pump volume into your board quicker with the Ezze pump. The ergonomic wide handles and feet offer ease of use and increased stability. Increased chamber diameter makes it easier to get volume into the board.
You may also like…
15'0″ Voyager Tandem Paddle Board Package

View product

New in 2018, this board enables you to explore even the most remote locations with a...

Max Rider Weight

110kgs +

Rider Style

Multi Person


Min Experience

Intermediate

17'0″ XL Ride

View product

Go big or go home with our largest board. Everyone can get involved with this giant...

Max Rider Weight

110kgs +

Rider Style

Multi Person


Min Experience

Beginner

12'6″ Sport Racing SUP Board Package

View product

Our range of Sport inflatable SUPs are designed for paddlers who want to up their game...

Max Rider Weight

95-110kgs

Rider Style

Cruising / Distance paddling (more than 2 miles)


Min Experience

Beginner