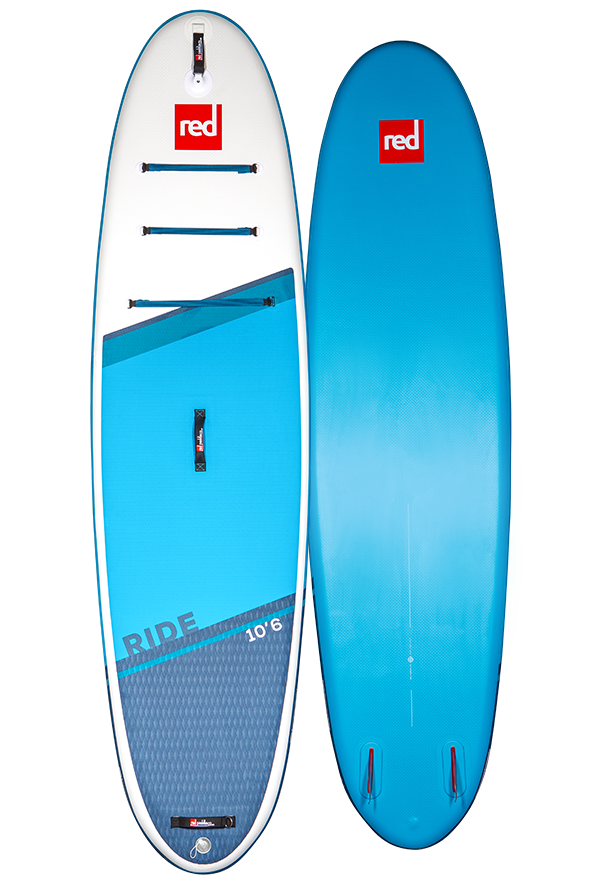 10'6″ Ride MSL SUP Inflatable Paddle Board Package
A swiss Army knife board - it can be used by almost any rider for any purpose.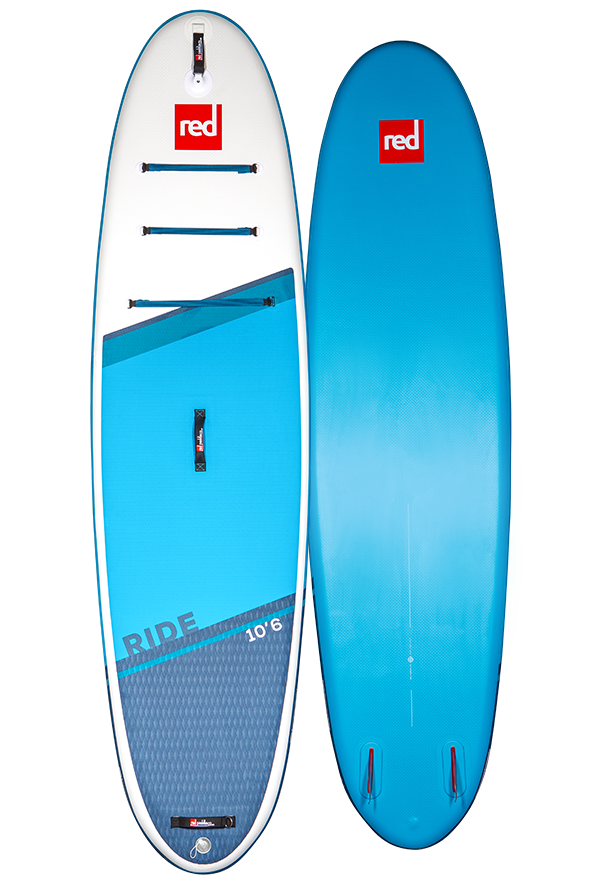 MAX RIDER WEIGHT

95-110kgs

RIDER STYLE

Family

MIN EXPERIENCE

Beginner

COLOUR OPTIONS

Purple, Blue
If you could only ever have one Red Paddle Co board, the Ride 10'6" is the one we'd tell you to get – it's already the world's most popular inflatable SUP but continues to win numerous SUP industry and consumer awards.
Such success is due to the unrivalled quality, durability and innovation of all Red Paddle Co boards, but also the versatility of the Ride 10'6″ inflatable SUP. It's designed to float and glide easily on flat water, and it has just the right amount of curve in the plan shape so it rides smoothly and predictably in surf, no matter what kind of rider you are. And it's 120mm/4.7" thick, which increases stiffness while not affecting ride and performance. Practical cargo tie-downs complete an iconic package.
The Red embossed deck pad offers comfort and grip and a diamond cut rear section provides even greater grip and stability when performing step back turns or during occasional use in the surf. It comes with our industry leading Titan pump as standard which will have your board inflated in half the time with half the effort and packs down neatly to fit into our all terrain backpack making transportation and storage simple.
To mark Red Paddle Co's 10 Year anniversary we are releasing a Special Edition version of our award winning 10'6″ Ride. This comes packed with all of the same great features as every other Red Paddle Co board just in a limited colour way for 2018. Check it out HERE
All board orders come with free shipping, including all of our paddleboards. *Subject to location.
We also include tracking of your delivery so you can follow its progress during fulfilment.
At Red paddle co we support local retailers by offering them the opportunity to fulfil our Online Orders.
Every board we make is produced in our private facility using a unique manufacturing process and it takes an average of 72 hours to create each paddleboard.
Technical Specifications
Board Length

10'6"

Board Weight

9.95kg / 21.89lb

Board Width

32″ / 813mm

Bag Size

960mm (h) x 390mm (w) x 360mm (d)
Technical Specifications
Bag Volume

150 litres

Colour

Purple | Blue

Fins

Moulded iFin System
TEC AIR: PIONEERING PADDLE BOARD DESIGN
At Red Paddle Co, we sweat the small stuff. We're dedicated to providing you with quality, and that's why we're the only inflatable SUP brand that makes boards in its own private facility. We use innovative materials and manufacturing techniques to produce superior-quality products you won't find anywhere else.
Unlike other paddle board companies out there, we never compromise on quality and innovation. We've taken standard inflatable technology and redesigned almost every aspect of it to deliver a truly outstanding board.
Our products are of the highest quality, offering safety and durability that you simply won't find elsewhere. Before any of our board designs go into production, we carry out extensive research and testing to make sure your board performs when you need it to most (we even ran over one of our boards with a tractor…it was fine.) It then takes us 72 hours to make each individual board – that's ten times longer than the industry average. This whole process is know as Tec Air and is how we refine and develop our boards at every stage of production. By focussing in on the key areas of the production process we have been able to identify ways we can improve the end result. Whether it be detailing exactly where and how the layers are bonded or how the rocker curve is applied to the board, no area of the design process is ignored.
It's worth knowing that the key areas of construction are inside the board, two while any two boards might look the same…they can be world's apart in how they're constructed. Our attention to detail on the inside ensures the best experience on the outside.
MSL: THE DIFFERENCE IS IN THE DETAIL
Our exclusively-owned MSL Fusion technology provides unrivalled stiffness, weight-saving stability and a superb cosmetic finish. Together, with our patented RSS stiffening system, we make the most durable inflatable boards on the market.
MSL is recognised as the industry's leading construction process and is exclusive to Red Paddle Co, here's why…
A SUPERB COSMETIC FINISH – All Red Paddle Co boards have an industry-leading cosmetic finish. No wrinkles or blemishes. The boards look cleaner and smoother and even feel better to the touch.
WEIGHT-SAVING BUT STABLE – All Red Paddle Co boards are up to 2kgs lighter than our previous double layer construction. But very importantly they are not too light. If a board is ultra-light it is more affected by wind and current while on the water. MSL boards have a reassuring lightweight feel.
STIFF AT LOWER PRESSURES – Due to the Torsion Stiffness effect all Red Paddle Co boards are stiffer at lower pressures compared to other products on the market. We recommend a pressure of between 16-22psi. Less pumping and more paddling.
ENHANCED DURABILITY – The multiple-layer coating of Red Paddle Co boards is tough and durable. With our third generation of MSL material now in use, our boards are more durable than ever.
WHAT'S INCLUDED
Leash
Backpack
Fins
Accessories
Pump


8" Coiled Leash
When heading out on the water it is important to always securely attach the board to you using a safe and reliable leash. When windsurfing we recommend always wearing a PFD/Buoyancy aid without the leash.
8′ Coiled Touring Leash- Reduces drag in the water and offers a more compact leash option.
Safety Note: If paddling in river currents we advise wearing only a Personal Floatation Device or a waist leash to avoid snagging on obstacles and debris.











ALL TERRAIN BACKPACK
Take your SUP wherever you go with Red Paddle Co's backpack. At Red Paddle Co we pride ourselves on creating an authentic paddling experience. All of our kit has to perform to an exceptional standard – whether that's on the water or when you're travelling and transporting your board, paddle and pump.
No bag existed that met our demands – so we created our own. Our solution is the world's best inflatable SUP bag. An innovative backpack designed to make taking your board to the furthest corners of the Earth as easy as possible.
It's made using toughened materials that can cope with sun, sea, sand and abuse. It even has a foil lining to ensure your board stays cool in extreme temperatures.
When you're not out exploring, it serves as the perfect storage unit too.
The All-Terrain backpack comes as standard with all single rider boards.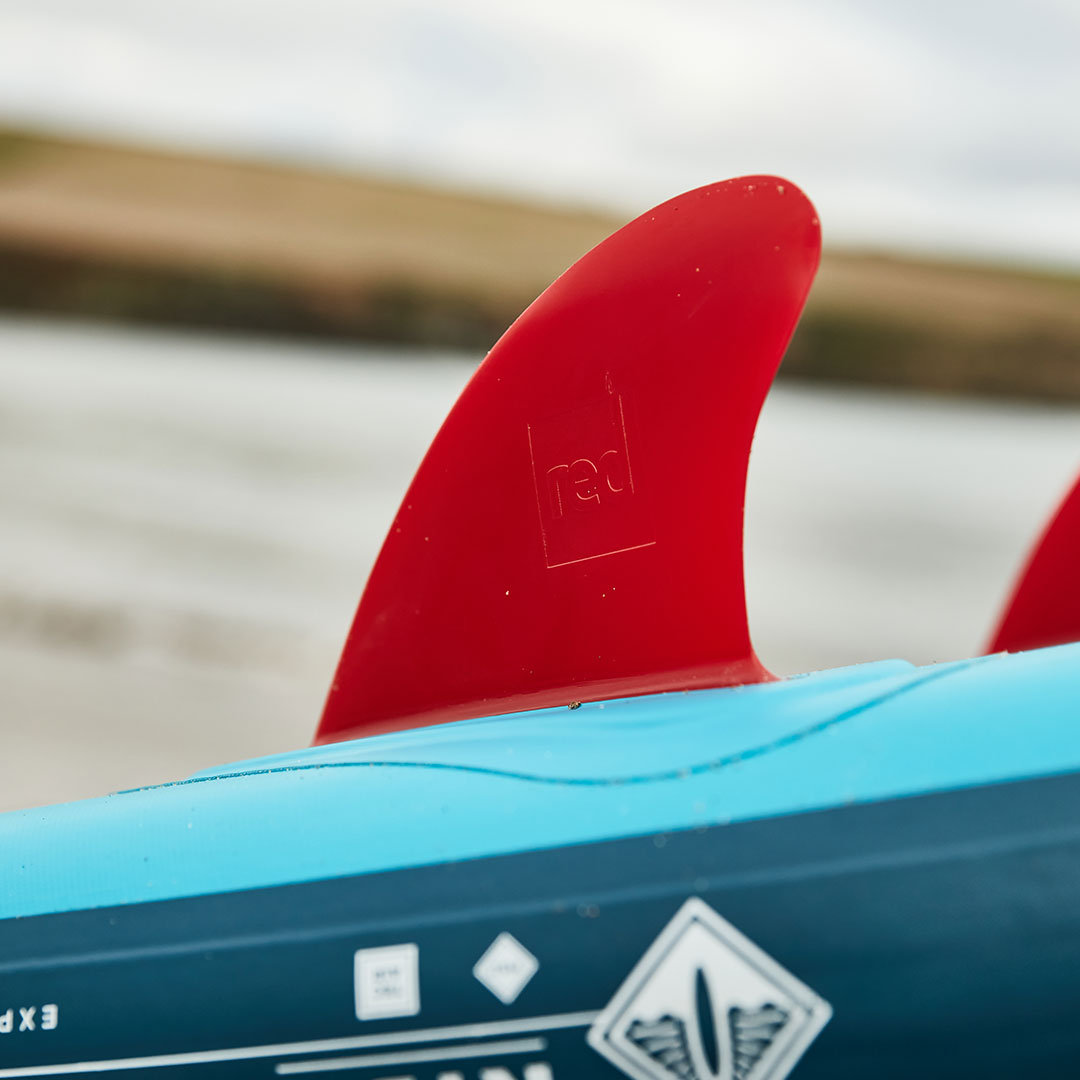 Twin iFin
All boards in the Ride range are now integrated with two super durable, flexible iFins, making the boards straighter and faster to paddle than a three fin set-up. The iFins also provide increased agility and performance in the surf and make the board easier to pack down into its bag. No need for tools, spares or replacements, the iFins can take a beating and are super easy to reshape if they get bent.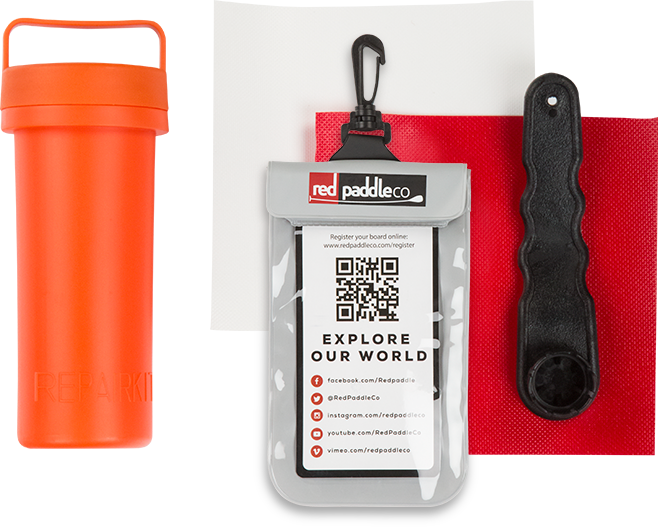 Essential Kit
Every Red Paddle Co board comes with a handy little repair kit including some essential replacement parts and tools should you ever need them, plus a super handy water -resistant phone case to keep your phone dry during your adventures.
The repair kit includes a patch of MSL material in the appropriate colour for the front and back of your board, (150mm x 150 mm), a valve tool which can also be used to scrape off glue when repairing punctures and instructions, all stored in a waterproof can.
In the unlikely event that you need to clean or replace the valve, this can be easily done using the valve removal tool included in this kit. Check out this video below for step by step instructions on how to do this.




TITAN II PUMP
The Titan II Pump is the world's first purpose-built, double chamber SUP pump. It's designed to cut the amount of time and effort it takes to inflate your board by half. Constant innovation has led to us testing the absolute boundaries of inflation technology and as such, we're confident that there's nothing quite like the Titan II pump on the market. 
The Dual Cylinder system, combined with the Hi Flo handle means you are in complete control of the energy used  to inflate your board. It puts the volume into your board faster and reduces the effort required to reach a higher pressure.