The ever-increasing popularity of paddleboarding has led to a plethora of paddle boards on the market which can become overwhelming when deciding which boards to choose for your paddle board rental business.  So, let's
narrow down the options and take a look at what works best for a paddleboard rental business.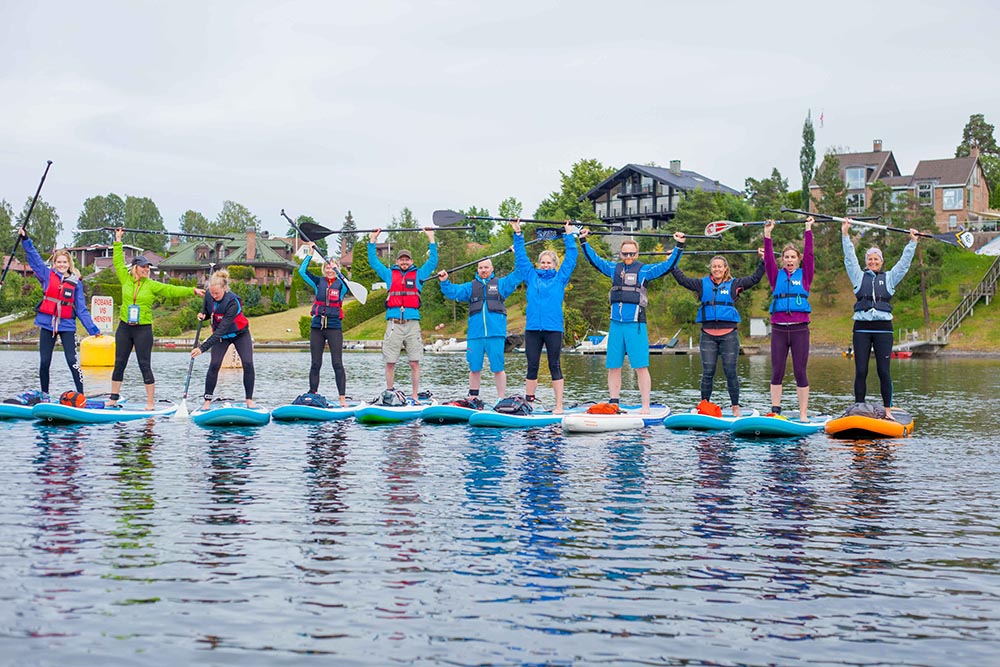 Inflatable Paddle Boards for SUP Schools and Rental Businesses
The first thing to consider is if you want to stock hardboards or inflatables. Our research shows that the world's best schools and rental operations are now choosing inflatable paddle boards over hard boards for the following reasons:
Longevity – Quality inflatables can last for multiple seasons meaning you'll be updating your rental fleet every 3-5 seasons rather than buying new boards every year. Which means you're getting a great return on investment (ROI). What's more, high-quality inflatables have a good resale value, recouping most of your purchasing cost.
Durability – Inflatable boards are more durable and less fragile, meaning there's no need for costly ding repairs which take up staff time, cost money and take your boards out of your rental fleet while being fixed. Instead, all your boards can be out on the water, earning you money and a better return on your investment (ROI).
Storage – The inflatables take up significantly less space when deflated, saving on storage costs, particularly over the winter months. Inflatables can actually give you the best of both worlds as you can choose to leave them inflated for the whole season if you prefer and only deflate when it suits you.
Transportation – Once packed into the backpack a board can fit in any size car, be taken on public transport or checked in as luggage on a flight. This broadens the reach of your rental business as you're not limited to people with vans or roof racks, literally, anyone can rent from you. You could also run multi-day rentals as people can easily take them on holiday with them.
Weight – Inflatables are considerably lighter making them easier for your customers to carry to and from the water and also easier to manoeuvre once on the water. These factors will enhance the customer's enjoyment of the session and make them more likely to do it again!
Better for beginners – Because they have rounder edges and the deck pad is soft, they are far more forgiving meaning there's less chance of causing injury. This is particularly true for people who are doing SUP for the first time, who will make up a large portion of your customer base.
With all of these benefits, it's no surprise that the inflatable is fast becoming the number 1 choice for all rental businesses and SUP schools.
However, one word of warning. Not all inflatable boards are equal! Be wary of the cheaper, poor quality versions on the market which are unlikely to be able to withstand the heavy usage they'll receive through a rental business. Not only that, but they also won't perform as well as their higher quality counterparts, leaving your customers disappointed.
When it comes to deciding on which type of boards to choose, we'd always recommend starting with a good all-round paddle board which can be enjoyed by a wide range of abilities. In due course, you can add more specialized shapes to your collection, such as race boards or Yoga paddle boards, but when you're starting out it's better to have boards with the widest possible range of use.
Where to purchase your Inflatable SUPs
As with all major purchases, it's always best to do your research.  Once you've decided your requirements for your SUP rental business, search around for the companies who can provide what you need.  Bear in mind that by talking directly to a manufacturer or distributor you should be able to get better prices than buying through retail. Also take into consideration delivery costs, timeframes and location of the company you are buying from.
At Red Paddle our passion is paddle boarding and we've helped many rental businesses and SUP schools get up and running by providing them with valuable help and guidance from our decade in the industry.  Our team are always happy to hear from new businesses and give advice on the most suitable products for you.
Drop us a line today and find out how we can help you:
Email Red Paddle Co USA : [email protected]
Or call 1(800) 565-5405