Insulated Stainless Steel Water Bottle – 750ml
Never need to take a plastic bottle with you again – use this high quality, super-insulated marine-grade (316L) stainless steel water bottle (which will not corrode like others) to keep hydrated whilst on the water. The ideal drinks flask for keeping your drink hot during those colder months. Voted the best-insulated flask by The Independent in 2019 and featured in Outdoors Magic top 100 products! 100% BPA Free.
What's in the (recycled cardboard) box: 750ml insulated stainless steel water bottle, a canteen cap, and a sports drinking cap.
Double Wall Insulated Marine-Grade Stainless Steel Water Bottle
Plastic pollution in our seas is an ever-increasing problem, yet we know how important it is to stay hydrated both on and off the water which led us to develop this awesome insulated steel water bottle. Made using higher quality 316L marine grade stainless steel, the Red Original water bottle is not only rust-proof but won't corrode like other metal drink bottles either. Its corrosion-resistant properties coupled with steel's inherent strength and durability guarantees that each user will get years of use from their bottle.
Each Red Original insulated steel water bottle comes with a canteen cap and sports cap as standard, allowing you to enjoy either hot or cold drinks. Both caps are designed to support carabiners, making it easy for users to fasten their bottle to their belts, bags, boards, and more. Alternatively, the bottle has been designed to custom fit into the side pockets of the Red Original deck bag.
With a 750ml capacity, you can take 3 cups of your favourite coffee with you or enjoy a cool glass of wine once you reach your destination. What's more, by using the Red Original insulated steel water bottle, you help to reduce the amount of plastic entering our oceans by never having to take a plastic bottle with you on the water again.
Dimensions are as follows:
Circumference: 247mm | Diameter: 76mm | Height: 243mm (to the top of the bottle not including a cap)
Product Features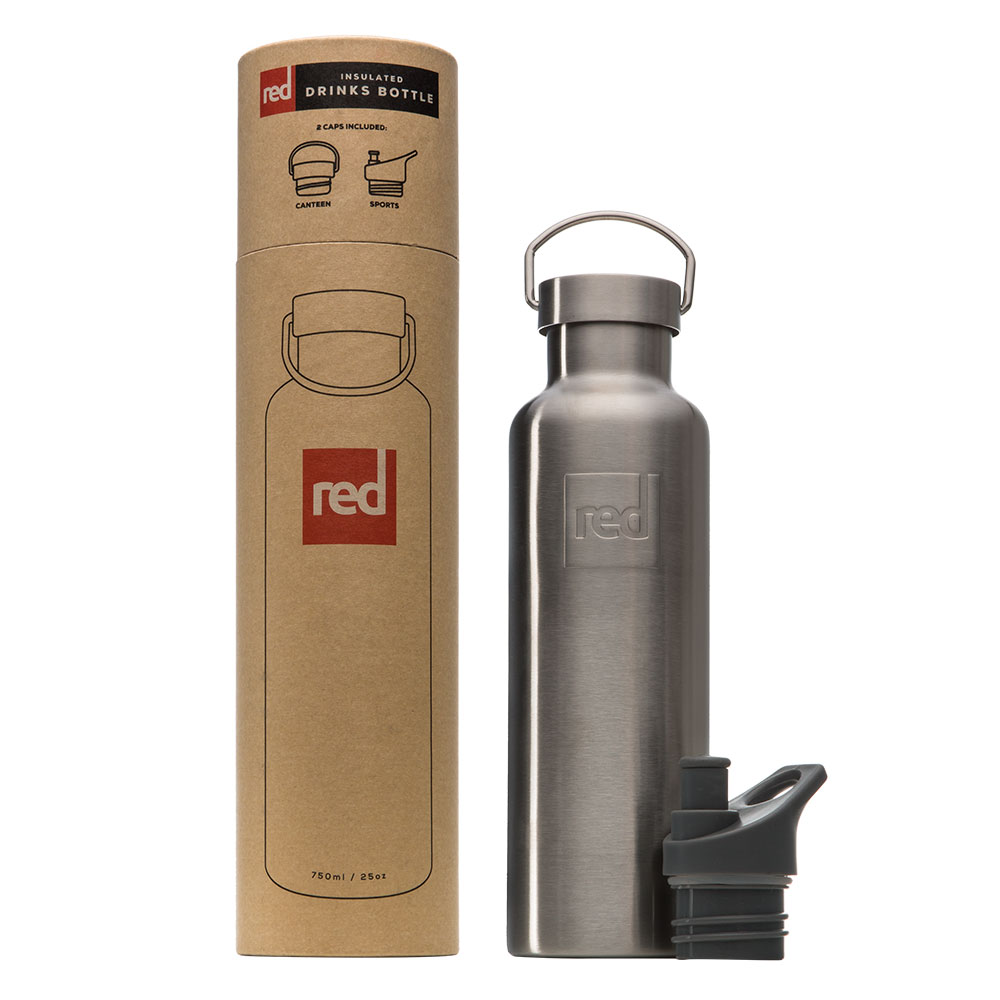 1.

SUPer Insulated Double-walled construction

The double-wall construction creates a vacuum between the outside environment and inside liquid helping to keep cold drinks cold for 24hrs and hot drinks hot for 12hrs with no external condensation.
2.

Made Using 316L Marine-Grade Stainless Steel

While stainless steel may not rust, it can be corroded by the chloride in saltwater. We've used 316L marine-grade stainless steel to ensure our bottle's durability and longevity.
3.

100% BPA FREE

BPA is a potentially hazardous chemical used to make the kind of plastic that water bottles are made from. The jury is still out on whether it is actually dangerous, but we're not taking any chances.