How to choose a paddle
FIND OUT MORE BELOW
THe POWER IS IN YOUR HANDS
The Paddle is your engine and allows you to get the most from each and every outing on the water.
No matter what your budget, style or preference – there is a paddle for everyone and it's important to consider which one you choose as it will make a big difference on performance.
Previous
Next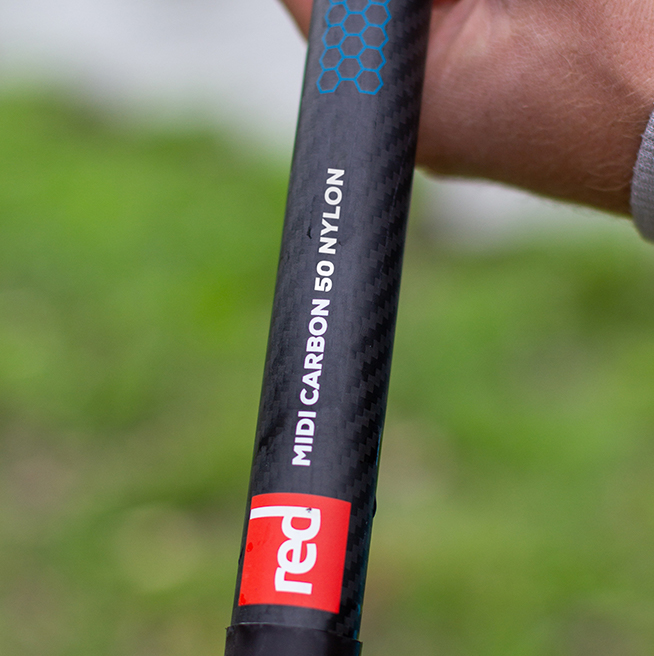 material
'It's like making orange squash. The quality and quantity of squash massively effects the taste. Ultimately the same goes for paddles. It is about finding the perfect blend using only the finest materials. And if you can – drink fresh orange juice as that's the equivalent to 100% Carbon' – Phil Hawthorne – Head of Design
ALLOY
An entry level, all-round paddle. The aluminium shaft makes it super durable so great for family use.
HYBRID
Carbon and Glass fibre laminates produce a stiffer, lighter shaft to increase power output and save energy.
CARBON
The lightest, stiffest and fastest of paddles. It comes in differing grades and is perfect for any paddler looking to squeeze the most out of every session. We use the finest Japanese high modulus Carbon to deliver unrivalled performance.
blade
Designed to deliver optimum power output with minimum drag. Our paddles are reinforced and sculpted for a more direct power output no matter what your level.
Nylon blades provide maximum durability and can take a beating. Our 'Performance Paddles' feature this highly durable, tear-drop blade is super durable with built in impact protection along the blades edge. Tapered structural reinforcements maintain ridigity whilst allowing for flex where most force is applied to avoid damage from knocks or falls. (Blade size: 465cm2)
Glass and carbon blades offer increased speed and power so you can paddle further for longer with ease. These blades feature on our 'Elite Paddle' range with a teardrop design and single dihedral blade face to reduce drag. This allows water to flow evenly off each side creating a smooth and stable stroke, whilst the double concave increases water flow for riders looking to put the power down. The structural foam core and ABS impact protection increases durability whilst reducing weight so you can paddle further for longer. (Blade size: 525cm2)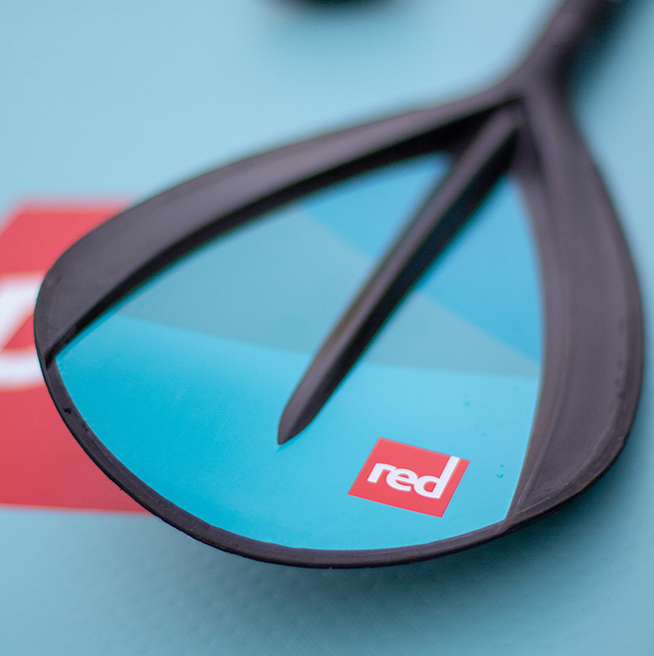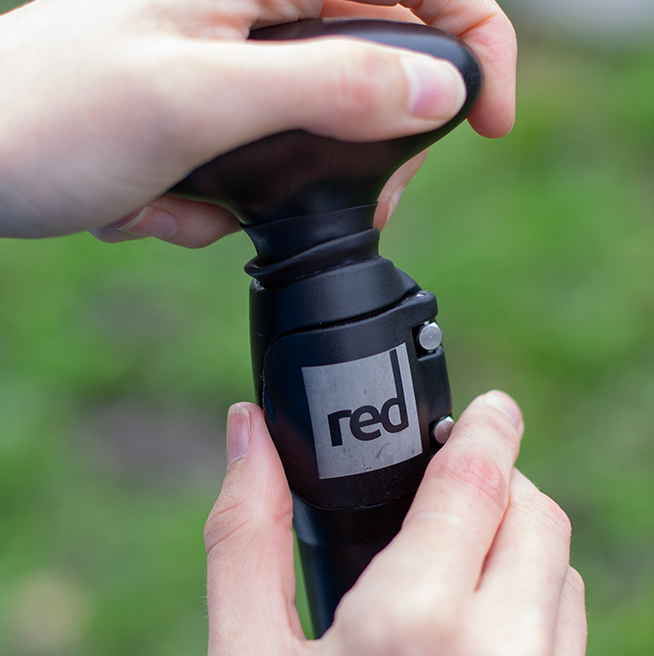 adjuster type
Leverlock
LeverLock's patented technology has a small lever embedded in the paddle handle allowing you to make adjustments on the fly with one hand for maximum flexibility.
Camlock
Camlock offers unrivalled grip to remove any free movement or free play. Featuring our anti-twist guide cavity it means you can make adjustments easily without having to worry about lining up your blade for maximum control and comfort.
[choose-the-perfect-paddle]
PERForMANCE PADDLES
Designed to withstand any adventure, these versatile paddles are perfect for rider looking to explore new water, share between friends or for fun with all the family.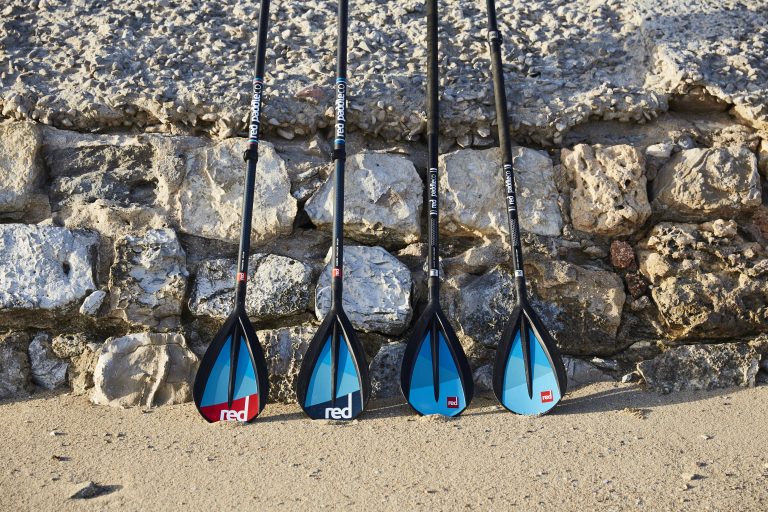 This all-rounder is a fantastic fit for most types of paddling, and combines a carbon hybrid shaft with the durability of a nylon blade. Also available as a Midi paddle for teens or slighter riders.
The perfect combination of a lightweight carbon shaft and durable nylon blade. The ideal choice for all paddling styles.
3. Alloy Nylon
Our entry-level paddle – but no less technical. Its alloy shaft is coated in soft-grip EVA and it also comes with the t-grip handle and a nylon blade.
Tailored to the needs of younger paddlers, this model is lightweight with a shorter, adjustable shaft that can easily be extended as its owner grows.
ELITE PADDLES
These dynamic, highly responsive paddles utilise only the finest carbon weave for greater strength whilst keeping he paddle lightweight and super fast.
1. Carbon 50
Utilising a hybrid glass fibre and carbon laminate to deliver dynamic flex and speed.
2. Carbon 100
A 100% carbon shaft and blade that is built to last thanks to its multi-directional carbon weave which delivers extra strength.
Our feather-light paddle with high modulus, Japanese carbon blade and shaft. Features a reduced blade shape for controlled flex and maximum power.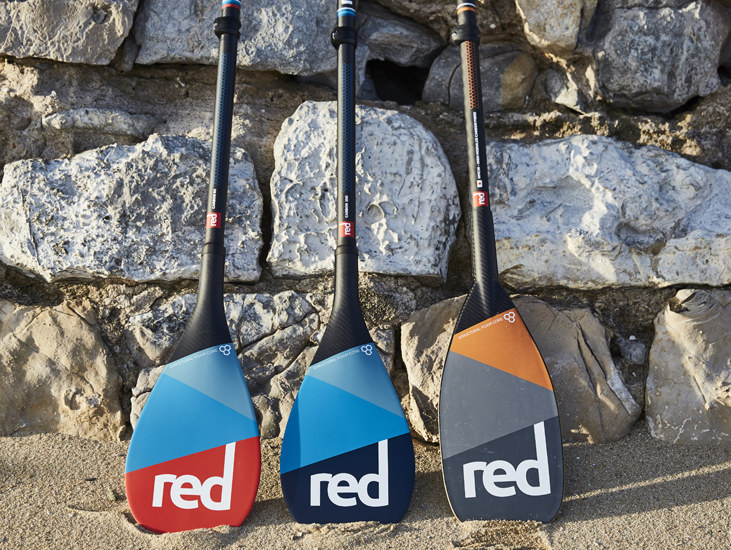 Still unsure which paddle is right for you?
Our expert customer experience team is always on hand to support and provide guidance on our products so you can really make the most of your time on the water.