Keine Panik, die soll da sein!!
Die Beule, die man am hinteren Teil an der Unterseite von einigen unserer Boards erkennen kann, entsteht dort, wo das Dropstitch-Material abgeschnitten wird, um das Füllventil einzusetzen. Damit man das nicht so sehr sieht, haben wir versucht, sie so gut es geht unter den Finnen zu verstecken. Jedoch kann es vorkommen, dass man sie bei einigen Boards mit dem US-Box-Finnen-System immer noch sieht.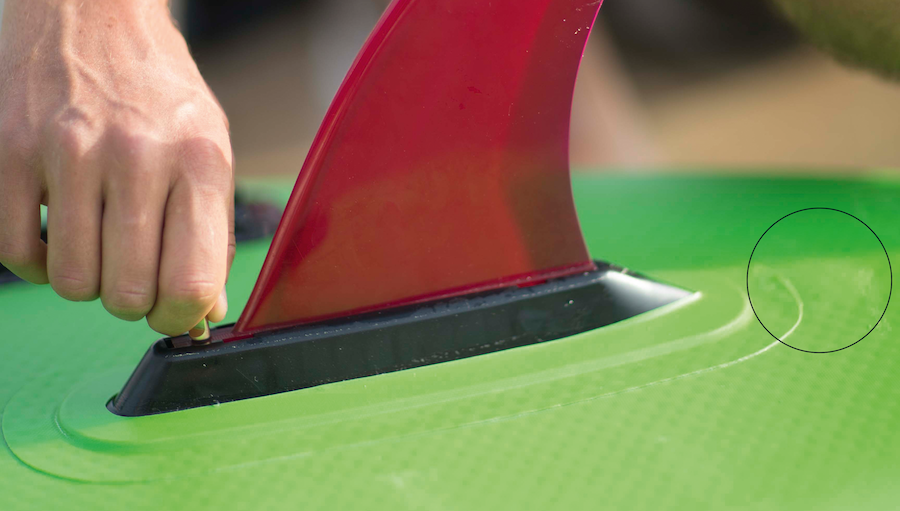 FFC BUMP
The Red Paddle Co Elite boards have 2 Patented Stiffening systems. The FFC system in the front half of the board works by putting a carbon rod under compression. This works in partnership with the RSS system to create an incredibly rigid board. The compression in the systems creates a downward force onto the board. The result of this is that you will see a "bump" on the underside of the board directly beneath the FCC mounts. This "bump" will get a little bigger as the material softens up over the first few months of use. This is normal and nothing to worry about. Your board is not delaminating or at any risk of failure. Please continue to use and enjoy your board as usual.